(click here for a standalone version of the XRGB-Mini Framemeister review)
(and here for a Spanish translation of the Framemeister review)
---
Noteworthy News:
- February 14th, 2016: my review for Markus Hiienkari's OSSC is online.
- November 5th, 2015: the extremely promising line doubler announced earlier this year can now be preordered (hint: do it!). See here!
- April 20th, 2015: new FRAMEMEISTER firmware (v.2.0) with lots of improvements. Download here!
- April 20th, 2015: promising new line doubler project in the works for late 2015. Infos here!
The Sales Bin (updated March 14th 2016):
- Nothing for sale right now.... Email me with any question or inquiries!
Coming in 2016:
- planned for sometime in 2016: video demos (1080p60) of all popular upscalers.
- review of an Extron DVS 304 video processor (hint: good for 24khz upscaling)
- a tale of converters and transcoders. The ultimate how to connect everything to anything guide
- finally a redesign splitting up the giant 900 kbyte index page
Update Log:
- February 14th, 2016: added a review for the OSSC
- July 22nd, 2014: added a review for the DVDO iScan Mini video processor
- July 22nd, 2014: added a review for the HDV-8S Scart RGB to HDMI upscaler
- November 26th, 2013: added a review for the Datapath x4 video wall and geometry processor
- September 13th, 2013: added a review for the ulta-rare Micomsoft XC15 DISPL upscaler unit
- September 13th, 2013: added a review for the Faroudja Picture Plus DVP-3000 upscaler
- September 6th, 2013: updated the review for the Pioneer PDA-V100HD
- September 3rd, 2013: added a review for the Waka Playstation Up Scan Converter
- August 25th, 2013: added a rather extensive Micomsoft Special
- August 18th, 2013: added a review for the Micomsoft XPC-4 Scan Converter Unit
- August 16th, 2013: added a Spanish version of the review for the XRGB-Mini aka Framemeister
- May 2nd, 2013: added a review for the Lenkeng LKV362A RGB Scart to HDMI converter
- April 23rd, 2013: added a review for the Auvisio 9-in-1 HD upscaler
- April 11th, 2013: added a review for the Lumagen VisionPro HDP
- April 7th, 2013: added a review for the Cinemateq Picture Optimizer Plus HD
- March 2nd, 2013: added reviews for the Mimo Genius and Genius II (combined up-/downscalers)
- February 6th, 2013: added reviews for the PMS Crystalio II (models 3100 and 3800)
- Feburary 6th, 2013: added reviews for the Vigatec Dune and Dune-F
- February 6th, 2013: revamped several older reviews (iScan Pro, VP30, VP50 etc)
- for the remaining uddate history since 2008 click here)


If you want to do some easy testing on your own and don't want to fiddle with a massive stack of games for all different kinds of test situations, just download Artemio's 240p test suite. It's available as a Mega Drive / Genesis ROM, a Mega CD Image and as a Dreamcast CD Image. The MD Rom runs on flash carts from Tototek or Krikkzz's Everdrive cart.

The test suite offers everything you need to test your TV's integrated processor, from 30Hz drop shadows to checkerboard patterns to check for irregularities with the TV's scaling engine. The Mega Drive versions runs in raw 240p, while the Dreamcast versions offers 240p, 480i and 480p for VGA-equipped DC systems.

The Rom(s) and Disc images can be downloaded here from Artemio's website.
Update, Sep. 2009: a general note on future updates. The CYP Instant HQV review marks the very first review without any use of a digicam. All future screenshots will be taken digitally using a HD capture device. This eliminates any artefacts (moire) and gives a 100% pure impression of what the processors' outputs look like without the additional processing by my own television. There'll also be video captures of the upcoming processors. The first videogame upscaling video can be found down under the Instant HQV review. Check it out!!
The device used for all new screenshots and video captures is a BlackMagicDesign Multibridge Pro2. Besides capturing it can be used to do scanline overlays for HD sources (without any additional lag!). The screenshot below shows Death Smiles on the 360 "scanlined" (little more info here.). I might do an article about it some time in the future. If you're interested in details right away, feel free to email me.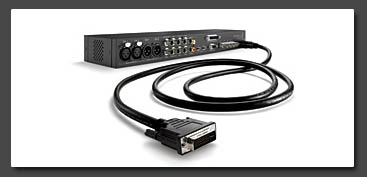 ---
(as of February 2016)
Oh, how I hate these Top Ten or Top Five lists. That's probably one of the reasons why I have more processors than actual sources in my own setup. It's impossible to give *the* 100% recommendation when it comes to buying a deinterlacer for your vintage videogames systems. Still I get so many emails asking the same question over and overa gain, that's I'll try and give my personal top list of recommended which video processors to buy. This is the right list, if your main concern is the processing of classic 240p signals.
1st Place: The XRGB-Mini aka Framemeister from Micomsoft. For quite a few years now the king of 240p processing! I decided to place the Mini before the OSSC, because it's better suited for casual gamers than the OSSC. At approx 330 Euro (US$370) one of the best processors for 240p you can buy, especially if you have a large high-end Plasma or LED/LCD set. Integrated scanline support, high compatibility and very good picture quality for all 240p sources. Requires a certain knowledge of video processing and the willingness to spend time learning about video signals.
2nd Place: The OSSC by Markus Hiienkari. Considerably less expensive than the Framemeister. Zero input lag, fantastic 240p line doubling to 480p (or 720p if you got a compatible display) and integrated scanline support. A bit harder to handle than the Framemeister due it's missing audio support. Consider this one instead of the FM if you want lagfree processing! The OSSC makes the XRGB-3 obsolete.
3rd Place: The XPC-4 from Micomsoft. The XPC-4 is is little more expensive than the Framemeister and it's not really aimed to console uers. It doesn't have internal scanline support, but it does a very nice job at upscaling RGB signals of all kinds to fullscreen 1080p. If you don't like the idea of scanlines and you don't like fiddling through settings after settings, the XPC-4 is worth your consideration. To accept RGB Scart signals you need a Sync Strike device.
4th Place: The Videon Omega One and Vigatec FX2 units are fantastic (vintage) line doublers. The units are identical with the Videon having two component inputs, while the Vigatec has one RGB and one component input. They have analogue 480p/576p output only (through component and VGA). You can add a SLG3000 for scanlines. Both units also have great comb filters, so if you plan on using a composite video source (NES or Turbo Grafx without RGB mod), they're your number one choices. Prices range from 100 to 150 Euro right now. A scaler with the same processor is the Silicon Optix Image Anyplace , but it's hard to find and does not have RGB inputs, but then again it does image rotation!
Honorable mentions: The processors above are the best of the best. That doesn't mean that other processors do a worse job. All the classic XRGB models up to the XRGB-3 do a fine job. The iScan VP20 and VP30 by DVDO are nice processors that have proper 240p recognition when used with the ABT102 upgrade card.
---
(as of February 2016)
And here's a revised list, if perfect 480i processing is more important for you. For example if you want to play many PS2 RPGs or GameCube games without 480p support.
1st Place: The XRGB-Mini aka Framemeister from Micomsoft. The Mini produces amazing detail out of 480i sources. Static images easily reach the quality of real progressive sources. With a flexible scaling engine, the Mini is even able to handle difficult 480i content, like those classic compilations running 240p games at 480i (Capcom Classics, Taito Memories).
2nd Place: The OSSC by Markus Hiienkari. Just like the older XRGB units the OSSC uses single field processing to line double 480i images to 480p. This allows the OSSC to process interlaced signals without adding any lag. On the other hand the resulting picture will have less details and a slight flicker compared to "real" 480i deinterlacing. This is what you want if you like to play 480i action titles without any lag. Also the best way to play all those tragically converted classic compilations!
3rd Place: The iScan VP30 with ABT102 upgrade card, VP50Pro or DVDO Edge from DVDO/ABT. DVDOs video deinterlacing with the ABT102 card is fantastic and the detail level is outstanding. You will get similar results with the iScan VP50, Edge, Duo and VP50Pro. Downside to these is that their 240p is not up to the dedicated video game processors.
4th Place: The Optoma HD3000 and the PMS Crystalio II. Both processors use the Gennum VXP chip for deinterlacing. The Gennum has retains an amazing detail level with 480i content, but has a slightly blockier scaling compared to the DVDO processors. On the other hand they don't add ringing like the DVDOs do. The Crystalio II is sharper than than the HD3000 overall the better designed machine. The HD3000 is basically a white horse design based on Gennum's evaluation board. The HD3000 exhibits slights problems with some PS2 revisions.
---
(as of February 2016)
And here's a special list, if you want to get better results from your 480p sources. 480p sources include PS2, DC, GameCube and XBox1.
1st Place: The PMS Crystalio II offers the BEST upscaling of progressive sources of all processors I've have ever tried. The detail level is amazing an the lack of ringing simply gorgeous. The CII is hard to find though and at about $800 not exactly cheap.
2nd Place: The Lumagen Vision HDQ is a beast when it comes to 480p processing. The only processor available with four fully processed RGBHV inputs. A great scaling engine, completely free of ringing. Other (cheaper) Lumagen processors should offer the same level of processing, just not as many inputs.
3rd Place: The Optoma Themescene HD3000 is a close third. Compared to most other video processors (e.g. the DVDO Edge) the upscaling is super clean and completely free of ringing or distracting halos. The Lumagen gets 2nd place because it's the better hardware design and the more solid machine. Also the HD3000 can't correctly interpretate 720x480 on the VGA inputs.
4th Place: The XPC-4 by Micomsoft does a beautiful job upscaling 480p sources - at least for RGB sources. On paper it does also process component signals, but from my experience it causes bad chroma shift with YUV signals. You can use a transcoder to connect component sources though and they'll look excellent as well. The Gefen VGA to DVI Scaler Plus performs on a similar level with the same problem with component sources.
5th Place: Try transcoding instead! Many modern TVs actually have really scaling engines, especially Sony's Bravia W series. The best transcoder for all purposes is actually Markus Hiienkari's OSSC. It offers transcoding for Component and VGA sources while adding integrated scanline support on top. With a good display you'll be surprised how good 480p can actually look by just taking the A/D conversion off your display's hands. Analogue transcoders are getting harder and harder to find these days. My reference machine for VGA to component transocing is the Kramer FC-14.
You can email me whenever you like by clicking here: email me!
---
Definitions:
old videogame = anything 8-bit (Famicom, PC Engine), 16-bit (SNES, Mega Drive), 32-bit (PSOne, Saturn) up to the PS2 or GameCube.
flatpanel TV = anything LCD or Plasma with a resolution higher than 480 lines - no matter if 32" WXGA or 65" Full HD.
Basic Proposition:
If you like to play classic videogame systems from time to time and have switched to a Flat Panel TV lately you will have noticed that most games look plain ugly. You might be happy with the picture in case you've only used inferior connections before (FBAS, that's the single yellow video line with the RCA (Cinch) connector at the end. And before I forget it: plugging such a cable into a Scart adapter doesn't make the picture any better, the signal's still the same). Most people I've talked to assumed that the shitty quality is introduced by the scaling neccessary (bringing the videogame's resolution to the TV's resolution), but that's actually only rarely the case.

Of course there are TV sets out there with bad scalers (for example the R7 and R8 series of Samsung TVs do an incredibly bad job in scaling 720p to the panel's resolution), but most of the time it's the horrible deinterlacing combined with the TVs video electronic which is optimized for video material (movies, TV shows, but not graphics). Deinterlacing is neccessary because your old videogames have a 15kHz video output (that's classic NTSC or PAL). Since LCD and Plasma displays are progressive by nature, the incoming signal has to be deinterlaced (linedoubled) to 31kHz before it can be displayed. The TV can take over this job, but it won't look nice.

To get the best picture out of your old systems you can buy an external deinterlacing device which takes the system's videosignal, performs some kind of linedoubling and outputs a 31kHz signal, so the TV has just to do a little scaling before it can show the actual picture. That's actually what this whole site is about - guiding you in finding a proper device for this important job.

And what about your newer systems ? XBox360 and PS3 can be connected via HDMI or component (YUV) to your TV directly. They'll output progressive 720p or 1080p signals. The old XBox has 480p via component for nearly all the games, same goes for the GameCube or Wii. At the bottom I'll have a quick look at a transcoder unit which can be used to "transcode" 480p YUV into VGA.
240p vs 480i: non-interlaced vs. interlaced 15kHz video:
Most of the classic systems use a non-interlaced 15kHz output which is compatible to the classic TVs we all had at home in the 80s and 90s. That's usually between 220 and 240 lines of visible video, along with 280 to 330 pixels of horizontal resolution. In the 90s 480i output became popular. It provides 480 lines of resolution (but only 240 lines per field = at a time) at 640 to 720 pixels of horizontal resolution. A handful of SNES games used this mode (Ranma 1/2), some Saturn games (Columns 97), quite some PSOne games (Tobal 2) and actually most of the PS2 games out there. While in theory 240p games don't have to be deinterlaced, 480i can be converted to 480p in a lot of different ways, providing different qualities in the result. 240p games run at 15khz as well and have still to be "upconverted" to 480p (31khz). Many newer TVs won't accept 240p on their component inputs. That's why it's often not an alternative to use a RGB Scart to Component (available for $50 to $100, e.g. from CYP) on those new TV sets.
The Purpose of the page:
It's been 12 years now since I switched from my classic Sony CRT television (with Scart RGB input) to a progressive CRT display. I've started using linedoublers back then to enjoy the more vibrant picture a progressive tube can provide. About 8 years ago I've switched to a LCD television and have upgraded quite some times since back then to better models (from a Samsung 32" to a LG 32" to a Sony 52" XBR5 and currently ending up with a 52" Sony HX905). Videoprocessors (enhanced linedoubling devices) has been a central part of my setup since back then.

While I own a XBox 360 and a PS3 I still like to play classic videogames. I like my PC Engine, I love my Saturn and the PSOne's got a nice collection of classic videogames as well. In addition I've got a PS2 which provides a nice lineup of titles for everyday's use. For years I've strived to gain the perfect picture on my LCD display. I've test lots of different video devices and by setting up this little page, I want to provide an overview on what's available on the market today.
The benchmark:
There are thousands of possible software titles which can be used to benchmark the devices in question, I usually use these:
- Metal Slug X (PSOne): a classic 240p title, I use a PStwo via Component or RGBS video to display it.
- Winds of Thunder (PCE): a classic 240p title. Used on a PC Engine it provides pure 240p RGBs video.
- Dragon Blaze (PS2): a 240p title running falsely in 480i mode.
- ESPGaluda (PS2): a game which can be switched from 480i to 240p and vice versa while running.
- Sega Ages: Fantasy Zone II DX (PS2): this one can internally be switched between 240p, 480i and 480p - very convenient.
- Outrun2SP (PS2): my reference 480p title on the Playstation 2.
Here are two screenshots how 240p signals are processed on a good, modern LCD without any additional, external processor -
take it as a benchmark for the tests below.
Game specific things to look out for:
- Metal Slug X (PSOne): a good deinterlacer should not try to deinterlace the game. If this happens you'll notice a different apperance of the picture while the game is in motion (compared to non-scrolling portions of the game). Usually the pixels become blurred when the background starts scrolling in case deinterlacing is applied.
- Winds of Thunder (PCE): many current devices have a problem to accept 240p signals at all. Quite a few Samsung LCD TVs come to mind. I connect my PCE in addition to the PStwo just to check if the device is able to handle 240p video from vintage signals without loosing sync.
- ESPGaluda (PS2): 30Hz drop shadows (the shadows on the ground below the flying battle ships are flickering with 30Hz to create a kind of transparency effect) are the hardcore test for every linedoubling device. "Good" devices try to deinterlace those flickering shadows and therefore create terrible artefacts by deinterlacing the shadows with the ground. The game uses these drop shadows in 240p mode as well as in 480i mode. Deinterlacing them correctly in 240p is crucial for vintage systems, while deinterlacing them correctly in 480i mode is important for many newer games (Beat'em ups like Capcom Fighting Jam).
- Dragon Blaze (PS2): it's just used for crosschecking the ability to deinterlace 480i signals. It's an interesting title since the actual graphics are 240p which are just mapped onto the 480i output of the PS2.
General things to look out for:
- Inputs: nowadays component video is a must and RGBs is actually nice to have. If you want to play vintage games on their real hardware (e.g. NES or PC Engine) and want the best quality, you'll want to get a RGB output modification for your system). Video and S-Video are pretty standard and the hardest of hardcore gamers will want a RF input to connect their pre-vintage systems (Pong?).
- Outputs: VGA is the standard for 31kHz video signals. The downside is that many displays won't accept linedoubled PAL (576p@50Hz) on their VGA input (important for european gamers only). The more sophisticated processors have progressive component video output as well. Nicer are DVI or HDMI outputs. The signals are digital and HDMI is capable of handling 576p without any problem. One way to get a linedoubled PAL signal running on your TV using a device which has only VGA output is to buy a VGA to HDMI converter. Those thingies are pretty common, are about $50 on ebay from HK and work quite well. If you want reference quality, check the Gefen units on this page.
- Processing delay: Current "gamer LCD monitors" have an input delay caused by the overdrive of about 2 frames (30ms), older LCDs have a more blurry picture, but no input lag (2011 update: it's actually getting better again, check the recommended displays section at the bottom for some monitors with 1 frame or less of delay). LCD and Plasma TVs have a common delay caused by the deinterlacing, scaling and processing of the input signal of about 30-50ms. Some TVs come up with 100ms delay (Samsung A6 series with 100/120Hz), some TVs have a gaming mode which reduces the lag to 10-20ms. If your deinterlacing device adds a delay of it's own now (e.g. 50ms) to an already slow LCD television, things get pretty unplayable. You won't be able to hit your arrows in Dance Dance Revolution, you won't be able to perform your combo moves in Street Fighter and you won't be able to dodge bullets anymore in DoDonPachi. As a player you'll be able to adapt to a certain delay, but you should nevertheless try to keep the delay as low as possible.
- Interframe Creation: is a new tech introduced on 120/240+ Hz displays to render new frames between the original ones. While this can be very nice to have to watch movies (especially Sony's motionflow tech) and while it might be intriguing to use it on video games, it's usually the No.1 killer in terms of added delay. Interframe creation simply takes time. The fastest (and not very good) methods take two additional frames of processing, while Sony and Samsung sets usually end up in the 70ms+ range with this feature enabled.
---
- HD Box Pro (around $50 new)
- Arcadeforce SLG-in-a-Box (around EUR 170 new)
- Lenkeng family of videogame processors (around $50-60 per device, new)
- Lenkeng LKV362A RGB Scart to HDMI converter (around $60 new) *added 2013*
- Ligawo RGB to HDMI converter (around $70 new)
- Auvisio 9-in-1 HD Upscaler (around 90 EUR new) *added 2013*
- HDV-S8 Generic RGB Scart to HDMI Upscaler (around 50 EUR new) *added 2014*
- Extron Andora Linedoubler (around $100 used)
- Videon Omega One (around $130 used)
- Vigatec FX2 (around $150 used)
- Vigatec VC1280 (around $180 used)
- Vigatec Dune (around $180 used) and Vigatec Dune-F (around $300 used) *added 2013*
- Zinwell Brite View Video Scaler (around $100 used)
- ML20 3Dplus Linedoubler (around EUR 90 new)
- Silicon Optix Image Anyplace (around $350 used)
- Datapath x4 video wall processor (around $1,350 new) *added 2013*
- Cinemateq Picture Optimizer Plus II (around $200 used)
- Cinemateq Picture Optimizer Plus HD (around $270 used) *added 2013*
- MIMO Genius and Genius II (combined up-/downscalers) (250 EUR new) *added 2013*
- Waka Playstation Up Scan Converter (100 EUR used) *added 2013*
- Markus Hiienkari's OSSC (about 100-120 EUR as a DIY-kit, 180-200 EUR assembled) *added 2016*
- Micomsoft DISPL-TV ($150 used)
- Micomsoft XRGB2 ($200 used), XRGB2+ ($250 used), XRGB3 ($300 used)
- Micomsoft XRGB-Mini Framemeister ($450 new) *Number One for 240p and 480i*
- Micomsoft XPC-4 Scan Converter Unit (300 EUR new) *added 2013*
- Micomsoft XC15 DISPL Up Scan Converter Unit (too rare to pinpoint a price) *added 2013*
- PixelMagicSystems Crystalio ($400 used)
- Faroudja Picture Plus DVP-1000 ($220 used)
- Faroudja Picture Plus DVP-3000 ($350 used) *added 2013*
- Spatz Barracuda ($1400 new)
- Pioneer PDA-V100 HD ($150 used)
- iScan Pro (around $90 used)
- iScan Ultra (around $120 used)
- iScan HD/HD+ (around $170 used)
- iScan VP20/VP30 (around $200-350, depends on ABT102 upgrade card)
- iScan VP50 (around $400 used), VP50Pro (around $700 used)
- DVDO Edge ($799 new, $350 used)
- DVDO iScan Mini (EUR/$220 street price new) *added 2014*
- Optoma Themescene HD3000 (around $350 used)
- PMS Crystalio II (3100, 3300, 3800 models) (around $800-1000 used) *added 2012/13* *Number One for 480p*
- CYP Instant HQV (Realta) ($900 new)
- Algolith Dragonfly (Silicon Optix Realta) (around $500-750 used)
- Lumagen VisionPro HDP ($300 used) *added 2013*
- Lumagen Vision HDQ ($500 used)
- Lumagen Radiance XD (about $1000 used for a XD unit, $2000 for a XE unit)
- Vigatec S1 (high-end $15,000 processor, last seen for $2000 used)
- Gefen Home Theater Scaler Plus (around $150 used)
- Gefen High-Def Scaler (HD Mate) (around $150 used)
- Denon DVP-602CI (around $500 used)
- PS3 (for running PS1 and PS2 Games) ($400)
- Asus EEE Box (for emulating instead of playing on the actual hardware) ($350)
- Extron Super Emotia ($100 used) and Burosch Con-1 ($100 used) for the fun of it (these are not deinterlacers)
- Crescendo Systems RTC 2200 transcoder unit ($180 new)
- Gefen VGA to DVI Scaler Plus ($120 used)
- Micomsoft XSelect-D4 Cross-Transcoder ($180-200 used)
- Extron Crosspoint 128 RGBHV Switch ($150-200 used)
- SLG3000 scanline generator ($70)
---
Introduced in early 2008, the HDBoxPro is a low-cost 1-chip design from China. It can be ordered from the manufacturer's website directly at the incredible low cost of $50 plus shipping. Click here for the order website.
MSX: a loss of clear definition and sharpess can be seen when the screen starts scrolling. Nothing serious though.
ESP: with the right setting (video-biased deinterlacing setting) drop shadows in 240p are correctly deinterlaced.
DB: deinterlacing errors in the drop shadows in 480i games.
The overall picture is to be considered good. It's not as sharp as the XRGB's output when the output is set to 480p, but it can very well stand up to much more expensive processors. One big advantage is that the the box does accept 480p and HD signals as well. So when playing a Wii or PS2 game which supports 480p you don't have to re-do your cabling to gain something out of the better output signal. As further tests have shown the HDBoxPro is lag-free when used with 480p input (as a pure transcoder).
Pros: cheap price, component input, 480p compatibility, scaling ability, little delay, remote control, did I mention the price ?
Cons: noisy signal, no zoom function, mediocre transcoder function, just a single input, agressive sharpness regulation
Since the introduction of the HDBoxPro in early 2008 a few clones using the exact same chip have shown up. Most notably probably the XCM "Megacool" VGA Box. It's slightly more expensive (around EUR 70), but has a sleeker design. There's also the CBS8220 CGA/EGA/YUV to 2VGA converter PCB which is sold as an arcade accessory. It's basically a tweaked HDBoxPro with Dual VGA ouput and RGBs input besides the component input. It's available for $50 on ebay.com (just search for CGA to VGA). (left pic is the XCM box, right is the arcade pcb version). If you're looking for the home versions and are living in the USA, Monoprice is offering a nice clone for under $40 (click here ). It's basically identically to the HDBoxPro, but is missing a motion sensitivity setting, so 240p is treated as 480i all the time.
Conclusion: terrific performance for the price tag. If you have to stay on a $50 budget, this is your only option anyway. Beware of the additional costs for RGBs to YUV transcoders though which might catapult you into price areas where other devices might be available.
Can easily be paired with a SLG3000 for scanline emulation. Can also be used as a pure transcoder from component to VGA.
---
The SLG-in-a-Box is a new creation by Jochen Zuborg, who brought us the SLG3000. Rather than being a completely new creation, it's a combination of the (in-)famous GBS8220 scaler board, the Sync Strike (a sync stripping device) and the glorious SLG3000. The Sync Strike and SLG portions have been redesigned with new board layouts to accompany the scaler board inside one sexy looking plexi case.
The case measures roughly 26 x 22cm ( 10.2 x 8.6 inch). The SLG board sits in the front and offers switches to enable and disable scanlines and to chose between odd and even lines to darken. One the same board you'll find a power switch which disables the GBS8220 sitting in the middle of the case. This comes in handy, if one wants to use the SLG portion for other VGA sources (like Dreamcast or XBox360). There are three additional switches in the front which control the scaler (brightness, sharpness controls and resolution setup) and one to select the input (RGB via scart or Component). On the backside there's an input/output board which offers RGB scart, component and VGA inputs as well as a set of RCA jacks for stereo audio output and of course the VGA output to connect the SLG-in-a-box to a monitor or TV set.
Setup is as easy as it gets. The scart input on the back is connected to a LM1881 IC for sync stripping, so the input can accept RGB signals from all the scart sources you could think of. No need for special cables, japanese RGB cables or raw sync type of cables. The component input accepts 240p, 480i and 480p, all of which are processed by the GBS8220 board sitting in the center. All boards are powered by a single 5V input on the back.
The actual processing quality unfortunately is the weak spot of the whole construction. While I wouldn't call the GBS8220 bad by any means, it's just a very generic linedoubling board, originally made for arcade operators (who give a shit about quality) to run Jamma boards on PC monitors or LCD displays. The GBS's output looks ok. The results are quite similar to what most of today's TVs can achieve with a component source on their own. 240p signals are processed as 480i, so you'll run into deinterlacing artefacts, even for progressive 15khz source signals. If used with low-res sources, it's basically mandatory to enable the scanlines, which help in masking many of the artefacts and render the picture - well, let's say - acceptable. The GBS board needs about 2 frames processing time. The GBS is built for NTSC signals, but PAL signals are usually accepted. The output will still be rendered at 60Hz, so it's not advised to use PAL machines with this setup.
With the prototype design I've had on hand for testing, I've run into a few problems with the VGA passthrough function. With a Dreamcast connected to the bypass input on the back and the GBS board switched off, I got some interferences and noise when trying to run the DC with enabled scanlines. Since the very same DC works just fine using a classic SLG3000 I guess it's just a little quirk, which will get fixed quite soon. Another problem (and a rather weird one) is that while the DC was connected to the SLG-in-a-Box using the VGA input the scanline overlay for any of the processed sources would stop working (of course the DC was switched off). ArcadeForge is looking into this.
Eventually the SLG-in-a-box is more like a proof of concept. Of course it's sleek and of course it's the perfect way to utilize a GBS8220 scaling board, but with an anticipated price of roughly 170 EUR there's very hard competition out there. Usually for around 80-120 EUR and a little patience one can pick up a large number of home theater processors ranging from an iScan HD, over the Vigatec FX2 units to the Cinemateq processors (which even offer scart RGB inputs) and by adding a SLG3000 for about 50 EUR one ends up at the same price but with *much* better processing and increased flexibility over the rather cheap and generic GBS8220 core. XRGB-2 or 2plus units are also available in the 180-200 EUR range by now.
Conclusion: minor VGA input quirks on the prototype board aside, the SLG-in-a-box does exactly what it's supposed to do, plus it's readily available (contrary to so many vintage home theater processors), on the other hand you can spend the same amount of money and get one of the other recommended processors on this website and end up with superior processing results.
---
Lenkeng is a chinese company which offers video converters. From the looks of it, most of them are identical with the basic HDBoxPro layout and though I have no idea who came first (Lenkeng or the original HDBoxPro), Lenkeng succeeds in offering some of the cheapest, but most convenient video game processing boxes out there. The official website can be found here and the easiest way to find shopping sources for the item in question is just to copy the product code (e.g. LKV7000) into Google and see what comes up. Most of the boxes cost somewhere between $40 and $80 with many eBay offers already including worldwide shipping.
I'm far from having tried all the available Lenkeng solutions, but logic suggests that they're all based on the very same processor inside and since I had good experience with two of Lenkeng's boxes and with a third one coming along, I wanted to add their whole lineup to the processors on this page.
Let's start out with the LKV7600 which is just the same as the HDBoxPro but without a IR remote control. While quite a few people seem to have problems with the HDBoxPro (grounding issues), the LKV7600 I had on hand was fine all around (but so was my HDBoxPro). The LKV2300 is a VGA to component transcoder with chooseable output resolution. I haven't tried this unit, but it seems reasonable to add this to a XRGB's output if now VGA input is available on the TV set and all HDMI inputs are in use.
The LKV354 is a Component to HDMI converter without any scaling capabilties. It's basically just a video analogue to digital converter. The very same unit is available in silver and with "game converter" printed on it. It's then called LKV5000 Wii to HDMI converter. It comes bundles with a Wii component cable though...
Then there's Lenkeng's RGB Scart to HDMI converter series called LKV360 and LKV361 (the 361 just adds S-Video support). Those two units are confirmed to work very nicely with 240p material, so they basically replace the overpriced and hard to get Coosis Scart to HDMI box. The output is again fixed at 720p, but both PAL and NTSC supported with 720p50 and 720p60 output. Likely the cheapest and easiest way out there to get 240p RGB onto the big screen (2011 update: the LKV362 offers 1080p output as well).
And last but not least there are Lenkeng's two PSP processors. The analogue one is the reason how I first came to find out about Lenkeng. The LKV7000 looks much like a HDBoxPro, has got component inputs and VGA output. My guess is that this has the same processor as the HDBoxPro, but with a different firmware. Interlaced signals are not supported anymore (hence no deinterlacing), but instead a zoom function is available through the menu which zooms the PSP "272 lines in 480p signal" to fullscreen. The output resolution can still be choosen from a list of PC resolutions. The LKV8000 is the digital version, probably performs in the same manner, but has a fixed 720p output. The PSP zoom works rather nicely. Next to the XRGB-3 the LKV7000/8000 are the only machines out there which can zoom PSP games. Some higher end video processors obviously can do this as well, but the picture usually gets very blurry on those. At least on the LKV7000 the transcoding of non-PSP signal (e.g. 480p from a PS2) works very nicely as well. Probably the next best thing to a Buroch Con-1 or an XSelect-D4 (which are both hard to find and cost a lot more). Here's photo from a my 52" Sony LCD running PSP Prinny in glorious fullscreen.
Conclusion: while I usually don't like "nameless" chinese manufacturers, Lenkeng succeeded in getting it's name out there. Their HDBoxPro clone, their PSP scalers and their easy to use RGB Scart to HDMI converters are highly recommended. Don't expect XRGB-3-like performance from them, but they're all worth their money and if your goal is basically just to add RGB Scart inputs to your HDTV set, this is the quick'n dirty path to 240p glory.
---


Over the years Lenkeng introduced a number of interesting low-cost converters. The LKV362A is their updated Scart RGB to HDMI converter unit (introduced in early 2013). The metal chassis of past years' converters has been replaced with a light-weight plastic case. The LKV362A features a HDMI passthrough input as well, so you don't lose a HDMI input on your TV set when using the converter box. The LKV362A is available for about $50 to $60.
For many users pixel perfect scanline emulations is not a necessity and if your goal is just to add a Scart RGB to your LCD or Plasma television set, converters like the Lenkeng always seem a good deal. I've reviewed other converters in the past (e.g. the Ligawo one if you scroll down a bit) and so I usually stay away from new incarnations of the same converters.
What made me look into the new Lenkeng Box was Lenkeng's product page including this feature ad right here:

Unfortunately that's basically false advertisement - or at least it's not directed towards end users. The Lenkeng LKV362A does not support 4:3 output. Whatever you input, no matter if PAL or NTSC, it's output in fullscreen 16:9 with no way of changing that. Unfortunately many newer TV sets don't allow the aspect ratio to be set to 4:3 with 720p or 1080p inputs, so you're stuck with 16:9 on those sets. I contacted Lenkeng about this and they stated, that the LKV362A is available with 4:3 options for OEM orders, but it's more than unlikely to find any converters with such configuration out in the wild.
The deinterlacing quality might have gotten a tiny bit over the past years, but in general it's still on the level of the original HDBoxPro (without the motion sensitivity setting). This means 480i and 576i deinterlacing looks ok, but 240p and 288p inputs are also handled as interlaced signals and the usual deinterlacing is applied.
The converter does not offer an on-screen menu, instead you get two buttons on the unit, one for cycling between 720p50, 1080p50, 720p60 and 1080p60 and the other for switching between the HDMI passthrough input and the Scart RGB input.
Conclusion: the Lenkeng LKV362A is far from being a great converter, but it does it's job. It's compatibility with old video game systems is good (SNES, Mega Drive, Playstation working without any problems) and the picture quality is ok. Just remember that unless your TV set offers full aspect ratio controls for 1080p input, you're stuck with 16:9 output.
---
Ligawo is a chinese manufacturer just like Lenkeng. The converters can easily be found on eBay and Amazon. The concept sounded promising! A single box solution for RGB Scart and S-Video inputs and a HDMI output with various output resolutions (including 720p, 1080p and some PC resolutions). But boy, Ligawo's boxes have really bad quality. While the basic functions work (50Hz and 60Hz RGB input via Scart), the processing quality is just bad. The upscaling is quite blurry and there's a lot of deinterlacing happening even with already progressive 240p sources. Quality for 480i inputs is kinda ok, but then again you don't need RGB in the first place.
You would expect this kind of quality from a no-name $299 32" LCD TV, but not from a 60 Euro external solution. The Lenkeng boxes are better and the HDBoxPro clearly shows that you can get actual quality at the same price.
Conclusion: works if you're deperately in need of Scart connector, but almost every processor on this website has better quality than this Ligawo converter box.
---


Oh well.... I so knew what I was getting into when I ordered this one. Auvisio is Pearl's private electro-gadget brand, with Pearl being a big online electronic discounter here in Germany. From the looks I already knew exactly what to expect. I reviewed a similar unit under the Ligawo brand maybe a year or two ago and it was so bad, that I didn't even bother to put the review online. Hell, I like to recommend machines, not to post warnings about them. Still, the Ligawo was approx. 300 EUR back then, the Auviso is incredibly priced at roughly 90 EUR. I got at least a dozen request over the past months to write something about it, so people will get an idea what they're buying. And let me tell you right away: this won't be a recommendation.
By having a look at the analogue inputs available (picture below), it's easy to understand, why the Auvisio would be a pretty great machine. The 9-in-1 HD upscaler offers everything you would expect from a high-end video processor. 2 HDMI inputs, 2 each for composite and component, s-video, VGA and even RGB Scart connection are available for basically all sources one can imagine. The output is realized through a HDMI output (720p and 1080p) and a set of analogue audio output is available as well.

First off I tested the unit with the VGA input. VGA is usually pretty easy to process. No deinterlacing neccessary, just scaling. I connected a Dreamcast and gave Sturmwind a little spin. The scaling is kinda ok, very similar to what entry level TV sets can do on their own. A big problem for us console users: the Auvisio does not allow any aspect ratio control with VGA inputs, so the Dreamcast's 640x480 output gets scaled to a fullscreen 16:9 1080 output. Unfortunately most TV sets nowadays don't allow 4:3 for 1080p either, so you're stuck with the stretched output (see the Sturmwind title screen down below). In direct comparison a 35 EUR VGA to HDMI converter (from Lenkeng) looked better and because is just converts to HDMI in 480p without doing any scaling, the TV allows full aspect ratio controls.
Next up was the RGB Scart input trying both a Super Famicom and a Playstation 1. And just like the Ligawo unit some time back, the Auvisio cannot process any 240p signals. You just get static noise until you reboot the processor or change to an interlaced input signal. So RGB is out of the question already. On the component inputs I connected a Playstation 2, as usual with both 480i and 480p output selections. Deinterlacing quality on 480i sources is rather mediocre. You get the typical motion-adaptive bullshit deinterlacing you get from every 30 EUR deinterlacer out there. In addition the Auviso adds ringing to 480i sources, while 480p sources appear considerably cleaner. Compare the two Fantasy Zone snapshots above. 480i source to the left and 480p to the right. 480p sources are scaled rather softly with small details disappearing. There's a sharpness control available, but it adds heavy ringing and lots of noise. In addition to those processing problems, the Auvisio is very bad with low IRE levels and causes drastic black crush. Dark details are swallowed by darkness and if you try to raise the brightness, everything gets washed out instead. You can see that from the obligatory OutRun2SP shot below (a 480i shot by the way, 480p looked a bit better).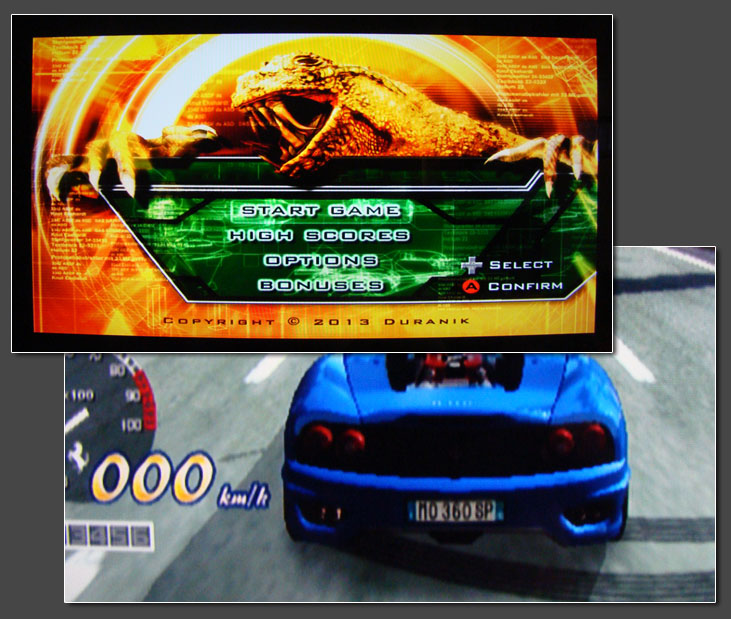 Conclusion: With a retail price of just 90 Euro and the motherload of analogue connections, the Auvisio seems very intriguing. Still I cannot recommend it. It does not process 240p at all and for other kinds of signals (VGA, component, 480i, 480p and even RGB) you can find cheap converters that do a much better job. If you really don't care for quality and just want to add analogue connections to your PC monitor, it's ok - I guess, but nearly every other processor on this site is better. For the same price you can get a 2nd hand iScan HD and for a little more you can choose from a wide range of really good and once very expensive processors.
---


Oh, no! Not another one of those generic, chinese upscaling boxes! I don't like them, you don't like them, so why bother and review another one ? Well, I recently watched a classic game video on Youtube, which was recorded using this particular box and I found the quality to be rather pleasing - at least for a processor of this price range. And since I like new gadgets after all, I quickly ordered one and gave it a shot.
The box in question doesn't get any more generic. I couldn't find any information on a manufacturer and the box appears to be available from different distributors, differently labeled depending on the country where you buy it. The one you see above, saying "HD Video Converter Scart / HDMI" is a version I got from a european eBay seller. In the USA there's a at least one version available which runs under the tag "HDV 8S", so I chose that descriptor for this little review. If you're shopping for this box, just go by the looks. If the converter looks identical (except for the label on top), it should be identical inside. The boxes go for EUR 45-50 over here and maybe US$60 stateside.
The upscaler features a single RGB-enabled Scart input (European layout of course, no matter where you buy the converter from) and a single HDMI output. In addition you get a HDMI input (just for passing through signals) and two audio outputs (digital coax and analogue stereo).
The processor used inside the converter isn't much different from other converters in the same price range - think of the GBS8220 boards for arcade use or the Lenkeng processors. It features a motion- and pixel adaptive deinterlacer that treats all sources as interlaced (doesn't matter if you feed 240p or 480i or the PAL versions of those). For static picture content this results in a nice and vibrant picture, while moving objects or backgrounds get smoothed out and appear heavily interpolated.

All content is scaled to fill the screen, so you get no choice of pillarboxing your content for a proper 4:3 ratio. One trick is to switch the output from a HD resolution (720p and 1080p are available) to a PC resolution (XGA or SXGA). Usually your TV or display will display those in 4:3, even if aspect ratio controls are disabled for other HD resolutions like 1080p. The output resolution can by cycled using one of the three buttons on the side of the box.

So, you basically get ok'ish picture quality (probably very similar to what your TV can achieve on it's own) and you get mediore aspect ratio handling. Is there anything that actually speaks for getting this one ? Indeed the reason is that it just works and is actually what I would call plug'n'play - and that's an extremely rare situation with video processors in general. Other converters I tried suddenly just used composite video from the Scart input, displayed black & white picture or had washed out colors with heavy chroma delay on their HDMI input. Not this one. I got solid RGB colors and sharp graphics from all the classic sources and no hiccups whatsoever.

The output of the converter isn't framelocked to the input, instead you get a 100% perfect 59.94Hz timing with 720p or 1080p output. This might result in a little stutter now and then (when the source is running at a different refresh rate), but it actually makes this converter a perfectly affordable add-on to your HDMI capture box. If you got a live h.264 encoder from Hauppauge, Avermedia or Elgato, you can use this converter to add a RGB-capable Scart input to your capture box. As mentioned earlier, this exact setup is what got me interested in the box. If you want to have a look for yourself, the "Shmup Master" series on Youtube is recorded using this exact converter box. Follow

this link for the Youtube video.

Like all converters using this or similar processing, the box adds a little under 2 frames of processing delay to your video chain.

Conclusion: from all the cheap, chinese RGB Scart to HDMI converters, this is the best one yet. It's not great or massively better than the other boxes out there, but it gave me much less trouble than all the other ones. I wouldn't necessarily recommend it for actual gaming (since every real video processor is still better), but this is indeed the perfect add-on for your HDMI capture if you want to record classic games without spending a fortune.
---
The Extron Andora series of linedoublers probably represents one of the oldest machines on this site. The Andora units are from the early to mid 90s, a time when progressive displays were rare and the world was ruled by mighty CRTs. This said, with Extron being a high-end manufacturer since back in the days, the Andora already featured a 15khz RGBs input. It will only accept clean sync, so you need to use the proper cables for your systems or use a sync stripper like the Sync Strike. The RGB input is a 9-pin DSub connector, but a Scart to DSub adapter is easily built.
One remarkable aspect about the Andora is that it's completely lag free as there is no deinterlacing applied to the picture. The single fields are just weaved together to get the proper 31khz output. This results in slight combing artefacts in high movement scenes, but this is masked pretty nicely when using a SLG3000 for scanlines on the Andora's output. The picture quality of the Andora is quite good and - thanks to the non-existent digital processing of the picture - sharper than on most other candidates you can see here. In terms of sharpness the Andora is comparable to the XRGB-3.
With the missing deinterlacing the Andora isn't for everyone, but if you're into fast-paced arcade games and want ZERO processing lag, you might be able to catch an Andora very cheap on eBay or elsewhere. The snapshots below show the Andora running a PC CRT monitor. The visible scanlines are produced by the high resolution CRT tube.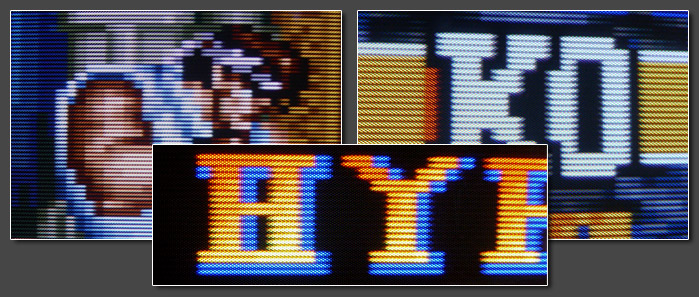 Conclusion: a very "pure" processor. No fancy extras, RGB input, ZERO lag. Pair it up with a SLG3000 for use with arcade boards!
---
The Videon Omega One has been introduced in 2001 at a price tag of US$1500. It features the legendary Faroudja FLI2200 deinterlacer chip and was named one of the best linedoublers on the market. The Vigatec FX2 is a relabeled Omega one unit from a german company. One of the two available component inputs on the Omega One machine (along with 4 Video and 2 S-Video inputs) has been remodeled to RGBs. The Videon can commonly be found on eBay all over the world, while you need to look out on european marketplaces to score a FX2 with RGB input. Current market price of the Videon is around $150 while the Vigatec might hit $200. There are updated versions of both processors available. The Videon is called Omega HDP, wile the Vigatec is called FX2+. The units are basically the same with an additional HD passthrough input added on both machines. They also feature an enhanced filmmode function for movie deinterlacing, but that's of no concern for us right here.
MSX: 100% maintained clearness and sharpness on scrolling backgrounds. True 240p mode, no deinterlacing applied.
ESP: 240p dropshadows are deinterlaced correctly - as well as 480i drop shadows (at the cost of a little delay)
WOT: works fine on the FX2 unit. Works fine on the Omega One with an addition RGBs to YUV transcoder up front.
(Depending on the PCE Engine RGB amp in question, a little more work on the amp might be neccessary.)
These two machines can probably be considered the best standalone deinterlacers for 240p material out there. The picture is somewhat not as sharp as on the competitors (XRGB), but this gives the picture a very natural CRT-like look. If you need more sharpness apply some from the TV settings. Picture quality of the Video and S-Video inputs is top-notch as well, because of the great comb filters used. If you have vintage systems which you don't want to mod to RGB, this is your machine (NES via yellow RCA). There's also a FLI220 specific feature called diagonal edge enhancement. One 240p this will interpolate the picture to avoid blockiness. In the end it's a matter of taste, but it's nice to have and works very well (while I prefer to keep it disabled). The Processing delay for all FLI2200 or FLI2300 based processors is rather low (between 1 and 2 frames) (Vigatec Germany claims that the FX2 performs at under 0.5 frames, but from my testings a few years back, that's not true. The Faroudja chips also "feel" more laggy than the lag-free XRGB-3).
A missing zoom function by the way results into black borders around the image. Especially on the PS2 which uses an underscanned output image (e.g. standard black borders on all four sides) this can get a bit annoying (can be 2-2.5 inches on a 50" screen)
The FLI2200 or FLI2300 can also be found on the Holo3DGraph PCI cards. I've done a seperate article on these cards which you can read here. It focuses on picture rotation instead of deinterlacing though.
Pros: affordable ($150-200), multiple inputs, very high built quality (originally $1500 machines), perfect 240p mode, switchable diagonal
edge enhancement, remote control, both VGA and component progressive output
Cons: not 480p compatible, no sharpness function on the YUV and RGB inputs, rather soft picture out of the box, no zoom function
Conclusion: next to the XRGB series, the very best processors for 240p material out there. With some systems (e.g. PC Engine or Neo Geo MVS) even less problematic than Micomsoft's XRGB-3 processor.
---
The Vigatec VC1280 was introduced around the year 2000 at horrendous prices of about $3000 back then. Similar units are available from various companies. The one I had on hand was a Comm-TEC Up 1280 unit. The VC1280 is a full-size rack-mountable processor with 4 composite inputs, 4 times S-Video, 2 times RGBs/Component and a single VGA passthrough port. On the output side a VGA port and a set of BNCs is available. The unit has also audio switching capabilites with 4 analogue stereo inputs and one output.
In Comparison to the Vigatec/Videon linedoublers the VC1280 does upscaling to 800x600, 1024x768, 1280x1024 (plus a few weirder ones like 720x960) and 1280x720 which is nice to feed computer LCDs or a HD-Ready display (LCD or Plasma). The unit has a little LCD screen on the front which allows the user to all settings without the need of an onscreen display.
The RGBs/Component inputs are done in DSub15 style (VGA connectors). This might be litlte weird for first time users, but it allows for smaller size connections and cheap self-made cables. I used a D-Sub to Scart adapter to test the VC1280 with a japanese Sega Saturn unit and a D-Sub to Component adapter to test a PS2. The unit succeeded in 240p tests. The picture quality is similar to the FX2 unit above (with DCDi turned off), but with added sharpess due to the scaling process.
The Vigatec VC1280 doesn't show up very often on eBay and other sites, but when it does, it can usually be bought for around 150 EUR ($200) which makes them a nice alterntive an XRGB machine. The VC1280 is one of the few machines which is upscaling to XGA and other resolutions and are still very fast (1-frame delay) and does proper deinterlacing of drop shadows on 240p titles. The machine also has got zoom and shifting functions which allow you to eliminate the underscan (black) borders on a PS2 signal.
Pros: affordable, scaling engine to XGA, fast, nice picture quality on 240p inputs, 2 RGB ports, audio switching, zoom
Cons: DSub inputs instead of Scart or RCA, no 480p input processing
Conclusion: nice vintage processor. Hard to find. Involves extra work for building Scart and YUV to DSub15 adapters for every single input.
---


Two rather interesting processors are the DUNE scalers by german company Vigatec. The Dunes actually bridge the gap between the earlier Vigatec processors (VC1280 and the FX2 linedoubler) and their later on released high-end machine S1 (see my review elsewhere on this page). The Dune comes in two flavors: the original Dune model is actually a GVC1280 with a new case. The GVC is an upgrade to the VC1280 reviewed a few years back (The VC1280 could only passthrough 480p and higher, while the GVC1280 has a wonderful scaling engine for 31khz+ sources). The successor to the Dune is the Dune-F which replaces the deinterlacer portion with a Faroudja FLI-2200 (the same processor was used in the FX2 linedoubler). When introduced the price for the Dune units were nearly $4000. Now you can pick up a Dune unit for about 150 EUR and a Dune-F unit for about 250 EUR.
The original Dune unit (that's the one shown above with the green front LCD) is quite similar to the VC1280. You get 3 composite inputs (one can used for SDI signals), 3 s-video ports and a whole bunch of HD15 (VGA) connectors. Two of them are intended for 15khz component and RGBs signals, while the other three are intended for ED and HD signals (480p, 720p, 1080i in both YUV and RGB and computer signals). On the output side you get a set of BNC connectors (for RGBHV and component output) and a HD15 connector. Four analogue audio inputs are available as well and they're all routed to a single analogue output (all in 3.5mm jack format)
Just as on the VC1280, all classic output resolutions are available (from linedoubling = 480p/576p, over XGA up to 1080p). Some of the HD timings are bit weird, so compatibility with 1080p question might not be perfect. The higher-res PC resolutions all work fine though.
240p signals on the 15khz inputs are handled great. Deinterlacing can be set to "game mode" for faster single-field processing, but even in standard video mode, 240p is properly recognized. Deinterlacing is perfectly on par with the better linedoublers (Vigatec/Videon) out there. 480i processing is kinda ok. I would say about the same quality you get from the earlier DVDO machines (iScan HD and such). Upscaling of already progressive signals (like 480p) looks very nice with basically no ringing or edge enhancement present. Similar to what I've seen on Faroudja machines like the DVP-1000.
The Dune does not offer an OSD, but if fully controlled through it's front LCD screen. It's not overly complicated, but not very logical either. SD and ED/HD sources can't be connected to same inputs, so would have to use one input for 15khz signals and another one for 31khz ones, even if they come from the same system.

The Dune-F doesn't look much different from the original Dune. The green LCD has been replaced with a fancy blue one and the HD15 output has been replaced with a DVI-I output. The rest looks the same and the two machines perform quite similar. The scaling engine remained untouched, so upscaling of 480p sources still looks pretty good.
The deinterlacing processor has been replaced with a FLI-2200 processor which offers better 480i processing, but since 240p already looked stunning on the VC1280 and the older Dune model, there wasn't much space for improvement anyway. 240p still looks good and no unneccessary deinterlacing is applied. The Dune-F now offers a digital output, but compatibility is flawed and the newly introduced OSD is only available when using the analogue output instead. Kinda half-hearted implementation I would say.
Pros: affordable, nice scaling engine for 480p sources, fast game mode for 15khz sources, proper 240p handling, audio switching
Cons: HD15 DSub inputs instead of RCA, buggy OSD on the Dune-F, not the most logical menu system
Conclusion: just as their predecessor, the VC1280, the Vigatec Dune units are nice and affordable machines. They are very rare in the US, but can sometimes be found on european auction sites. Both units offer proper 240p handling and can be nicely combined with a SLG3000 unit for scanline support. 480i handling is certainly the weak point of the original Dune unit, but it's capabilities for handling 240p and upscaling 480p sources make it a worthwhile addition to most gaming setups. The Dune-F improves on the 480i side, but adds a flaky DVI output.
---
A rather unknown processor. To my knowledge Zinwell was quite active on the US market, but I can't remember seeing a BriteView over here in Germany more than a single time over the past years (and that's when I bought this one).
With it's limited inputs (composite, s-video, component, one each) the Brite View at first seems like a processor in the iScan Pro range, but a first test run (or a look into the manual) suggests that it's actually a more powerful unit. The Zinwell supports VGA output resolutions of up to SXGA (1280x1024) and component output resolution of 720p and 1080i.
The BriteView comes in a dark metal chassis with an embossed Zinwell logo on top. The remote control allows to switch between inputs and to adjust basic cotrols (brightness, contrast, sharpness). There's also a button to directly change the output resolution, so you can easily toggle between VGA, SVGA, XGA and SXGA.
The processors supports 480i and 576i inputs and properly recognizes 240p and 288p video on all inputs. The image quality of the processor is ok. It's not great, but it heavily gains from the scaling to higher resolutions and the proper 240p handling is nice to see. The Zinwell adds a little overscan to the picture, which can easily be noticed on a PS2 signal (which usually has large underscan borders). The processing lag on 240p is quite low (around 1 frame) and the Zinwell works nicely with the SLG3000. The scanlines get thinner/smaller the higher you set the output resolution, so the Zinwell should be set to 480p output for a "proper" scanline look.
In comparison to other processors, the Iscan Pro performs a little better, but given the low price of the Zinwell (50 Euro), it's surely an affordable alternative.
Conclusion: overall a nice little processor. With the scaling minimized (output set to 480p VGA), the Zinwell can be used with the SLG3000 for added scanline goodness.
---
The ML20 is a basic linedoubler designed and made in Germany. It has a very high-end built-quality to it and the units supposedly sold for several thousand Euro a piece back in the days. The units are available in dark blue or charcoal grey color. You can use these to drive 3D glasses (hence the name), but if you skip this functionality, you have a solid, but simple linedoubler which takes 15khz via RGBs and component and outputs 480p or 576p through VGA.
The unit works fine with most 240p sources and handles 480i (and 576i) as expected. Quality isn't great (not bad either), but there's little adjustment possibilites and the inputs are quite sensitive to noise.
There's really nothing to rave about. If you have one of these, they can be used for basic 240p to 480p processing. You can add a SLG3000 to the output to add scanlines. On the other hand, you can find plenty of other processors at this price tag, which do the same job.
Conclusion: not bad, not great either. Really nothing special and hardly any adjustment possibilites.
---
This one actually took my ages to get. I've setup an automated eBay.com search for Silicon Optix back in 2008, but the only units showing up were in bad condition and with prices of more than $700 plus shipping. Anyway, in the summer of 2011 I finally got one and ran the full program of tests. And what can I say ? Who would have expected that the Silicon Optix turned out to be a new star among the video game processors out there ? Well, it did. Read on to learn about it!.
The Image Anyplace was introduced in 2004 or 2005 for a hefty $4000. It was aimed at users of digital high-end projectors, because - as the name already suggests - the Image Anyplace is the only video processor out there to feature extensive digital keystone correction for projectors. You can use it to counter any kind of geometry distortion caused by projecting from all kinds of weird angles. What hit me about the Silicon Optix unit, is it's ability to provide +/-90° picture rotation to any of it's inputs. But first things first....
The Image Anyplace features the FLI2200 processor (just like the Videon and Vigatec units), but adds a FGPA for scaling (up to 1400x1050p or 1080i) and live-geometry-corrections and rotation. As expected from the Faroudja processor inside, the Image Anyplace features full 240p compatibility and recognition, so it doesn't even try to deinterlace 240p material. For 480i material you get full control over the FLI's deinterlacing features. There's a even a DI-mode called static mesh which is very similar to the gamemode on the DVDO units - just better. I'm hardly impressed by any video processor nowadays, but the SI did the trick. Amazing for all kinds of classic video game signals! With the nice scaling available in the unit, the overall picture quality is even better (= sharper) than on the Videon/Vigatec units - excellent!
The processor has got SD inputs (composite, s-video, component) and HD inputs (component, RGBHV, VGA, DVI) and processing and image rotation is available to all of them. The only thing missing (because of it's american heritage) is a RGBs input, but a RGBs to component transcoder can be added cheaply.

So far, so good. The major selling point in this processor is it's ability to rotate the picture. Before the Image Anyplace, this feature was only available in a HTPC setup using the Holo3DGraph processor card. Unfortunately it's a pain in the ass to find a Holo card nowadays and setting up a HTPC isn't everyone's cup of tea anyway. The Image Anyplace takes all those features and puts them into a single standalone processor.
No matter if your input is 480i (e.g. from a PS2), 240p (e.g. from a Saturn) or 480p (e.g. from a Dreamcast), the Image Anyplace makes all your TATE-compatible games shine - without the need to rotate your display. As you can read in my Yokotate article, the advantage of using a TATE mode isn't only the bigger playing screen, it's the better resolution and the waive of any scaling in the source. Classic games running at 320x240 usually need to be downscaled to 180x240 for Yoko play. Dreamcast games like Exelica running in 640x480 have to be downscaled to 360x480. With the Silicon Optix, you get the full resolution all the way. The Image Anyplace offers both clockwise and counter-clockwise rotation as well as multiple combinations with all kinds of flipping or mirroring. Everything works like a charm and looks stunning! The whole processing lag remains on a very moderate level with around 1 frame for already progressive signals and still under 2 frames for interlaced 15khz signals.

There are two very minor cons I could find while testing the unit: a) given the age of the unit, 1080p is not available. The highest HD resolution output for DVI/HDMI and VGA is 1080i and the highest PC resolution output is 1400x1050p. And b) while the scaling overall is really good, the Image Anyplace cannot apply picture rotation to a signal with scanlines without causing scaling artefacts (unevenly scaled scanlines). For 99% of all possible users this isn't important, but it's a hint for anybody thinking of chaining a XRGB-3 with the Image Anyplace ;-)
Pros: excellent processing quality and full 240p compatibily, many inputs, picture rotation for "Yokotate" gameplay
Cons: not this easy to find if you're on a budget. No 1080p output (just 1080i or PC resolutions up to 1400x1050p)
Conclusion: one of a kind! Not only great quality for all 240p sources, but the only processor to allow picture rotation for all inputs.
Hands-down the best processor I can think of to use a supergun on a large digital display without rotating the display.
---


The Datapath x4 video processor is a very interesting machine. Contrary to most other processors you can find here on my page, the Datapath x4 is neither a linedoubler nor a deinterlacer or a classic upscaler. It's a dedicated video wall processor. It's main purpose is to take in a high-resolution PC signal and split it onto four separate outputs - something you might have seen on various events, in company lobbies or at larger advertising installations. Plasma screens are available with a 100" diagonal, but they literally cost a fortune. Front or back projection is usually an affordable alternative, but the results aren't suited for bright-lit or even daylight environments. Combining four 50" LCD screens for a bright and cheap 100" video wall is certainly considered the best option today and that's what a video wall processor like the Datapath x4 takes care of.
This - of course - raises the question, why I was considering a review for a processor like that. Well, if know my other reviews, I've long been looking for more processors to add to my Yokotate project page . Yokotate is a concept which allows you to play tate-only games (from classics like Donkey Kong or Galaga to every modern vertical shoot'em up) vertically on a horizontally orientated screen. A friend of mine recently did a video wall installation in Switzerland and he chose a processor similar to the Datapath x4. When checking the manual for the device, I noticed the extensive geometry options the unit provides (rotation, mirroring, flipping) and immediately thought about adding a chapter to my ongoing Yokotate project.
Without basic deinterlacing or linedoubling capabilities, I consider the Datapath x4 to be more of an add-on for existing setups instead of a standalone processor. For one part of the my review I paired it up with a XRGB-Mini (Framemeister), for another part with a PC running MAME. To check the compatibility with various sources and signal formats I used a DVDO video processor (iScan VP50Pro) with a XRGB-3 chained to that. For most users a processor add-on like the Datapath x4 will be total overkill. - Still it's a prime example for a set of desirable functionalities currently missing from most other processors and it's certainly something that everybody would like to see integrated in a processor like the Framemeister.

While my main focus was on the unit's rotation feature, I couldn't pass the opportunity to try out the video wall features the Datapath x4 has to offer. Lacking four 50" LCD screens (my apologies), I took three classic Pioneer plasma panels (40" each) instead and put them into vertical orientation to get one large widescreen display (see the snapshot for the configuration above on the left, while the color bars on the right were generated by the x4 - very convenient for an easy setup). The Datapath x4 has one DVI-D input for full range RGB signals. The input accepts both single- and dual-link DVI signals, meaning you can input anything from 480p to dual-link resolutions like 1600p60 or even 4K at 30Hz (2160p30). Each of the four outputs comes with a single-link DVI-I connector for both digital DVI and analogue VGA signals. The outputs are fully customizable with resolutions up to 165MHz on each output (1200p). To connect the x4 I used a HDMI to DVI-D cable on it's input (from my Framemeister and/or PC) and three DVI-A to VGA cables on three of the outputs.

Video wall processors can be real fun. That is if you got a number of identical displays and especially enough space to put them. I first planned to put the three Pioneers horizontally next to each other for some extensive Darius sessions, but unfortunately I just didn't have the space (or at least the ability to take proper photographs of a horizontal setup). Basic video wall functions are available from a number of processors including the XRGB-Mini. The Mini can split a signal into four identically sized parts and the user can choose which one to output. It's limited to a four-screen setup though and you need four Framemeister processors to do that. The Datapath doesn't limit you to anything. You can freely choose between 2-, 3- and 4-screen setups and you can even choose the orientation of the screens.
For my first test setup I had OutRun2SP running on a PS2, through the Framemeister and into the Datapath x4. While three 16:9 screens put vertically next to each other result (roughly) in a 16:9 ratio again, three 4:3 screens like the Pioneers put together are considerably wider. That's why I stretched the game a little (from 1.78:1 to about 1.9:1 and padded the remaining space on the left and right with black). Still an awesome experience!
Of course I also tested the Datapath x4 for it's processing lag. I benchmarked the identical setup without the Datapath x4 using Leo Bodnar's handheld lag tester and then compared the results to the x4 in the processing chain. The Datapath x4 adds exactly one frame (16.6ms) to the processing delay. That's less than half the time the Silicon Optix Image Anyplace processor adds (another Yokotate processor) and considerably less than what a Holo3Dgraph setup adds. From a technical perspective a one-frame delay makes sense. In order to allow a picture flip (or 180° rotation) one frame has to be buffered in order to output the bottom rows of pixels first on the flipped image.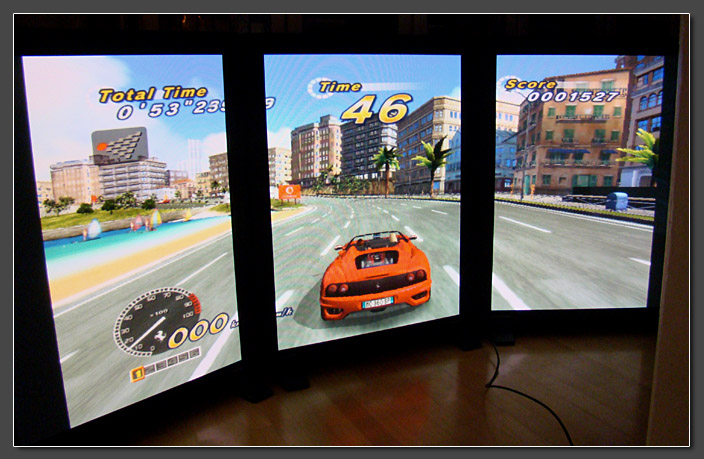 Think big, think Darius! Even when playing Darius or Darius II (or Ninja Warriors for that matter) horizontally on a 50" screen, the screen height remains tiny (11" on a 52" screen). With a MAME PC connected to the Datapath x4's DVI input I was able to output Darius onto three 40" 4:3 screens. Unfortunately I can only provide the following snapshot with vertically orientated screens, but just use your imagination. With those screens put horizontally, this would result in a total image with 24" in height and nearly 100" wide! Sheer awesomeness!
I did a three-screen Darius setup before using three 21" NEC LCDs. Back then I just used three dedicated DVI-I inputs on my workstation (which is pain to configure). Using a video wall processor like the Datapath x4, it's much easier. For this setup I used a small Atom-powered EeeBox with a single HDMI output running into the processor. The x4 took care of the rest. And you don't even have to reconfigure your screen output. MAME was running in it's standard 1920x1080 configuration.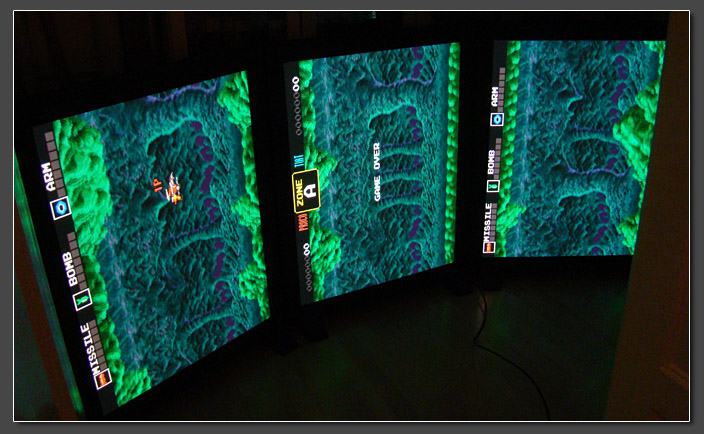 To configure all this multi-monitor extravaganza the Datapath x4 is completely controlled using a small but rather versatile windows control program. The x4 does not have any buttons nor does it have a remote or an on-screen display. Instead the x4 gets connected to a PC using a standard USB cable. Using the config utility the x4 can then be setup. The whole setup process is quite easy. First step is to configure the right output resolutions for all attached displays. Using static or moving color bars, it's easy to get the geometry right. Unfortunately the utility only provides standard timing presets for SMTPE 720p and 1080p. Everything else (for example 640x480 in VGA for the Pioneer displays) has to be input manually including all the advanced timing parameters. Fortunately I was able to just look up the timings on my DVDO processor and copy them from there.
Step two is configuring the input areas. For each of the four physical monitor outputs different input regions and picture transformations can be chosen. For Darius running on the MAME PC I chose three areas (640x480 each) next to each other, thus "capturing" the complete 1920x480 playfield of the game. For OutRun2SP I chose three areas of about 250x450 and had them additionally rotated by 270°. All configurations can be saved for instant recalls.
The input configuration is one of the only areas in which I ran into a few problems. Two to be more specific: a) The Datapath x4 can only upscale image areas, not downscale them. With the limited resolution of my Pioneer displays (640x480) I couldn't work with the fullscreen output of the Framemeister. Fortunately the XRGB-Mini offers underscanning options and so I just used the Smartx1 option on the Mini to have him display the 480p game in 1:1 resolution on 1080p carrier signal. And b) the Datapath x4 does not honor aspect ratios. Whatever region you choose, it gets scaled to output in fullscreen in the chosen output resolution. That's not a huge problem, but it makes the setup a bit more complicated as it would have to be.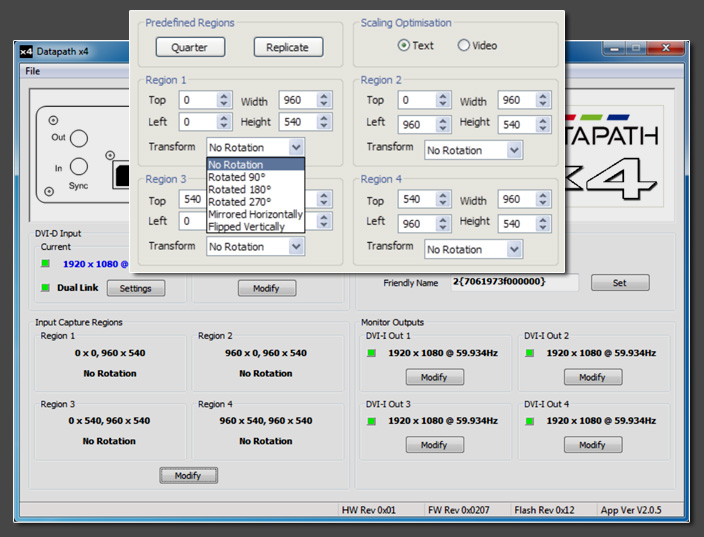 As mentioned earlier, my idea behind reviewing the Datapath x4 processor in the first place, was to test it's rotation capabilities. The x4 marks the fifth machine I tested for this purpose. The first was the Holo3DGraph capture card by Immersive featuring a Faroudja processor on a PCI card. The second was the Silicon Optix Image Anyplace processor (very nice, but lacking 15khz RGB inputs and without 1080p output capabilities, so you couldn't rotate scanlined images). Number three and four were the Startech / Micomsoft 500N1 capture card and the external XCAPTURE-1 box (also by Micomsoft, reviews for both unpublished so far).
To test the Datapath x4 for it's Yokotake capabilities, I used a Neo Geo MVS into a Framemeister. One of the games I tested was NG.Dev.Team's brandnew Neo XYX . The first ever tate (and tate-only) Neo Geo game. The Framemeister was set to 1080p output with Smartx1 underscanning and enabled scanlines. V-Sync was enabled, which added another snare to the test setup as the MVS outputs a refresh rate considerably different to the standard NTSC timings.
Results were great. The Datapath was able to rotate and upscale the horizontally running game along with enabled scanlines. Of course the snapshots below don't really do the live experience any justice, but it gives you an idea (note the glowing Sony logo on the TV set for proof of the game running in true Yoko mode). The x4 offers two different scaling modes. A sharper (but more blocky) text-optimized mode and a softer video scaling mode. Depending on your exact output resolution and your need for under/overscan one might work better than the other. Overall the rotated and re-scaled scanlines looked just fine - with some input/output combinations better "snapping in" than others.
Neo XYX is actually my only tate-only game. Other games like ESPGaluda on the PS2 offer interlaced Yoko modes already, but they just look so much better when used with their true 240p tate output and rotated afterwards. And if you're into arcade PCBs, then the Datapath certainly sets a new benchmark when it comes to forcing yoko on your home displays.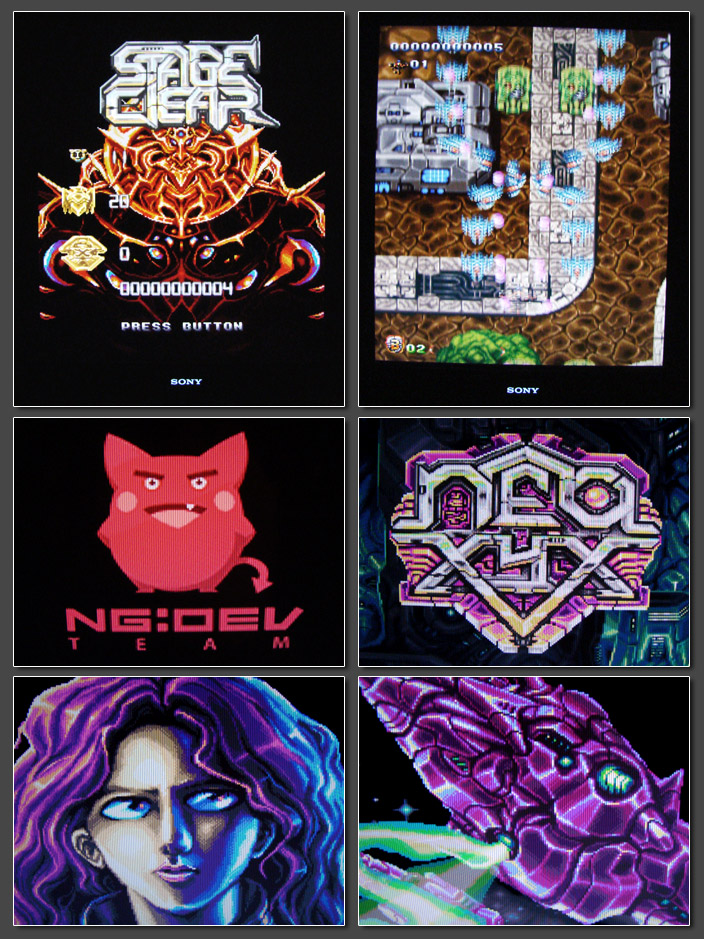 One usually overlooked, but extremely fun aspect of geometry processors like the Datapath x4, are their flipping and mirroring options. On the snapshot below you can see the display in the middle showing the original version, while the displays on the sides have been flipped (or mirrored) on their vertical axis. I've been stuck with this idea since my Silicon Optix review a few years ago, but never got around actually modding one of my arcade sticks to match the flipped controls. Anyway this time I did it. On vertically running games (usually shoot'em ups) flipping the image inverts the left / right controls, so you have to flip the controls on your stick as well. If you have a HRAP or similar controller, it's easy to just pull the quick connects and just exchange the wires for left and right.
This way you can control the games just like usual, but with the game flipped. It's a totally new experience - believe me. You won't recognize any of the enemy patterns. It feels like diving into a whole set of freshly released black label versions - seriously!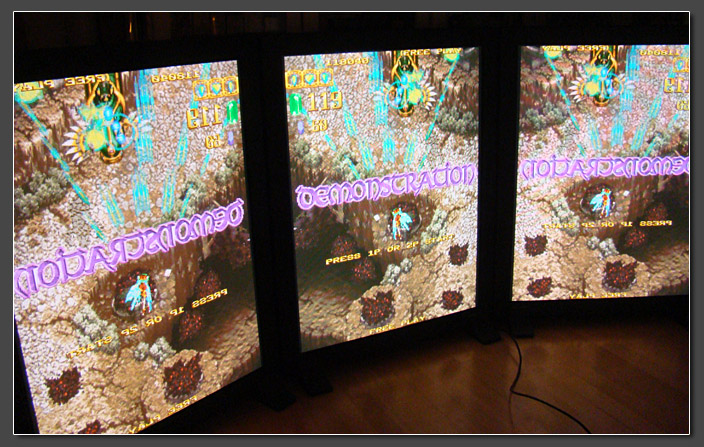 I literally spent a few hours playing ESPGaluda and DoDonPachi DaiOuJou this way and it was just great. After that I reconnected my MVS and tried the picture flip on a number of shoot'em ups. It basically works great on anything vertical, but also gives a great experience on horizontal shoot'em ups. Playing games like Last Resort, Pulstar or Blazing Star from right to left might seem silly at first, but you'll never again want to miss the possibility after trying it once. The games feel totally different than originally intended and it's like a new life for your whole back catalogue. For a moment I even tried Mario World - crazy fun to say at least !! Below you see a little gallery of flipped MVS games. Unfortunately the flipping function cannot be used at the same time as the rotation, so you need a true vertical display to flip your tate-only games.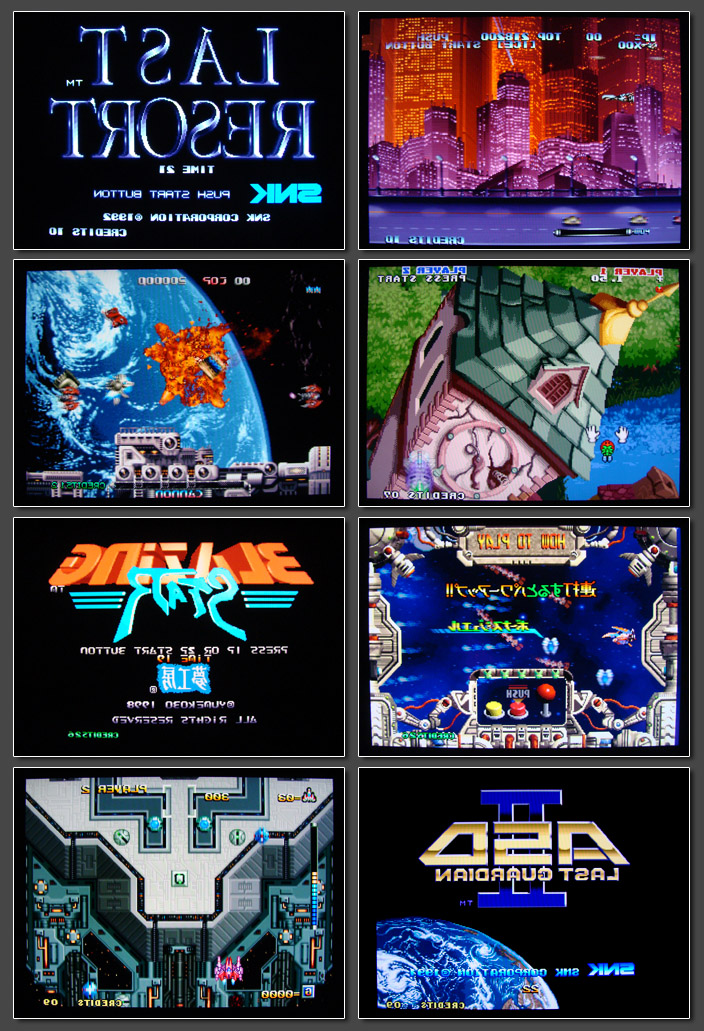 Datapath UK offers the x4 in two flavors. The medium sized desktop unit I had with me for the review and a 19" rack version. While I have seen 2nd hand x4 units in the past, it's usually very hard to find them used. Datapath has an extensive network of distributors and dealers and you can get in touch with them to check for availability on your area. I got my unit from german distributor Dimeso. Pricing is set at about three times the price of a Framemeister, but very reasonably compared to full blown processors like Lumagen's Radiance series. Hardcore arcade enthusiasts should consider that a x4 is still condiderably less expensive than any single one of the Cave PCBs released over the past years. For a 4-screen video wall processor the x4 is cheap anyway. - Similar products by other companies are 3-4 times the price.
A re-branded OEM version of the same processor is available from a company called EMS Limited (also in the UK). Instead of x4 the unit is named Xtreme4vs. As far as I can tell it's 100% identical to the Datapath version (the manuals are identical and EMS even lists Datapath's WEEE registration ID). According to the german distribution Datapath is the original manufacturer of the machine.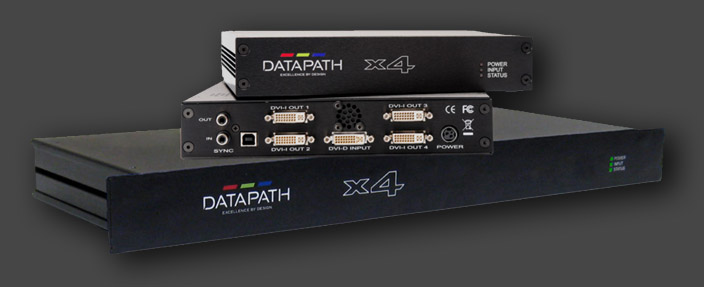 Conclusion: The Datapath x4 is a fantastic processor add-on, if you already have a complete setup including something sophisticated like a Framemeister or a XRGB / DVDO combo. The video wall function is great to play with, but of course it requires a lot of space. The USB-only control of the x4 seems weird at first, but it turned out very convenient and the ability to easily save and load configuration profiles make the x4 extremely easy to work with. Of all "Yokotate" machines, the x4 is the fastest (exactly one frame of delay) and the one with the best quality. The flipping function is a great gimmick that let's you replay your whole library in a way you would never have imagined. Consider this the creme de la creme of processor add-ons for the enthusiast gamer who already has everything else.
---
Cinemateq is a german company (on the outskirts of munich) which had it's high a some years back (around 2004/2005). They introduced a series of processor called "Picture Optimizier" ranging from a simple linedoubler (PO), over three generations of scalers (Picture Optimizer Plus and Plus II and POP HD). Cinemateq went out of business a few years back, but the company assets were bought and so the name's kinda still around nowadays (but without the original team of engineers and technicians).
The Cinemateq processors were quite expensive back in the days, but can be found quite cheap on eBay these days. I bought myself a Picture Optimizer Plus II SDI for about 180 Euro. While the usual downs apply to the Cinemateq just like to most processors of the time (e.g. it does not process 480p inputs, but has seperated pass through inputs for ED and HD signals), it has one thing that no other processor (besides the XRGB) has: real RGB Scart inputs - and there are even two of them! Besides the Scart inputs, there are two sets of component, two S-Video, two Video (or SDI). On the output side the Cinemateq is very well equipped with RGBHV (BNC), VGA, Component and DVI.
On older units (probably an older mainboard revision) for some weird reason the DVI output is officially limited to 1080i output, while the RGBHV output supports 1080p without any problem. On newer sets the DVI output supports 1080p50/60 as well, although I found that 1080p in general introduces some scaling artefacts, which other output resolutions didn't show. The Cinemateq processor are quite flexible and can be set to every output resolution you want (which is nice for WXGA display users). All settings can be done on the front display or via on-screen menu. The menu's are easy to understand, but get more complex the deeper the user gets into them.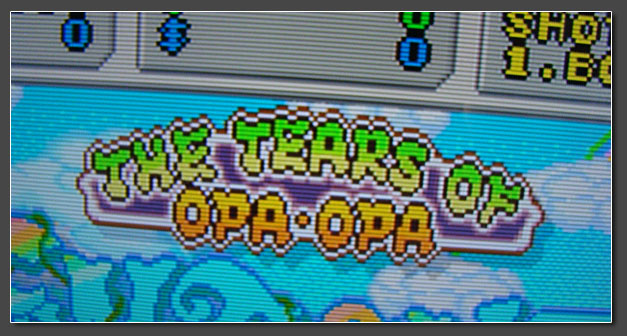 From a compatibility standpoint the Cinemateq performs very nice. I threw various sources at it, ranging from a PS2 via component to a Saturn through RGB Scart (and some others) - and the POP processed all of the them like a charm. The Cinemateq units have lots of manually selectable deinterlacing modes of which only some work nicely on 240p material. The auto setting can't be recommended as it causes 240p to flicker and judder. Cycling through the modes I quickly found a working deinterlacing mode. The results for 480i material are ok, but nothing to talk about. There's no motion-adaptive video deinterlacing, so the possible resolution is cut into half (on slow moving games, e.g. RPGs). The results on 240p were nice though and reminded me very much of what the Faroudja based Vigatec units can do. Diagonal enhancement is available in the menu as well, but it's not really as good as Faroudja's implementation. The scaling and optional sharpness setting add a nice touch, so that in overall the POP's picture appears sharper than the pure linedoubling of a FX2 unit. The BNC and HD15 outputs are compatible with a SLG3000 (or any other scanline emulator). With the Cinemateq's output set to linedoubling the resulting image is very close to what a XRGB can achieve (see the screenshot above).
Pros: very affordable nowadays, 4 RGBs/Component inputs, many outputs, highly flexible menu with lots of options
Cons: no audio routing, some units only offer 1080i for DVI / HDMI, the usual 2-frame delay on 240p and 480i gaming material
Conclusion: a nice processor from Germany, extremely well built, good quality, nice alternative to Faroudja linedoublers.
---


The Picture Optimizer Plus HD was Cinemateq's last processor and it's still sold and supported today. Cinemateq asked quite some money for the "HDMI and audio upgrade" for the Picture Optimizer Plus II - I think the upgrade was listed at 1,200 EUR a few years back. The POP HD itself was available 3,000 EUR when it was new and is still 2,000+ EUR when bought new today.
Compared to the POPII (which I reviewed some years ago), the HD reduced the number of analogue inputs in favor of four glorious HDMI inputs. The component output has been removed and replaced with a proper HDMI output instead (component output is still supported through the BNC output connectors). The POP HD version I had on hand was the standard version with two composite inputs available. There's also a SDI version which replaced the composite inputs with BNC ports for digital SDI signals. On the audio side, the POP HD adds five digital audio inputs, which can be assigned to any video input you like. Audio is output through HDMI and SPDIF (coax and optical) at the same time (and compared to other processors this really works well).
Since the Picture Optimizer processor series was developed in Germany we get a real Euro-Scart input fully capable of processing RGB signals. The older POPII had two scart sockets available, while the upgraded HD version only has a single one left. Still better than no RGB at all as with so many US-developed video processors. Check the pictures below for full closeups of the POP HD's input and output connections.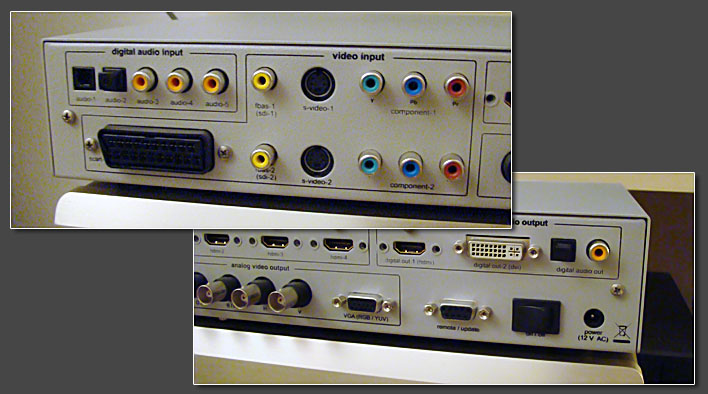 Compared to the older POPII the HD has got a newly designed deinterlacing processor. That's good because the new design only has two deinterlacing options left (TV mode on and off, which actually is a video-only deinterlacing mode), which makes the processor easier to use. The bad thing about it is that the POP HD is not as perfect with it's 240p processing as the POPII was. It's still solid, but you can see that the processor sometimes tries to deinterlace when it really shouldn't. On the plus side, the 480i deinterlacing quality looks nicer than it did on the older Cinemateq units. 240p are handled on all analogue inputs. The screenshot below was taken with a NTSC Super Famicom connected using the RGB scart connector. Real plug'n'play. The component inputs accept 240p and 480i (and 288p and 576i for PAL sources), but they don't handle 480p. If you want to connect a 480p source for further upscaling, you can add a component to HDMI transcoder (about $35) and use the HDMI inputs. Upscaling for 240p and 480i sources is really solid, for 480p I've seen better.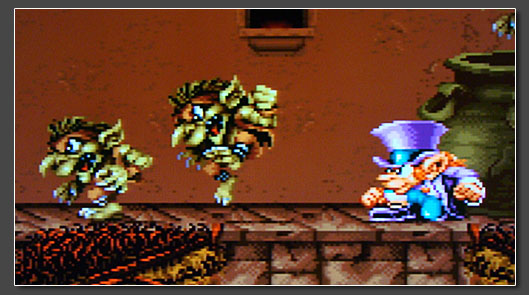 Overall the Cinemateq POP HD is a solid processor. 2nd hand pricing nowadays is around 200 to 250 EUR which is reasonable given the full processing available for the HDMI inputs. The missing analogue audio input can be a bit of a hassle (with component video sources), but an analogue to SPDIF converter is easily added and not this expensive ($30). And while the old POPII was limited to 1080i through it's DVI-D connector, the POP HD of course fully supports 1080p through it's HDMI output. The analogue VGA and RGBHV outputs are fully compatible with the SLG3000 and other scanline emulators with the processor's output set to 480p (or linedoubling).
Conclusion: the Cinemateq Picture Optimizer Plus HD is one sexy looking processor. It's not exactly overloaded with options, but that just makes it easier to use. Just like the older POPII I would recommend the Cinemateq to users who don't want to hassle with scart breakout cables and want something that "just works". From a pure picture quality standpoint, the POP HD increases in 480i deinterlacing quality but takes a (little) step down, when it comes to handling 240p signals from old game consoles. Results are still nice though and certainly better than many of the other solutions out there. And in terms of compatibility, the Cinemateq's still a beast. Everything works out of the box.
---


A rather surprising discovery in still young 2013 are the GENIUS boxes by Italian electronic company MIMO. One of the boxes was first brought to my attention my a fellow member on the shmups.com board. He found a relabeled version of the Genius 1 box listed at Australian (!) reseller converters.tv. After a few minutes of googling, I contacted MIMO in Italy to get ahold of two review units - - and here we go.
The most interesting fact about both the Genius Box 1 and 2 is that they're no simple upscalers, but cross-converters with both up- and downscaling capabilites. The original Genius box offers a 6-pin RGB input and output as well as a HD15-style VGA input and output connector. The converter accepts 15khz RGB/CGA (240p and 480i), 24khz (384p) and VGA (480p) and converts every single one of these resolution into each other. CGA to VGA would be the most common situation, but the other way around (VGA to CGA) is especially interesting, since both the Extron Emotia and the Ultracade UVC are so hard to find nowadays.
The Genius 2 box adds a composite video input and, a HDMI output and higher upscaling resolution (e.g. 720p, 1080i and 768p). RGB and VGA connections are still available on the input and on the output side (HDMI downscaling isn't supported though). 50Hz output is not supported. 50Hz sources will be converted to 60Hz (on the Genius 2 at least). Current retail prices (directly at MIMO) are 220 Euro for the Genius 1 and 250 Euro for the Genius 2. Both boxes are built with a heavy-duty steel chassis and are obviously meant for industry applications and nonstop use in commercial arcade environments.
This review here will focus on the upscaling capabilities of both converters first and downscaling in the second half . If your focus is on downscaling, read on here, but make sure to check my Scanlines Demystified page as well, so see in detail how both the Genius boxes compare to the classics (Extron Emotia series and Ultracade UVC). (I'll try to update the page in early march).
Obviously both versions of the Genius boxes are built for commercial applications and that's something you'll notice in the connections as well. Compared to many other upscalers here on my page, the MIMO boxes are certainly not what you would call plug'n'play. In order to get any of them working you require a bunch of additional material. This starts with a PSU (12V, less than 1A) with a custom output cabling. You also require a so called AMP Modu-1 connector for your RGB sources (or for the RGB output if you want to use the Genius boxes as downscalers). Modu-1 is basically just a straight line of 6 pins, similar to the output of the Ultracade UVC, but not exactly the same. For the purpose of this review I quickly soldered a Modu-1 to HD15 adapter which gives me access to my usual cabling. For the RGB input you might also require a sync cleaner (depending on which systems you want to use as a source). To avoid any trouble I chose the Arcadeforce Sync Strike for this purpose (Scart RGB source > Sync Strike > VGA to Modu-1 adapter cable > Genius Box). On the VGA output I added a SLG3000 - just for fun of course. If you don't want or need scanlines, leave it away. With all that gear in place, we're ready to start!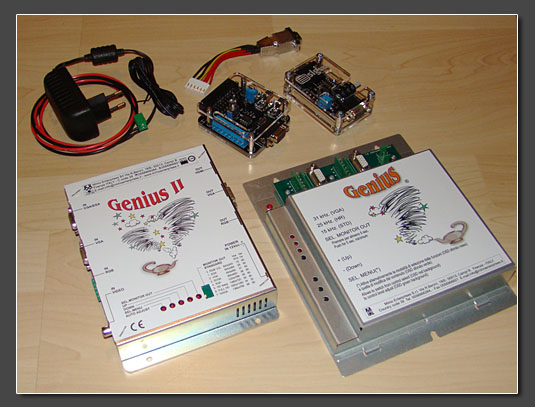 On the Genius 1 I had a *very* hard time to get a picture from my RGB sources. Please keep in mind that I don't have any arcade RGB sources around and can only test RGB with consumer levels (0.7V peak level on home equipment vs. 2V+ on arcade machines). I ran my RGB sources through a sync cleaner without any success. I then added a number of RGB interfaces between the Sync Strike and the Genius. Again no success with a Kramer sync converter and no success either with an Extron RGB 203rxi. Finally I tried an Extron RGB 190 and got a picture using the C-Sync output wired to the H-Sync input on the Genius's side. Seperate sync signals (H+V) didn't give a stable picture, although the Genius' CGA input is labeled RGBHV.
The picture I got at first looked very weird (see small picture below on the left). After adjusting the contrast level down to about 50%, the colors looked right (bigger picture on the right). Linedoubling quality on 240p sources is very nice. No deinterlacing is applied and the results are easily on a level of the earlier XRGB linedoublers. The Genius' auto adjust function is a problem though. Again the unit is meant for nonstop usage with a single source. If you switch sources you'll need to re-adjust the geometry settings and this can get nerve-wrecking. And even with a lot of adjusting I wasn't able to get rid of an irritating and visible instability on the vertical axis - similar to what I'm used to from the early XRGB machines. It's a clear sign that the original Genius box was geared for use on CRTs and not on digital setups ending in a LCD or plasma setup. The SLG3000 works nicely on the Genius' output. Sync polarity isn't a problem and the scanlines are a perfect match for the linedoubled 480p output.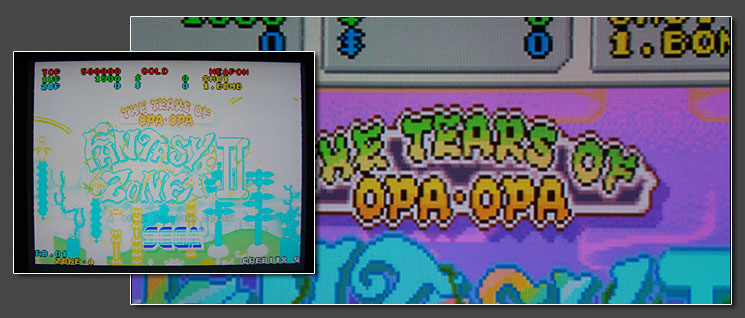 The Genius II on the other hand performs like a much more modern machine. To be on the safe side I first connected a composite video source (a NTSC Super Famicom) and used the HDMI output to connect the upscaler to my display. The Genius II features a little LED display showing a number between 0 and 7 corresponding to the eight available output resolutions. Unfortunately not all resolutions were compatible with my Sony LCD, but at least XGA and 720p worked fine. No surprise here, but the NTSC composite signal looked crazy bad. Terrible comb filter quality with lots of artefacts and rainbows, but at least the linedoubling was again flawless.
I first switched to the VGA output and as expected all the VESA timings worked fine on my setup. I then replaced the composite source with a proper RGB source and things started to shine. Contrary to the complicated setup on the original Genius, I was easily able to get a picture from all my RGB source running through a Sync Strike first and then directly into the Genius II using C-Sync. No RGB interfaces neccessary. The Genius II has an enforced auto adjust function which (successfully) tries to scale the active source to fullscreen. This is nice if one wants to get rid of the over/underscan borders, but it kinds ruins the perfect 1:2 linedoubling using straight VGA out (480p) and if one tried to overlay scanlines, they'll be misaligned, since most videogame systems run at resolutions around 224p (with Playstation 1 being one of the very few real 240p sources). Nevertheless using higher output resolutions like XGA brought a nice, colorful and especially smooth picture with no instability problems whatsoever. Quite nice. Again no unneccessary deinterlacing is applied.
The OSD and menu on the Genius II is kinda hard to use. Again you can try to counter the auto adjust function, but once you turn of your source or the MIMO your settings will be gone and you won't adjust those settings twice. I also ran into a little bug using the menu: when reaching the last entry (OSD position) the MIMO got unresponsive and I had to power cycle to get back into action.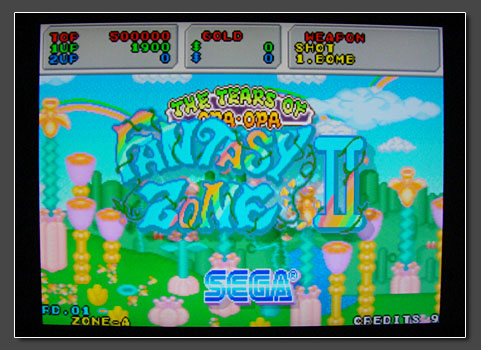 Conclusion (for upscaler use): The original Genius is an outdated and hard to use upscaler, while the Genius II works quite nice, but brings nothing to the table what other processors don't. At the price you can easily get one of the older XRGB machines instead. But to be honest - my only reason for reviewing the MIMO units was to see how they perform with downscaling - so let's have a look at this neat function next!
In the second part of this review, I'll focus on the downscaling capabitilities of the Genius boxes. Without repeating myself, just a short intro why downscaling is interesting: If you have a classic RGB tube (monitor, TV, arcade cab) at home and you want to connect a modern system like a MAME PC, a XBox360 or a Dreamcast you can usually do this by using a 15khz 480i RGB signal. This works, but causes problems like flickering graphics and doesn't show proper scanlines. On a PC you would also need an ArcadeVGA card to do so and not everyone likes to build custom PC setups. By using an external scan converter you can downconvert any VGA signal to a 15khz RGB signal. All of the scan converters sold today offer 480i output only (no 240p). The only two converters to offer real 240p output were some of Extrons Emotia units (out of production for more than 10 years now) and the Ultracade UVC (out of production since 2008 and now completely sold out). Although more expensive than a 2nd hand Emotia or a UVC, the Genius boxes promised to fill this gap and I'll have a look at how they perform.

For my testrun I will have two targets. First a Sony BVM RGB monitor and second a XRGB-Mini upscaler. Both are always happy to receive real 240p material, so it will be easy to see if the Genius's output meets that promise. My source will be a XBox360 with titles like Futari, ESPGaluda II or Deathsmiles. Those run in native 480p and have to look 100% like the PCB once downscaled. The XBox360 is connected through VGA. I have an Emotia on hand to do a 1:1 comparison of the quality. Compared to the upscaler part of the review, this time it's easy to connect the source, since both the Genius and the Genius II have standard VGA inputs. On the output side I'll use my AMP Modu-1 to VGA adapter. I expect both Genius boxes to output seperate sync signals (H+V), so I have a bunch of interfaces ready to combine those sync signals back into composite sync for use on the Sony display and Micomsoft machine.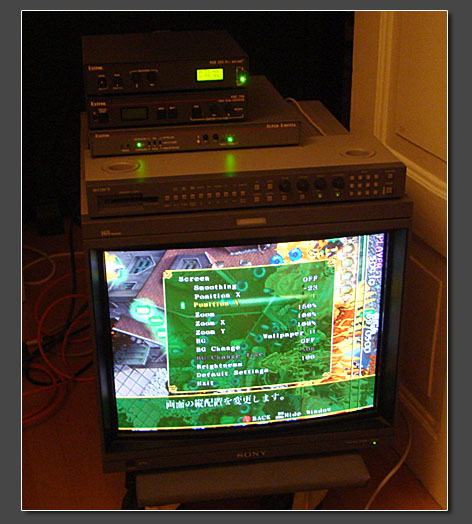 The Benchmark to meet is an Emotia setup tweaked using an Extron interface with vertical shift function (see the two pics above). If set to 240p output, the Emotia will average two adjacent lines of the 480p source signal into one line. On a direct feed the Emotia begins with line 2 and merges it with line 3. The result will be a nice looking progressive 240p signal, but it will not offer perfect sharpness and won't look 100% like the PCB. For perfect results, the incoming signal has to shifted by one line (up or down). Some games (like Cave's XBox360 titles) have internal controls to do this and so does MAME. Overall it's still easier to use an Extron interface to do this. The following two screenshots show the difference. Standard alignment on the left, tweaked alignment on the right (easy to see on the big "1" on the top left, which is originally three pixels high, but spread over four lines without the alignment adjustment). The UVC performs just like the Emotia. This might be nitpicking, but if I hear people complain that an Emotia does not deliver *perfect* results from any MAME setup - this is the reason.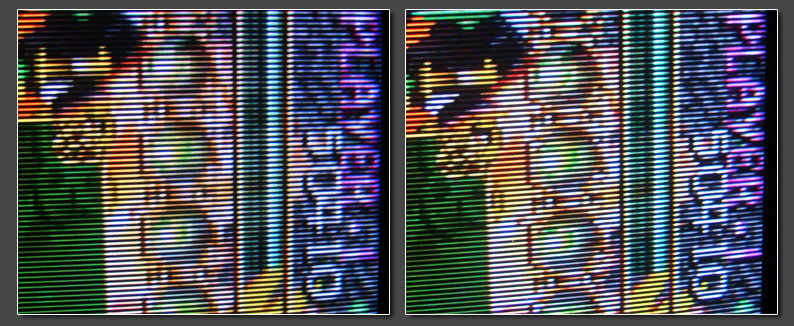 First up was the original Genius box. XBox360 connected to the VGA input. The RGB output connected to the monitor (through a sync combiner interface). Unfortunately I didn't get any usable results. I checked the connections and cycled through the Genius's output options. I made sure the LED next to "15khz output" was lit, but again, no picture. I then connected the output of the Genius to a more advanced RGB interface and interestingly, it showed me that the output signal was around 30khz instead of 15khz. So, for the moment, no Genius 1 downscaling results. Fellow shmups.com board member Capoz had more luck with his unit, so I'm positive that I either did something wrong (unlikely) or the unit I have on hand is flaky.

Next up was the Genius II box. It already performed much better on the upscaling testrun, so goods things are be expected. Again, 360 connected to the VGA input. Genius II output running through a sync combiner into the Sony BVM. Before powering up the Sony, I set the Genius II to output resolution #0, which - according the the manual - should be a 15khz 240p timing. One extremely positive thing I found right away is that the VGA output can be used instead of the Modu-1 connector. Both outputs deliver the same signal (at least in #0 mode). Of course the VGA connector is much easier to use for a wider range of available cables.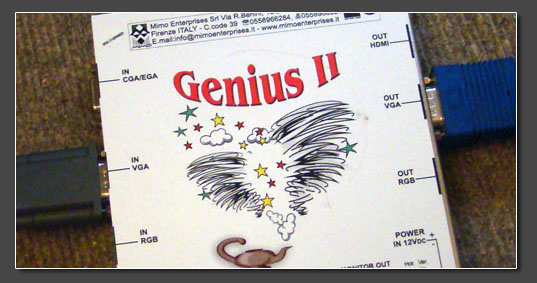 With the seperate sync signals combined into one (using either a T-connector, a passive combiner circuit or a sync interface), the monitor immediately showed a stunning picture. Perfect colors, perfect sharpness. I tried to adjust the input aligment to see if the Genius II is sensitive to the image position as well and - to my surprise - it is not. This means that the Genius is actually not averaging two adjacent lines, but it simply throws out every second line and every second row. This bring more sharpness for true 240p titles running in 480p, but appears to be a bit too aggressive on true 480p hi-res titles. Nevertheless a stunning result! As always, it's hard to capture from a CRT, but here's at least one screenshot: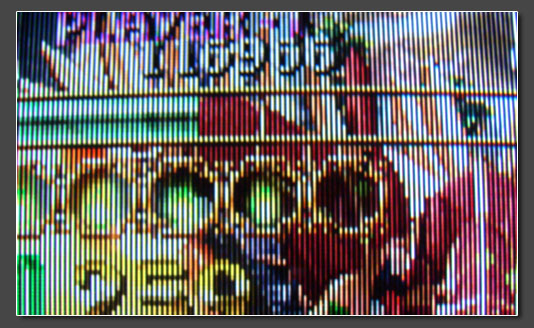 To be on the safe side, I eventually switched to the Framemeister for a little testrun. Same setup as above. 360 as a source, Genius II through a sync combiner into the XRGB-Mini. Again flawless results! Upon further inspection the only (extremely minor) flaw I could find is that the Mimo cuts away about 2 or 3 pixels from the top and bottom, resulting in a 234p image instead of a 240p one. Other than that, a brilliant picture throughout! The auto adjust function of the Genius II detected the incoming VGA signal just fine and there was nothing to gain by fiddling with the manual adjustments available. Here are a few shots taken from the XBox dashboard and Futari (Black Label Arrange)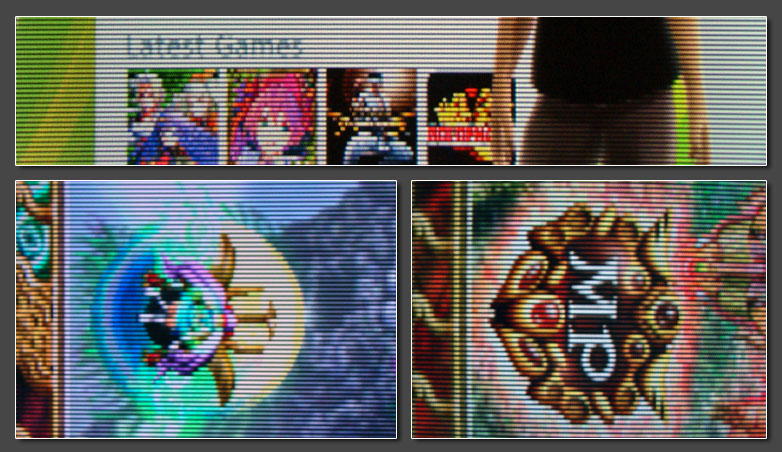 Conclusion (for downscaler use): Unfortunately I was not able run the test on the Genius I - maybe it was my setup, maybe it was the unit. The Genius II performs *stunningly* with downscaling. The 240p output in RGBHV format looks fantastic and there are no problems whatsoever with the image alignment. The Genius II is just up there with the Extron Emotia and Ultracade UVC units, surpassing them both in the ease to use and equalling them in pure picture quality. 250 EUR isn't cheap, but the Genius II is a very versatile machine and if you already spend muliples of that on your candy cab, don't hesitate to place an order in Italy! **Highly recommended for downscaling purposes** !! I was not able to test the 24khz output on the Genius II, but I have no doubts that it looks at least as good as the UVC's 24khz output.
---
The Waka Up Scan Converter is a real oddity. The little grey box was released in the summer of 1996 (July 5th to be exact) at a reasonable price point of 20,000 japanese Yen. Waka did officially license their scan converter for use with the Sony Playstation, in result the Waka is carrying an offcial Playstation hardware descriptor (SLPH-00016). To my knowledge this makes the Waka the only upscan converter to be officially released for use with any of the major videogame systems. These days the Waka is relatively rare, but so are many of the processors I reviewed in the past. Expect to pay around EUR 100 for a Waka upscan converter in nice condition.
The price tag was actually quite nice, especially when considering that none of the budget home theater processors were released yet, giant Faroudja processor sold for more than $40,000 around the same time (yes, US$, not Yen) and Micomsoft just released their considerably more expensive XRGB-1 unit. The down side to all of this is of course that Waka geared their converter to only work with a single source - Sony's Playstation. But although released years before the PS2's introduction, it fortunately plays nicely with those as well.
The Waka is just a little larger than a double jewel case and comes in a decent grey color perfectly matching the original Playstation machines. There are no controls whatsoever on the unit (except for a volume control) and the (only) RGB input cable is hardwired to the converter. It gets directly connected the Multi-AV port found on any Playstation - including the orignal PS1, the smaller PSOne units and all versions of the Playstation 2. The upscan converter gets automatically switched on, once the console is powered up.
On the output side the Waka features a HD15 / VGA connector delivering 31khz RGBHV in a standard 640x480 VESA timing. If you have an early Playstation with RCA audio outputs, your speakers get connected there. If not, speakers can be connected to the headset output found on the Waka unit. Sound quality is fine and it's easy to set the output to a proper line level using the volume control on front.
Waka's upscan converter uses the Playstation's RGB signal to create a sharp, colorful, vibrant and overall quite pleasing VGA signal. 240p signals are treated as progressive signals, so no unneccessary deinterlacing gets applied. 240p games converted to VGA are very close to what the XRGB series or processor achieves. For 480i inputs the Waka applies a single-field-based doubling - quite similar to what the XRGB-1/2/3 units do. To minimize horizontal flickering every other frame is shifted a tiny bit towards it's adjacent frames. The Waka shifts the frames one line more than the XRGB units, in result creating a little more stable and little less flickering 480p image from 480i sources. The Waka's VGA output is perfectly compatible with all major scanline generators and last, but not least, the Waka performs nearly lag free.
Real 480i deinterlacing as provided by home theater processors or the Framemeister technically offers better results for real 480i content. The horizontal flicker is completely eliminated and on genuine 480i content the resulting images have a considerably higher detail level. Still there are some instances in which the single processing of the Waka (or the older XRGB units for that matter) is the better choice. All games originally running in 240p, but rendered in 480i on a console, will usually look better with this more simple deinterlacing approach - especially when scanlines are added. Titles like this include Sengoku Blade, Sol Divide, Dragon Blaze, Strikers 1945 or the single Metal Slug releases (3 to 5) (all on Playstation 2). The Waka makes those look just like native 240p titles. Compilations like the four great Taito Memories volumes are also running in 480i, but unfortunately the output is filtered and slightly blurred. They still look better on a Waka with added scanlines compared to a Framemeister, just not as great as the Psikyo titles. Taito's Mushihimesama and Ibara released on the PS2 are nice candidates as well. The two snapshots below are taken from the PS2 versions of Sol Divide and Dragon Blaze.

If you check my review for the Gefen HD Mate way down at the bottom of this page, I already wrote a few paragraphs about this. 640x480 is a highly compatible VESA timing used on PCs since the late 80s. Unfortunately it's not exactly the same as an analogue 480p signal. Analogue 480p signals (ED = enhanced definition) can carry varying horizontal resolutions. These days 480p signals are usually interpreted as 720x480p.

More sophisticated video processors allow you to switch between these 480p versions and scale the content accordingly. Most older processors (incl. all Faroudja units, Vigatec and all XRGBs) output in true 480p, meaning 720x480p. Per se that's a good thing, but most VGA inputs, no matter on TVs or monitors, don't know this signal. They just know the VESA version and apply a slightly wrong input sampling, so 720x480 basically get's converted to 640x480. This causes a little loss of horizontal resolution and usually some blurred columns of pixels.

The Waka on the other hand outputs in a true 640x480 VESA timing. This makes the output more compatible and more stable. Those problems with shaky sync signals and trembling pixels on vertical edges are gone, but the conversion from analogue 480p to 640x480 is still happening. The Waka does this internally, thus creating a little uneven scaling on the horizontal. That's nothing you would notice on a snapshot, but it's noticeable on games with smooth horizontal scrolling. It also means that there's no point in chaining the Waka behind another video processor. DVDOs for example were able to see the "real" 720x480p output from a XRGB - contrary to most TVs.

Of course I tried to connect other consoles to the Waka as well. To make this as easy as possible, I built a little Scart input adapter using an old Playstation GunCon adapter cable. Unfortunately the Waka upscan converter is obviously fine tuned to the Playstation's RGB output and it doesn't play well with other sources (see snapshot below). The Waka requires a NTSC 60Hz input signal and does not work with PAL signals. NTSC PS2 games played on a PAL Playstation 2 machine work fine, but for Playstation 1 games the Waka requires a real NTSC machine - either a PS1, PSOne or a PS2. If anybody had more luck using a Waka upscan converter with any other source than a Playstation system, please get in touch with me and share your experiences!
Conclusion: As initially stated the Waka is an odd little machine. It's limitation to a single source and system certainly sets it apart from any other processor I reviewed before, but then again Playstation 1 and 2 are quite popular machines. If you're a Playstation fan and just require a line doubler for your favorite system, the Waka is a really nice choice. If you already have a Framemeister, feel free to consider it as an add-on to make all those 480i arcade titles shine without hours of fiddling with the Framemeister's scaler controls. Of course an older XRGB will do the same, but the Waka's likely the more affordable choice.
---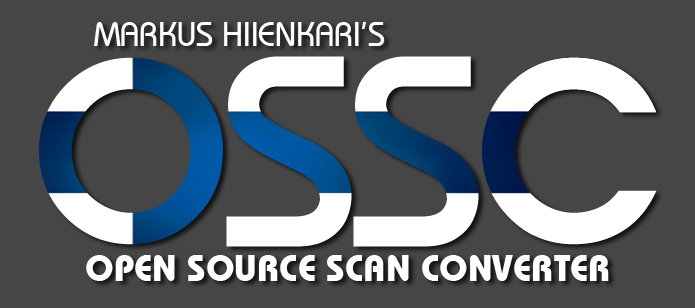 Wow! It's been four years now since Micomsoft's Framemeister took the throne. Four years since we got a truly wonderful toy aimed specifically at us retrogamers. And indeed the Framemeister was a true revelation. Despite it's limited availability from Japan only, it took the video game community by storm. There are more Framemeister Youtube videos available than videos of any other upscaling device out there. Micomsoft managed to build the first video processor to work flawlessly with modern television sets and to deliver top notch quality for low-res video game material at the same time. And still it got its flaws.
The Framemeister is a complicated two-processor design trying hard to do more than what it actually needs to accomplish. It's a bit over-engineered and some of the its flaws seem to be rooted so deep it its basic design, that they don't seem to be fixable. Reason enough for some people to look into different solutions. Some users chose the XRGB-3 over the Framemeister for it's zero-lag design, others resort to processor combos to achieve flexibility the Framemeister can't offer on its own.
A few very rare (or very bad) processors aside, over the past years I've been testing all video processor solutions available. And let me tell you: there is hardly any perfection and getting the very best results from every single source requires a lot of equipment, time and money. After all most video processors out there had once been expensive as hell and aren't getting any easier to source these days.
On the other hand, one of the most positive developments these past years is that we've seen FPGA development become affordable. In simplified terms a field-programmable gate array is an IC which can be programmed to perform various tasks on a hardware level. They're considerably more expensive than ASICs (application specific ICs), but you don't need to order tens of thousands of them to start a project. While video processing ICs of the big players (Silicon Optix, Marvell or Faroudja) have been ASICs, many other processors, like the VPxx series by DVDO or most of Lumagen's processors have also been created using (very expensive and powerful) FPGA designs.
The rise of low cost FPGA development tools as well as the ability to have FPGA based boards produced that don't cost a fortune any longer, led to some extremely interesting projects in the more recent past. The most interesting ones include the HDMI upgrade boards for the NES, N64 or the GameCube. All of these offer fantastic results, but all of them are very specialized and not everybody wants to invest this kind of money into the upgrade of a single system. So why not take the same concept and make it usable with your whole armada of video game systems? That's exactly where the OSSC enters the arena.
So, what is the OSSC? The so called open source scan converter is a FPGA-based video processor developed by a single person, Markus Hiienkari from Finland - - online to be found as Marqs. Marqs set out to build an alternative to the established gaming processors and created the OSSC over a time span of roughly 18 months. On paper the OSSC looks like your average converter box. It got a RGB scart input, a component and a VGA input and it tries to convert of all these signals into a digital DVI or HDMI output. The re-programmable FPGA design allows Markus to implement his own line doubling or scaling algorithms and not getting crippled by the SDKs of the bigger IC suppliers.
Last year I already had the opportunity to spend a few weeks with one the prototype boards. Back then the OSSC looked very promising already, but some of the key elements were still missing. Marqs took it back to the drawing board, added neccessary components and now I got one the very first final units, ready for a complete test run.
Early snapshots of the units available online still show the typical "PCB in acryl glas" look so many hobby hardware projects share. The unit I have on hand now uses black plexi instead. Due to the fact that a double layer of plexi is used on top (I guess to protect the LCD control screen on the side) and all four sides are densely populated with connectors or control elements, the OSSC makes very compact impression. It's about the size of a (short) chocolate bar, which makes it considerably smaller than a Framemeister. The black acryl glas makes finger prints and dust quite obvious, so I hope Marqs will offer more color choices at some point or switch to a more forgiving color for all units. My choice would have been milky white - it's just more forgiving. But that's cosmetics of course....
As apparent from the pictures, we get a RGB scart input along with a 3-RCA component input on the back of the machine, a VGA input along with an input for the power adapter on the right and digital video output along with a passthrough audio output on the left. The front of the machine has two physical buttons for basic controls without a remote (one for switching the inputs, the other one for toggling the scanlines), a JTAG connector for FPGA upgrades, a micro SD slot for firmware updates and a little 2-line LCD screen for menu navigation. My review unit features a DVI-D output instead of a HDMI output. All pre-assembled units will come like this, while the do-it-yourself units (see way down for more infos on that) come with a HDMI connector. Functionality is identical though and - to be honest - I prefer the DVI ports for their sturdiness.
Included with the machine comes a tiny but practical remote control. Marqs told me that he isn't too happy with the quality of those, so the remotes eventually bundled with the machines might change at some point. Right now users have to supply their own PSU. A basic 5V unit (center positive) with at least 1A of power should do the trick. Powering the unit from a USB power supply with a matching cable should work as well.
The OSSC does not have an OSD (on-screen-display). You control the unit using the small LCD on the front of the machine. The LCD got nice quality and is edge-lit, so that's perfectly ok, but - depending on your sitting distance from the TV (or the OSSC) - it will require you to get up close to the machine. Unlike the Framemeister where you find yourself fiddling with the settings all the time, there's only little to be adjusted on the OSSC and you get discreet keys on the remote for selecting each of the three video inputs. The small remote that I got with my unit is shown below (along with its current button config).
Let's have a look at the inputs and their supported video signals next. Marqs took the time to listen to the community and did his best to provide support for all neccessary signal types. The RGB scart input supports both SD (240p and 480i) and ED signals (480p) and is happy to accept RGBs as well as RGsB signals (which is great for using a PS2 with RGB - see the info box below). The scart input is designed for home consoles. If you want to connect an Arcade PCB the sync signal should be adjusted by using an additional resistor in the sync line. A good supergun design will do this for you already. The component input accepts analogue SD, ED and HD in both YPbPr and RGsB format. The support of RGsB allows you to use the port as a secondary VGA or RGB port using an additional sync converter box.
The VGA (HD15) input accepts all possibly sync configurations (RGBHV, RGBs and sync on green), but the noise filtering on the port is limited and the requirements for the input sync signal are different, so it's not meant to be used a secondary SD RGB input (using a Scart adapter), but for true VGA sources instead. A Dreamcast would be the obvious choice for it of course.
50Hz PAL signals (288p, 576i, 576p and HD) are - of course - supported on all inputs. The OSSC further accepts 720p inputs (even on Scart if you can somehow manage to get a 720p signal in there) and all popular VESA timings. 24khz (384p) is also accepted and properly line doubled to a 768p output timing (that's for your Model 2 and Model 3 fans out there). There's no composite or s-video support to be found on the OSSC, so Atari 2600 or 7800 users with AV-modded systems won't have much luck here.

Unless you're using active sync conversion utilities, the only system you might have, that can actually use RGB with sync on green (RGsB), is Sony's Playstation 2. Usually using a RGB scart cable with your PS2 means that you're limiting yourself (and your PS2) to 240p and 480i output (or 288p and 576i if you got a PAL system). Scart inputs on your regular TV won't accept anything higher.

If you wanted to use 480p from supported games, you are usually using a component cable cable instead. Once switched to component the PS2 is perfectly happy to output 240p, 480i and 480p all through the same cable and in the same YPbPr format. Unfortunately the PS2's component signal is not 100% as good as its RGB signal. You get a little bit more of noise. And wouldn't it be great to just use the OSSC's component input for some other system instead? Well, you can by reverting your PS2 to RGB.

With the PS2 set to RGB in its internal menu, you get a RGBs signal for your 240p and 480i output. The PS2 will still let you switch to 480p on supported games, but with that the PS2 will switch from RGBs to RGsB. Since the OSSC supports both signals on its RGB scart input, you can connect your Playstation 2 using a matching cable while still enjoying 480p output.
If you're reading this review, changes are that you have at least a basic idea of what a line doubler's purpose is. When line doubling was first introduced in the early 90s it was used on CRT projectors to reduce the visible scanlining with movie material. Line doubling on video games is usually used to solve a connection dilemma. You have a 15khz source (240p or 480i) and you want to connect it to a display better (or only) suited for higher scanning frequencies like 31khz (480p). The OSSC acts as a classic line doubler.
Scalers on the other hand usually have flexible or multiple output resolutions. The Framemeister for example lets you choose from a list of available resolutions, that includes everything from ED (480p) over HD (720p and 1080p) to a number of PC resolutions (SVGA or XGA). The OSSC stays true to it's lag-free processing design and doesn't offer such flexibility. Marqs still added support for 720p output by using an interesting approach. 720p output is only available for 240p input signal and it's using a non-standard timing for tripling the input signal. The downside to that is, that the OSSC's 720p output might not be compatible with your display. It won't work on the majority of consumer TV sets. If you're using a monitor instead, your chances of getting 720p to work are considerably higher.
For its 720p output the OSSC offers a number of options including fullscreen (16:9) or pillarbox (4:3) output. You can also try special sampling modes, which are fine-tuned for systems with a 256- or 320-pixel-columns outputs. These include NES, SNES, MD or the Playstation. Using these modes will provide perfectly integer scaling factors on the horizontal axis. This is especially interesting as the Framemeister can't do that. The Mini uses generic sampling rates instead, which gives you the flexibility of free aspect ratio controls, but it will never give you perfectly sharp pixel edges on the sides. But to keep this in perspective: it probably didn't bother you in the past and it most likely won't bother you in the future. This is for perfectionists only.
Another factor setting the OSSC apart is its internal 4:4:4 color processing. This means that all processing and conversion is done in RGB color space with full color resolution for each channel. This combined with the optimized input sampling rates in its line tripling mode allows the OSSC to deliver the best possible signal (and picture) quality. To pull the Framemeister comparison once again: Micomsoft's toy does all internal processings in 4:2:2 YCbCr color space instead, meaning that RGB sources not only get converted to YUV, but also the resolution of the color channels gets cut into half. But again to add a litte perspective: most TV sets don't support 4:4:4 color input without converting it to 4:2:2 right away and if you got a set that supports 4:4:4 from the input to the actual display, you're still dealing with the rescaling of the OSSC's 480p or 720p output. The same is true for almost any capture solution: while having a 4:4:4 source signal is great, all the consumer capture cards and boxes will be converting to 4:2:0 YCbCr first thing, since that it what the h.264 codec usually requires.
Setting the OSSC to 480p output should provide near perfect compatibility with displays and monitors of the past decade. On one of my two Sonys I found that the image was slightly shifted to the right and to the bottom leaving slightly lighter bars visible on the left and top of the screen. I've seen similar effects from other video processors where adjusting the output timing helped getting rid of these effects. I'm sure this will be fixed on the OSSC in no time (in the works already).

The inputs on the OSSC are pretty self-explanatory. You get your standard RGB scart input (true European pin layout, not to be confused with the rarer JP21 pinout found on the Micomsoft machines), a standard VGA input with a HD15 connector and a standard component input using three RCA (or Cinch) connectors (so, no D-Terminal as used for component on the Framemeister). The only input supporting audio is the RGB scart input.


Unfortunately the OSSC (in it's current revision) does not support digital audio output through DVI or HDMI. Marqs passed on adding audio integration to avoid HDMI licensing issues. Other hobbyists claim that HDMI licensing is done by purchasing the HDMI transmitter from licensed dealers already. I don't know that, but I think Markus was little overcautious here. The analogue stereo audio signal from your RGB input is instead passed on to a 3.5mm audio connector right next to the RGB input. If your TV offers support for an analogue audio source associated with one of the HDMI inputs, you can use a cable like the one shown above. Many TVs offer this function in order to offer audio compatibility for DVI sources like older PCs or notebooks. Just check your TV's manual, if you're not sure about that.

If your TV does not offer such an input or function, you basically got two choices. Either you handle the audio completely seperate from your video signals (not as bad as it sounds, even processors like the mighty XRGB-3 did not have any audio handling except for switching analogue audio inputs) or you can get a DVI + Audio to HDMI integrator (sometimes called injector, inserter or embedder instead). These are little boxes that take your audio-less DVI signal, your analogue (or digital) audio signal and combine it into a HDMI signal with audio. Unfortunately you'll be surprised how expensive these little boxes can be and I would recommend dealing with audio seperately instead.

Marqs decided to focus on a digital output for the OSSC. Some of you might want to use the OSSC on large 31khz CRTs though or on multisync PC tubes. To connect the OSSC to a CRT instead the DVI-I or HDMI output signal needs to be converted to VGA. There are a lot of really cheap converters out there these days (starting at merely $25) and chances are quite good that any of these will do the trick for you. I gave this a quick spin using a HD Fury III converter ($150 class). This allows me to convert the DVI-I output to either RGBHV for VGA displays or even component. There's usually no lag introduced by a basic D/A conversion like this and quality should be 100% identical to the OSSC's digital output. At least with the HD Fury I couldn't spot any difference.
The OSSC is built to help you connect any RGB, component or VGA source to your digital display. If you have more than a single console from a single generation, you'll probably have to deal with at least three basic output signals. 240p, 480i and 480p (or 288p, 576i and 576p if you're using PAL sources). The OSSC gladly deals with all of these (and even 24khz if required) while treating each of them very differently.
For 240p sources the OSSC applies *perfect* line doubling (or tripling if you have a display compatible with the OSSC's 720p output). Of course there's no adaptive deinterlacing applied nor is there anything else done to diminish any of the source's quality. All 240p tests you can imagine (like 30Hz drop shadow effects) are passed with flying colors. If you thought the XRGB's line doubling was good already, wait till you've seen the OSSC. The image stability is incredible! Any jitter that was visible on all of Micomsoft's units is completely gone. On my Framemeister review I mentioned a certain softness to the Mini's 480p output. The OSSC does a much better job on this. If your display doesn't botch the scaling, the OSSC's 480p output will look much closer to the Mini's 720p output already.
480i signals are treated in a very similar fashion the old XRGB units did it. Every 240 line field is doubled on its own - - something I usually call single field processing. To minimize flicker the doubled fields are slightly vertically shifted towards each other. Depending on wether you're playing a genuine hi-res 480i title, a filtered 240p title running at 480i (like Taito Memories) or an unfiltered 240p title running at 480i (Psikyo Collections on the PS2) the line offset could need a little tweaking. With a flexible FPGA processor I would like to see a variable offset to perfectly fine tune the 480i handling to the actual content. Not to be misunderstood: the OSSC is already handling the actual deinterlacing as good as the XRGB-3 did, I just want it to take it a tiny step further.
480p signals don't get processed at all. They're simple transcoded from component or RGB to the digital video output. Since the OSSC really excels at that, I dedicated a little info box to transcoding in particular - right below.
PAL 50Hz signals are accepted. For 288p and 576i signals you get a 576p50 output. Line tripling isn't available for PAL sources.
Between the OSSC prototype I had on hand last year and this review unit now, Marqs added a dedicated low pass filter with various settings. The IC is getting rid of excessive picture noise while not mangling any details. Remember the XRGB-3 where enabling the LPF would kill all the details on your 480p source? Won't happen with the OSSC. The low pass filter has an auto setting which is enabled by default, but can also be set manually to different levels suitable for different types of signal. For some reasons the default settings aren't neccessarily the best. I found that the mode for SD material (9 MHz cutoff frequency) can actually add a little blur to the picture. The HDTV 1 setting (35 MHz cuttoff) worked best for me, especially on noisy Playstation 2 component signal. Just give it a try to find out what works best for you!
An additional sync filter was added to accomodate sources with less stable sync signals. Using these settings should be only neccessary for a handful of sources, but seeing the option implemented is quite reassuring.

Most of the line doublers I used over the past decade had a hard time processing or even passing 480p signals. Sometimes 480p signals aren't accepted at all (think of the old Faroudja-based units), sometimes 480p sources could only be connected to a special input, that wasn't able to accept anything else. Sometimes the quality of 480p inputs was impaird (XRGB-3) or the upscaling just wasn't up to what you would expect these days from perfect 480p handling (DVDO processors or even the Framemeister).

At the same time TVs got considerably better at processing, upscaling and showing 480p signals. Sony's Bravia W series for example had superior 480p handling for a few generations now. At the same time we lost analogue VGA inputs and while most TVs still offer analogue component inputs, expect to lose these in a few years as well.

Best thing you could do for your 480p sources, was to get transcoders. Transcoding generally means that a signal gets converted without the resolution or refresh rate being touched. The four classic transcoder types are component to VGA, VGA to component, VGA to HDMI and component to HDMI. Component to VGA has become pretty useless these days, unless you got an old PC CRT to which you want to connect your component sources. VGA to component is great. It allows you to connect your Dreamcast to TVs with a component input. Unfortunately these kinds of transcoders have become hard to find and are getting more expensive every day.

VGA to HDMI transcoders are dirt cheap (starting at $30) and usually work fine. The downside of these is that the analogue input signal gets sampled with VESA resolutions in mind (640x480p), meaning that you're losing some horizontal resolution, if your source does actually output in 720x480p instead. The Dreamcast does that and getting around it required you to get a VGA to component transcoder first and add a component to HDMI converter after that. Not exactly user-friendly (or cheap).

Component to HDMI converters are even cheaper today. These allow you to connect sources like your Wii, GameCube, XBox or PS2 using the HDMI input of your TV. The only downside to those is that oftentimes you run into a game, that's only running at 480i, or a system that insists on booting up interlaced (PS2). HDMI at 480i is officially specified, but it's a rare signal and TVs tend to have problems handling this type of signal.

And - lo an behold! - the OSSC solves all of these problems for you. It acts as a VGA to DVI/HDMI transcoder, as a component to DVI/HDMI transcoder and it solves the problem with 480i signals by line doubling any 15khz signal before passing it to its output. Both VGA and component signals are converted to a digital signal in true reference quality. And the best thing of all: the OSSC even lets you choose the sampling frequency allowing you to define wether it's a 640x480p or a 720x480p signal, that's connected to the input. That's actually something not a single (!) VGA to HDMI converter was ever able to get right. Really amazing and without any doubt the best thing ever to happen to your Dreamcast setup!
After spending so many years with so many different video processors, I pretty much know what to expect and how to tell mediocre from stellar processing. My test sessions with the OSSC focused on the proper handling of different signals. It's a sheer delight to see a single processor handle all kinds of signals with the ease and perfection the OSSC is showing.
Next to my usual tests with a Playstation 2 (since I get to check 240p, 480i and 480p from a single source), I was able to successfully test my RGB modded AV Famicom (still using an old Arcade PPU mod), my 1CHIP Super Famicom, a japanese 1st gen Mega Drive and of course a Dreamcast through VGA (using a Sega VGA box). Since there are so many systems out there along with dozens of system revisions and versions, Marqs set up a little compatibility chart , so users can add their systems. All the sources I tried so far work perfectly fine with the OSSC and I hope to test some more on the final unit soon.

Five years ago Jochen Zurborg of Arcadeforge brought us the SLG3000. A wonderful little gadet that allows you to add scanlines to any analogue 480p signal. The SLG3000 was (and still is) a great add-on for processors without native scanline support or console systems with native 480p output (original XBox, Dreamcast or XBox360). The only problem: your display requires native VGA support. Something that has unfortunately become incredibly rare on modern TVs. Jochen released a component version of the SLG later on, but it was heavily dependent on your display wether this would work great or not.

Once again the OSSC is here to solve all your problems . The OSSC offers full scanline support for all kinds of signals. Of course you can add scanlines to your 240p input, that has just been line doubled. But you can also add scanlines to your VGA or 480p component sources, while everything gets transcoded to DVI or HDMI for use with your modern TV.

The OSSC offers digital controls for the scanline strength, allows you to switch between scanline rendering on the odd or even video lines and it even allows you to render vertical (!) scanlines. Vertical scanlines are interesting for console ports of arcade games originally running on vertical screens. It allows you to continue to play in Yoko (e.g. playing a vertical shoot'em up on a horizontally orientated screen), while adding vertical scanlines to the game. Another first right here!


For its transcoding and scanline functions alone the OSSC is fully worth it's price, but the obvious question, that will certainly bug many of you, is how the OSSC stacks up to the Framemeister. Is it worth it to replace your Framemeister with the OSSC? Or does the reigning king remain the king after all? Well, unfortunately the answer completely depends on you.

Let's get started with the comfort aspect. I know that many would argue that quality is more important than comfort, but who are you kidding? You simply get used to the way things are done and unfortunately this definitely includes the handling of audio. If you have an AV receiver with plenty of inputs that you're using instead of your TV's speakers anyway, then you're golden. The missing audio handling on the OSSC won't bother you. If you're using active speakers or a soundbar next to your TV or monitor then you can pretty well work around the OSSC's audio limitations by just adding a little audio switch. If you want to use your TV's speakers and your TV has support for analogue audio, you still need a switcher to use the multiple inputs on the OSSC, and if your TV doesn't offer support for analogue audio then it gets rather expensive (and more complicated). The Framemeister is much easier to handle in regards to game audio.

Next up is compatibility, first on the input side. The OSSC is well equipped as long as you don't need vintage composite or s-video inputs. It got RGB, VGA and component inputs. You can use all of your RGB sources without the need for any adapters. You don't need sync strippers and you don't need JP21 to Mini-Din adapters. Your Dreamcast is happy to work with the OSSC right out of the box, while it's a major hassle with specialized VGA boxes to make the DC work on the Framemeister (and let's not forget that the Mini isn't this great with 480p sources to start with). The OSSC also offers a standard component input without the need for a D-Terminal adapter. Due to the standard connectors for all formats, the OSSC has the Edge in terms of input compatibility.

Compatibility on the output side is a bit more complicated. We need to understand that the OSSC doesn't want to be a full fledged scaler like the Framemeister. It's more in line with the older XRGB line doubler units. 480p output from the OSSC (or 576p if you connect PAL sources) will work on all TVs and monitors. In 480p output mode the OSSC is considerably sharper than the Framemeister is with 480p output. 720p output from the OSSC will work on many monitors, but likely not on too many TV sets. If it works, 720p output from the OSSC looks slightly better than 720p from the Framemeister due to the internal 4:4:4 color processing and it's optimized input samling. 1080p output is exclusive to the Framemeister due to its frame buffer.

One of the most important aspects for many gamers is the input lag. In times of rising lag on your standard television sets, it's important to keep external processing times at an absolute minimum. The Framemeister adds a fixed processing delay of roughly 24ms to all sources. That might be better than what your TV offers for 15khz signals, but it's still 1.5 frames that could have been saved. What the Mini gains from this is its near perfect 480i deinterlacing and it's great flexibility when it comes to aspect ratio or overscan controls. The OSSC on the hand is designed to be lag-free and it is indeed. It's just as lag free as the older XRGB units while adding a digital picture output. This makes it the first and only lag-free video game processor with a digital video output.

Picture quality is a major point of course. 240p couldn't be any better. Limited aspect ratio controls aside, the OSSC even has the edge compared to the Framemeister when it comes to raw 240p material (eventually the results will depend on your display as well and what kind of image you prefer, e.g. scanlined 480p or 720p versus razor-sharp 1080p). The Framemeister offers reference deinterlacing for 480i material. It's in fact the only processor to offer near native 480p quality for 480i signals from all kinds of sources. It's really this good. Great deinterlacing comes at the price of increased lag though and so the OSSC takes the alternative path and offers fast single-field processing for 480i sources. In general I would recommend this for any kind of fast action, while you probably prefer "real" 480i deinterlacing if your favorite genre are J-RPGs from that era.

In terms of bugs and weird behaviour the OSSC behaves like a virtuous child. You just won't find anything to complain about (well, let's put this into perspective by adding that I didn't spend too much time with the OSSC yet and who knows what users will find once the first few hundred units are out there in the wild). Unfortunately the Framemeister is bugged by a few random hiccups and two rather annoying ones in particular. The first one affects the A/D stage on the Framemeister that causes certain colors to show ridiculous amounts of noise although the source signal is perfectly fine. I couldn't find anything along these lines on the OSSC. Its A/D section behaves exemplary. The other is the long sync drop out when a game switches between 240p and 480i picture modes. While the Framemeister leaves you with a black screen for 7-10 seconds (depends on your display as well), the OSSC just shows a little shake or flash and continues unfased.

Last aspect would be the overall usability. While I adore processors with myriads of options, many people don't and I get that. I appreciate the possibilities a processor can offer, while others just want to setup a machine and leave it alone after that. The OSSC does that. There are very little options you need to adjust in the first place and only minor settings to adjust afterwards (and most of that only becomes a must if you ever run into problems with a source). The Framemeister requires much more knowledge and willingness to dive into the whole concept of video processing.

These deliberations should give you an idea, if the OSSC is something you need or if the Framemeister is a better alternative. Last but not least you could consider the price as well. As of early 2016 the Framemeister is rougly 330 EUR when bought directly from Japan (including taxes when bought from Solaris JP). The price of the OSSC isn't set in stone yet, but assembled units should remain under 200 EUR all things considered . If you truly like gaming, why not get both?

Well, you might have known Tom of Finland - now prepare yourself to hear a lot more of Marqs of Finland in the future! What Markus achieved with the OSSC is outstanding. It's a really great video processor for fans of classic game consoles that need (or want) to take a step into the future and kiss their CRTs goodbye. In it's current version the OSSC does already outperform every single video processor (including all the older XRGB versions and revisions) prior to the Framemeister.

Compared to the Framemeister the OSSC takes a different approach in a few areas, so the target audiences are not neccessarily the same. As a casual gamer one might prefer the Framemeister for it's audio handling, for its more compatible 720p and 1080p output modes, its superior 480i deinterlacing or its flexibility when it comes to aspect ratio or overscan controls. The OSSC will win the hardcore gamers that want *zero* processing lag or the ones that are annoyed by the bugs the Framemeister has to this very day.

The OSSC also wins in terms of extra functionality. It takes transcoding to a whole new level and replaces many machines, adapters and converters that were neccessary in the past. The added scanline functions for all kinds of sources combined with the digital output is unique and certainly a major plus for many of us.

Enthusiasts will get an OSSC in addition to the Framemeister anyway. Not only because both are great machines, but also to support what Marqs has created and ensure that we'll one day be able to enjoy a XRGB-4 vs. OSSC2 shoot-out. Up to today Micomsoft sold about 8,000 Framemeister units. Let's help Markus to get a fair share of that!

The OSSC is great, but it's not perfect (yet). It's already better than the XRGB-3 ever was and still there are a few tweaks I like to see added in the (near) future. In general a wishlist has be to divided into two sections. The first one with little tweaks that might be added to the current hardware revision of the OSSC through a firmware update. The second one with "bigger" wishes for a potential redesign of the OSSC in the years to come.

What I would love to see added to the current design:

- 2:1 scanline pattern for 720p sources that are based on 240p material (e.g. Megaman 9 on XBox360 or PS3)
- masking feature to limit the scanline area (for windowed Yoko shoot'em ups)
- manual tweaking of the field-offset for 480i deinterlacing
- recallable user settings (LPF, masking, scanlines, etc)
- optimized output timings (to remove border effect on certain TVs)
- finer masking settings (4px steps right now, 1px steps please!)
- finer steps for adjusting the scanline strength (0 to 100 in 5% steps maybe)
- field based scanline rendering (as seen on the XRGB-3) for true 480i material

And what I would like to see on a redesign or successor:

- dedicated audio inputs for all video inputs and (of course) full audio integration into the HDMI output signal
- HDMI and VGA or DVI-I output functionality
- downscaling capabilities (scan conversion from 720p and 480p sources to 240p) (requires analogue RGB output)
- full 720p and 1080p output support along with custom resolutions (requires frame buffer)
- variable horizontal and vertical scaling using various filter methods (requires frame buffer and more power)
- image rotation, re-positioning and scaling (to enable tate gameplay on yoko displays) (requires frame buffer)
- more hardware buttons to offer easier controls without a remote
- OSD instead of onboard LCD.

The OSSC is available to order in two versions. Either as a do-it-yourself kit or assembled and ready to go. If you want to save yourself some money (or just skip the long waiting list for assembled units), the do-it-yourself kit might be something for you. You need pretty good soldering skills though. While I'm usually able to do the average console mods by myself, that's nothing for me. I'll update this box here with pictures and infos of an actual OSSC built over the next few days.


Unlike the Framemeister the OSSC is - after all - a hobbyist project. I hope that Marqs finds the success he (and the OSSC) deserves. If you're currently interested in purchasing a OSSC, you can register yourself hrough the web form right here. Marqs is also working with Matt from videogameperfection.com to set up a proper distribution channel.
In the meantime don't hesitate to participate in the discussion on the OSSC here on the shmups.system11.org board and expect an in depth video review sometime next month by our friends Coury and Try4ce from My Life in Gaming on Youtube.
In case you're wondering why this review doesn't feature any in-game camera snapshots: you just wouldn't see *any* difference to what the snapshots in the Framemeister or other XRGB reviews look like. The Guardian Heroes snapshots were taken from a video that Marqs provided using a 720p capture from the OSSC. Due to the video codec its color resolution was reduced. For more in-game footage look out for the video review on My Life in Gaming.
---
Two info resources ahead: The english language XRGB-3 Wiki can be found here. It's maintained by a few XRGB-3 users from the shmups.com board (including me) and has lots of useful information. The largest discussion on everything "XRGB" can be found here on the shumps.com forum. My user name over there is Fudoh and everyone's welcome to join in !!
Micomsoft is a japanese company which used to make software and joysticks back in the 80s (they created the incredible XE1 line of joysticks for the PC Engine and other oldies). At some point in the 90s they got into developing video switchers and linedoubling devices all targeted at customers who wanted to connect videogame systems to their PC monitors. With the XRGB they introduced a RGB-capable linedoubling device back in the mid-90s. It was geared towards users of japanese PCs (NEC, Sharp etc) and did have a non-standard 31khz RGB output for those systems' displays. In the late 90s the XRGB-2 was introduced and brought the attention of overseas gamers to the company. Mailorder companies like NCS started carrying Micomsoft's devices and the XRGB-2 soon became the de facto standard for upscaling videogames. The XRGB-2plus later on added a component input and the XRGB-3 (introduced in 2006) added scaling capabilities plus a DVI output. The Displ-TV is tuned down version of the XRGB-2plus, but with an added TV tuner. It's the only deinterlacer out there taking japanese RF signals, so you will be able to connect your really old systems (VCS2600, Pong, Intellivision, original Famicom) to a LCD or Plasma this way. Note that american RF frequencies tend to differ from the japanese ones, so I have no idea if american systems RF sources would work. All the machines are rather easy to find when looking in the right places. Yahoo Japan is a start or good videogaming communities in case you cannot buy in Japan by your own. Solaris Japan is another good source (run by a friend of mine).
The latest (and current 2010/2011) model, the XRGB-3 has two basic modes of operation, B0 and B1. In B0 you get full processing (incl. scaling to resolutions from XGA (1024x768) up to WUXGA (1920x1200). B1 is basically a XRGB-2plus operation mode (linedoubling only). Several features are disabled in B1 mode (like screen resizing), on the other hand the processing delay in minimized (to nearly zero). In terms of picture quality (via VGA output) and processing speed (delay) the XRGB2, 2+ and 3 in B1 mode are all rather the same.
The main annoyance of the earlier Micomsoft machines is their shaky and weak vertical sync signal. This results in unstable vertical lines. One a colorful and fast moving arcade game that's no problem at all. You probably won't even notice it from a normal viewing distance, but with RPGs with white text and straight boxes all the time this might drive you crazy. So if you're the RPG-playing kind of gamer, test the XRGB series of machines before buying. (The effect is also affected by your display. There are monitors out there which will compensate this very well, while others might show this effect merciless). This effect was heavily reduced on the XRGB-3 when the LPF function was added via firmware upgrade. The RGB scart socket on front is a nice addition, but note that it's got a japanese layout and you will blow your machine by connecting a european scart RGB cable without an adapter. Quality of the RGB and Component inputs are basically the same.
Fixing the XRGB's shaky sync signal: your best option is the add an Extron RGB interface with sync processing. Those interfaces are very cheap (starting at $25) and usually come with a VGA input and a set of BNC outputs. Some feature a horizontal shift functions or multiple inputs (or outputs), but technically they are all the same. How good the results will eventually be, depdends on your display. Using a second video processor to convert the VGA signal to 1080p HDMI is another good idea, but more expensive of course.
240p signals from all kinds of sources truly shine on the XRGB-3. This includes classic systems like a Mega Drive or PC Engine and 90s machines like Playstation or Saturn. The XRGB-3 properly recognizes 240p signals and does not try to deinterlace them. Critical 240p material (30Hz shadow effects) are handled just fine. 480i signals are handled nicely, flicker effects are maintained.
One thing the XRGB offers which hardly any other processor does, it the near-zero-latency on B1 mode. It's often been asked why the XRGB-2, 2+ and 3 manage do deinterlace in no time when other processors take 2-3 frames time until they can show the deinterlaced picture. The reason behind this is that the XRGB-2, 2+ and 3 in B1 mode do *not* really deinterlace. What they do is to emulate a CRT like look without real deinterlacing. On 240p content each line is simply doubled resulting in a 480p output picture. On 480i material only 240 lines (one field) is displayed at a time. Every field is simply linedoubled. If you take one moment in time (1/60 second) you'll only see the information of one single field on the screen. This results is a theoretical loss of possible information. "Real" deinterlacing devices (and scalers) always take at least two successive fields and calculate a full frame image out of them. Moving areas are reduced to the resolution of a field, while non-moving areas are built from both fields and show more vertical details. This method is called motion-adaptive deinterlacing. The XRGB-3 added real deinterlacing in B0 mode which caused a delay of 2 frames. It only does a very mediocre job in deinterlacing, so the linedoubling (B1) mode is always to be preferred on 480i material. The method of just upscaling a single-field is also called field scaling and the DVDO machines (VP20/30/50/50Pro/Edge) do this in Gamemode (1).
And while talking about emulating the CRT-like look of older videogames, we come to the one feature which distinguishes the XRGB line of processors from *every other* videoprocessor out there: the emulation of visible scanlines. You can read some basics about scanlines here. To cut it short: scanlines are the visible dark lines between every horizontal line of pixels. They are not part of the signal, but are produced by CRT displays while displaying low-res signals. LCD and plasma displays cannot show scanlines by nature, but by emulating those scanlines as part of the signal itself the task can be accomplished on flat-panel TVs as well. Not everybody likes to have scanlines (they tend to make the picture darker and can distract from gameplay when too strong, on the other hand they're just part of the retrogaming experience), but if you do, you have a strong argument for buying a XRGB unit. The XRGB machines will do scanline emulation faithful to what it would look like on a CRT. On 240p material you get strong and visible scanlines while on 480i material you only get very light ones. The XRGB-2 has only got one setting (on/off), where the 2plus has four density levels available. The XRGB-3 offers a scale from 0 to 255 (a setting of about 180 is my favorite one). If you're running games which are falsely displayed as 480i while actually being 240p (like Taito's Mushihimesama and Ibara conversions on the PS2) you won't be able to display faithful scanlines. On those games the tiny 480i scanlines tend to produce artefacts.
The XRGB-3 also accepts 480p and analogue HD signals. For 720p and above I found the bandwith of the inputs too low and I don't see much reason to have the XRGB work with HD signals anyway. For 480p signals the B0 mode does a nice job on scaling and the B1 mode does a good job of transcoding the signal from YUV to VGA. The yellow Ferrari below shows OutRun2SP in 480p scaled to SXGA in B0 mode.
Revisiting the XRGB2-plus (in december 2011): Recently I had the chance the spend a few minutes with a (now nearly 10 year old) XRGB-2plus. Compared to the XRGB-3 the 2plus is still a very uncomplicated video processor. It's very much plug'n'play except for a few basic settings (Gamma, Contrast, scanline density) there's nothing to adjust. The XRGB-2plus's picture is very vibrant and sharp out of the box. Composite and s-video inputs should not be used, but component and RGB inputs are of excellent quality. The 2plus only accepts 15khz signals (240p and 480i) and outputs 480p only. If your sources are limited to those kind of signals, then the 2plus might even be a better choice than the XRGB-3. A downside in usability is that you cannot input 480p on the component inputs, which is kind of annoying for newer game systems like a PS2 or a GameCube. The XRGB-2plus is still a very nice little processor, especially when added to another - larger - VP in order to bring perfect 240p processing to your setup. A SLG3000 can be added to bring scanlines to 480i titles.
Pros (XRGB3): pure videgame machine, SD, ED & HD Input via Component, DVI passthrough from PC, scanline emulation in B1 mode, nearly lag free in B1 mode, can be used as a trancoder (480p component in, 480p VGA output), DVI/HDMI connection in B0 mode. Has a zoom mode to play PSP games in fullscreen!! VGA input on the back is 15khz RGB-compatible as well, so you got two RGBs inputs...

Cons (XRGB3): quite expensive for a 240/480p only videogame machine, 2-frame delay in B0 mode (still rather ok, but bad compared to B1 mode), You mustn't connect the DVI and VGA at the same time (a bit annoying when you switch from B1 to B0 often and want to use HDMI for B0), real bad 480i deinterlacing.
Important note about transcoding using the XRGB-3: Using the XRGB-3 as a color transcoder means you input 480p via component and ouput the same signal as VGA. Frequency and resolution don't get changed, just the colorspace gets transcoded from YCbCbr to RGB. The LPF function added to the menu can cause massive picture problems on 480p material. The Low-Pass-Filter is a switchable filter which is really neccessary for 240p input, but really hurts the picture on 480p input. When enabled on 240p input it effectively reduces noise in the background and it reduces the vertical wobbling effect (which might be visible on some monitor/source combinations). On 480p inputs it smears the picture though. Keep this in mind. LPF on for 240p and 480i sources and off for 480p sources.
Additional tidbits: Due to combined efforts of the shmups.com board members (including me ;)) Micomsoft released an english language firmware for the XRGB-3. It's basically an english 2.12 version and be downloaded here. Micomsoft also relased a debug utility for the Scart RGB input which allows to fix problematic sources (e.g. arcade PCBs). This requires a Windows PC connected through USB though. The software can be downloaded here.

After years of abstinence I finally unburried my japanese Saturn (Hitachi model 2) to hook it up to my XRGB-3. While the picture quality is overall very nice (very uncomplicated system in terms of picture noise), I've run into a tiny problem with a little static wave on top of the picture. You can see it on this screenshot below. I haven't found a way to fix it yet, so if anyone has an idea or even the same problem, just email me. I'm using original Sega Japan RGB cables (which use composite video instead of real sync). First generation Saturn units (those with the oval buttons) don't show this effect....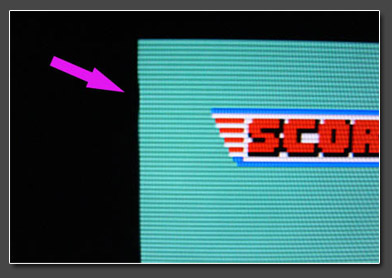 Conclusion: once **the** ultimate 240p gaming processor. It doesn't get any better. If you can afford $450 for a new XRGB-3 unit, get one. If you play 480i games (e.g. RPGs) on a regular basis get a cheap 480i deinterlacer in addition (e.g. an iScan Pro or Videon/Vigatec unit).
2012 onwards: get a XRGB-Mini instead unless you need an analogue output and really ZERO delay.

(For old times' sake I'll keep this beginner's guide. You should still get the english XRGB-3 firmware though, see tidbits above...)

Over the past years I've learned to value my XRGB-3. As you might know I've played around with the DVDO Edge and nearly every other video processor under the sun, but I find myself returning to the Micomsoft's XRGB-3 all the time. On my 52" Sony LCD I'm only using it in B1 (linedoubling) mode, but I've also learnt to respect to scaling mode (B0), especially when the XRGB-3 is connected to a PC display. In the end I decided to write this little update to the XRGB-3 section to give new buyers an easy start into using the machine. It's basically a combined review / user / beginner's guide, so just enjoy reading it ! Unlike all other screenshots on this page the shots in this guide are taken while the XRGB-3 was connected to one of my PC LCD monitors. It's a LCD2180UX from Nec. To date still one of the best IPS displays on the market (a hell lot of money a few years back, now 220 EUR on eBay). For gaming purposes on your desktop a 21.3" inch 4:3 display is ideal. It's not too small and not too big and most obviously big enough when rotated for shoot'em ups in Tate mode. You can enjoy some nice photos of the end of this guide.

Comparing the XRGB-3 to professional video equipment like the DVDO Edge is actually real fun. ABT (the mother company of DVDO) has put quite some efforts into making the Edge the perfect videoprocessor for videogames. It took them quite some time to adjust this new machine to the needs of us vintage- or retrogamers. By now they've made it 240p and 288p compatible and it's a real lovely machine. It's also down to $500 by now (mid 2010) which is nearly as cheap (or expensive) as an XRGB-3. The most obvious shortcoming of the XRGB-3 (compared to the Edge) is it's missing support for PAL inputs. It can work depending on your display, but 50Hz input is not really supported and if you plan to use 50Hz PAL gaming machines on a regular basis, you shouldn't be looking into a XRGB-3 (or consult me for proper displays). If your focus is on NTSC gaming though, then the XRGB-3 might very well suit your needs. The question whether to go for a XRGB-3 or another linedoubling device (like a Vigatec FX2 for example) depends not only on your PAL & NTSC needs but you should also spend a minute thinking about the games you're using. If your main playing consists of 240p material (most stuff including a PSOne and the Sega Satan), the XRGB-3 is the non-plus-ultra. If you like to play a lot of 480i games though (most RPGs on the PS2, lots of GameCube games) you might want to consider a good deinterlacer instead. I find myself switching between the DVDO 50pro, my Burosch transcoder and the XRGB-3 a lot. Since I love the XRGB-3's scanline emulation for 240p, my choice for PC Engine*, PSOne and so on is obvious. (*the PCE is a bit tricky since there are so many different models. Depening on the type of your RGB mod you might run into problems with the signal....ask me for details if you need to know)

Maybe let's just start with where to get a XRGB-3. They're still only available in Japan and are not this easy to find in stores. They're available online though and while the official retail pricing is something like 38.000yen, you can usually find new machines for about 32.000yen and used ones in nice condition for 25.000yen. When buying from sellers outside Japan make sure the RGB Scart socket on front is still working. It can easily be blown by using a Euro-Scart cabe without an adapter.

Once you've managed to get such a sweet little XRGB-3 unit to your home you might be puzzled by the hookup possibilites, by the japanese remote control and even more by the completely japanese onscreen menu. But worry no more, in a few minutes you'll be able to navigate your XRGB-3 blindly (or just download the english firmware)! Let's have a look at the machine itself. While the buttons labeled "AV input Select" are obviously used for choosing the active input, it gets trickier if you have a look at the connectors. Have a look at the frontside below.
The input marked with the big yellow (1) is a japanese D-Terminal input. If you browse the internet you'll find that it gets confused with something like VGA or DVI all the time. But it's neither nor. The japanese D-Terminal is nothing else than a Component (YUV) input. Included with your XRGB-3 you'll find a short (10cm) adapter cable from 3 RCA jackets to one D-Terminal connector. You can use this input to connect to connect a GameCube, a Wii or a PS2 machine. If you turn the XRGB-3 around you'll find two more of these connectors, so you can actually connect three Component sources at once. In my initial testing I found the three connectors to be of different quality, so might need to play around which one's the best for your system (I usually use the one in the front).

Especially if you're from the USA you might also be puzzled by the large connector (2) on the right side of the front. It's a Scart socket which allows you to connect RGBs sources to your XRGB-3. Native RGBs sources include the SNES, Genesis, Neo Geo or the original Playstation. Additional systems like the NES (Famicom) or PC Engine can be modded to output RGBs for the best possible quality of these machines. RGB Scart cables are easily available on the european eBay platforms, but note that Euro-Scart is not pin-compatible to japanese Scart. The socket on the XRGB-3 obviously has the japanese pin layout, so you need to either mod your Euro Scart cables or to get an adapter which pin-transforms from Euro Scart to japanese Scart (I use such an adapter).

It's likely that you're going to use the remote control to switch between your inputs and to navigate the menu, so the only button on the front of the XRGB-3 you'll need is the "Mode" button just in the center. By pressing it the XRGB-3 cycles through it's output resolutions and the LEDs beneath it indicate which more you're using (XGA, SXGA or UXGA). So if you're running into any situation in which you don't get a picture on your monitor or TV (and you will!) try pressing the "Mode" button to bring the XRGB-3 back the lowest possible output resolution (1024x768 = XGA) as this is the most compatible one.
After that we can turn to the back of the machine. Assuming that we're all videophiles I guess you'll hardly use the composite and S-Video connects on the left side of the back. If you want to nevertheless you'll probably be able to figure it out. Yellow's for video. White and red are for stereo audio and if you know an S-Video plug you're good to go. In the middle you've got another D-Terminal (YUV) input as mentioned before. (note: you can get d-terminal cables from Japan for most systems. Or you can get additional YUV to D-Terminal adapters for about 2.000yen on Yahoo Japan or any major japanese electronic store). The input labeled with (3) is a shared input. You can either use the D-Terminal connector for YUV signals or you can use the blue input labeled RGB. This one's actually a VGA input and you can use it to connect your Dreamcast to the XRGB-3 for switching or further scaling (please note: only conect either VGA or D-Terminal, not both, and set the menu option properly). The blue RGB input also works with 15khz RGB sources, so you've got a second RGB input for systems like PC Engine or Saturn.

The two ports labeled (4) represent the output section of the XRGB-3. Both ports can deliver all the possible resolutions (up to 1920x1200). The DVI-D connector can be used to connect the XRGB-3 to HDMI displays. While the VGA output has pretty good quality, the DVI-D output is bit sharper especially for higher resolutions. Note though that the XRGB-3 will only output VGA while in B1 (linedoubling) mode and you must not connect a VGA and DVI-D cable at the same time. So if you plan on using the B1 mode from to time you might want to settle for a VGA connection. Last but not least you'll find a USB-A connector labeled (5) in the picture above. This port is used for firmware upgrades when connected to a PC running Windows. If you want to route your system's audio through the XRGB-3 as well you can see that you have dedicated audio inputs for all video inputs (Scart includes audio). For the connection to your TV, receiver or monitor use the 3.5mm TRS connector labeled Line Out on the XRGB-3. I don't recommend using the headphone jacket in the front or the internal audio controls. They are horrible. The line out on the back is fne though.

Many of the buttons on the remote are used to navigate the PiP (picture in picture) function of the XRGB-3. Since most better displays have multiply inputs nowaday I haven't used this function. I have two DVI and one VGA input on each my Nec LCDs, so there was no need to route the PC signal through the XRGB-3. The buttons you need on the remote are the ones labeled with (6). They are used to switch between the inputs of the upscaler and the lower row of buttons just above the (7) on the picture. These four are used to navigate the XRGB-3's menu. From left to right: Open Menu // navigate up or left // navigate down or right // confirm. If you're running the XRGB-3 on a widescreen display with a widescreen resolution output you might also want to use the button just above the "OK" button. It's for switching between 4:3 and 16:9/10 ratios. OK - and before I forget it - the big red one on the top if for turning the XRGB-3 on and off of course.

Once you've setup your hardware and connected the XRGB-3 to the display of your choice you'll find yourself probably lost in a bunch of very japanese menus. And indeed there's a lot of stuff which can be adjusted. For normal usage you only need a handful of those settings and I will guide you through the menu jungle over the next few paragraphs. The original translation of the menu structure was provided by fubarduck (from shumps.com), so thanks a lot again. As the menus have changed a little bit over the past firmwares and you really only need a few of the submenus, I've reduced the following guide to the menu entries I think are important. Options like the Y/C seperation of composite signals might be important to some users, but they just don't apply to my setup, so I can't comment on them. You can download the full translation by fubarduck from the link above if you want to play around with the rest of the options. (english firmware 2.12 is available as well, check tidbits section above. )

Now press the menu button on front of the XRGB-3 or on the remote control and the main menu will show up. It contains eight entries as they can be seen on the following snapshot:


The very first entry doesn't take you to a submenu as the rest of the options but is basically just a switch between 4:3 and 16:9. It's only useful if you use a widescreen output resolution. If you end up with black borders on the top and bottom on a 4:3 screen you've set this one to 16:9 accidentally. To switch between ratios you don't have to use the menu. There's a direct aspect ratio button on the remote as well (see above). I won't go into details for the 4th and 5th entry of the main menu. The 4th one contains options for the Picture in Picture mode (videogame in a window, PC passthrough as background) and the 5th option is for tweaking the analogue output. You only need this if your monitor or display can't properly sync to the XRGB-3's output signal. I've never used any option inside this 5th option so far... Enter the picture control meun to get the following menu.


Brightness is pretty much self explanatory: light and dark ares are lightened up or darkened at the same time. The Gamma settings lower or push the gamme curve, which means that black actually stays black while only the lighter areas are tuned. Blacklevel adjusts the lower end of the brightness scale. Adjust if you can't get shadow details to show up without totally crushing the whites. The sharpness control is rather aggressive. I find myself using it at "0" most of the time. A sharpness setting of "7" is rather interesting as well as it softens the picture slightly. No idea why it's exactly 7, but you'll notice it yourself: the picture gets sharper with every step from 0 to 6, but drops back at 7. Watch out not to set the Sharpness setting to ridiculously high levels. It'll make the picture look like composite instead of RGB.


The 3rd option from the main menu takes you to the screen control. It pretty much explains itself. You just need to understand the difference between output controls and input controls. While the output shifting controls actually move the active XRGB-3 image on your monitor or display, the input shifting controls move the input signal (let's say the Bomberman screen from these snaps) within the output area. In other words: the output area defines the borders in which the input signal can be moved. The horizontal and vertical zoom controls are actually very interesting for PS2 games. The PS2 hardly uses fullscreen output, but most games show a severe underscan are (black borders on all four sides). Using the zoom controls you can achieve (nearly) a fullscreen picture from a PS2 (or at lease a picture which isn't smaller than that of other systems). Note that most of the controls in this submenu cannot be used in B1 (linedoubling mode).


The 6th entry in the main menu takes you to the sound controls. As mentioned before I don't use any of the sound capabilities of the XRGB-3, but if you want to, the highlightes ones are the most important ones of course. If you're using active PC speakers for your setup or a proper home cinema receiver you're better of tuning the volume at those. If you just want to route the audio signals from the inputs to the line out at the back you don't have to use any of the settings in this menu. Those are basically for people who have speakers directly connected to their XRGB-3 machine.


In the 7th menu entry you'll find some setup options which you'll probably only need once. With the first entry (D-Terminal 2 setting) you can choose which input is used on the back (component or VGA). The 2nd entry (Scart input setting) is used to switch between component or RGBs signals on the scart input. Be careful if you're using a PS2 to setup your XRGB-3. If the PS2 is set to component ouput and the XRGB-3 is set to component on the Scart input as well, the PS2 will work even if connected with a RGB Scart cable. Other systems (really delivering RGBs signals) won't work though. You can't hurt your XRGB-3 by setting this wrong, no worries. The 3rd option is for activating 75 or 220 ohm resistors on the RGB lines. You need this option if your picture is too bright. You probably won't need this one for any home system, but it might come in handy if you're going to connect a Supergun (PCBs).


If you scroll down in the same menu. You'll find the output resolution setting. In an earlier firmware you had to switch between firmware banks in order to switch between 4:3 and 16:10 widescreen resolutions. Sometime last year, all available resolutions have been merged into the same firmware (B0) though. Note the following: if you choose a 4:3 resolution like XGA you'll only cycle through the 4:3 resolutions by using the "Mode" button on the front of the XRGB-3. The same it true for widescreen resolutions. So, if you need to switch from 4:3 res to a 16:10 res (or vice versa) you need to use the menu entry shown above. If you're using the XRGB-3 with a HDMI television or a "not so high-end" monitor, you should memorize how to navigate into this menu blindly. It's the second last menu entry in the main menu and the second last entry in the submenu. You might end up with a situation at some point in which you don't get a picture at all (because your display dislikes the resolution). Navigating this menu blindly has helped me quite a few times in the past. Also always make sure there's an active input signal available and the correct input selected. There are TVs and monitors out there which can't sync to the XRGB-3's signal until it's actually doing some work (sounds weird, but it has driven me crazy before).


In the final submenu you'll find some of the most important settings (and those you'll use over and over again). The first setting (A/D level) can help you to eliminate noise visible on the display. It's usually most visible on dark blue or magenta areas. Adjusting the A/D level can help you to get rid of the noise. Unfortunately this is a global setting and needs to be re-adjusted from time to time for different sources. Example: my PS2 requrires a different A/D setting for 240p signals as it does for 480p signals. Note that most noise visible at some point on some static area won't bother you during gameplay, so don't take it too serious. The option titled "FPGA SELECT" lets you choose between different firmware banks. As mentioned at least a dozen times before B0 is the full processing mode which includes scaling to a output resolution of your choice and an active DVI-D output. B1 on the other hand is the linedoubling mode which basically acts like a XRGB-2plus. (If you buy your XRGB-3 new from Micomsoft, then there's no B1 firmware installed. You have to a firmware upgrade first). To actually switch between banks just select the desired firmware bank (B0 or B1) and restart your XRGB-3.

"VL_V" is used to set the strength of the emulated scanlines. 0 is 100% and 255 is 0% (silly japanese!). I like settings between 170 and 190 as they emulate the look of a good low-res 15khz-only CRT rather well. Note that the scanline emulation only works in B1 mode. I also found that the scanlines are sometimes simply gone. Changing the VL_V setting a tiny bit will make them re-appear. The Low Pass Filter (LPF) option has been added in early 2008 and it will help you to get rid of noise and the shaky/weak vertical sync signal I've mentioned before. It should be enabled for 240p and 480i signals all the time, but it has to be turned off for 480p signals (otherwise you'll get serious ghosting). (And if anyone finds out what VL-H is actually good for, tell me please !!!)

Update for advanced settings: connecting a PSOne or PStwo is pretty basic and easy. You won't run into any problems and there's hardly anything you can do wrong if you stick to the outlines above. A SNES or a Sega Saturn shouldn't give you any troubles as well (given you've got the right set of cables), but especially RGB-modded systems like the PC Engine can bear a little bit of trouble. One advanced setting which can be important to more exotic systems is the NTSC AFC setting (just check the complete translation PDF linked above if you need help finding it). You'll need this setting if you experience something like this:


Increasing the AFC setting will get rid of this, but note that you might loose the picture completely if you're going to high. Also note that the XRGB's onscreen menu will become a bit shaky the higher you move with the AFC setting. While my PStwo can be run on AFC level 0, I had to use AFC level 5 to get a 100% stable picture from my PC Engine. Another important setting is the RGB termination for the Scart input. While most systems can be run at the standard 75 ohm termination, my modded PC Engine only gave a usable picture when the termination was switched to 220 ohm instead. Lastly I found my PC Engine's picture to be extremely dark and lacking contrast (although I'm using a RGB cable with color booster inside). Changing the Brightness, Gamma and Blacklevel Settings didn't really help and I had to increase the R/G/B Gain Levels heavily. I also incread the R/G/B Gamma levels a bit, but it's hard to gain proper contrast with the Gamme too high. Some of the darker colors still show a little noise though the LPF is enabled, so in the end I'll probably to have to go back and re-check the mod which was done many years ago, but In the end was pretty pleased with my PC Engine's picture (definitely better than on all my CRTs before). A closeup shot from Winds of Thunder:




Ok, another update to this little XRGB-3 beginner's guide. This time I shall demonstrate how to properly update the firmware version of your XRGB-3 uspcaling device. First of all start by visiting the Micomsoft website and choose the XRGB-3 section (link on the left navigation bar) if you're not already on it (if you follow the link you're already on it). Next choose the download section. It's marked by the large red arrow in the picture below. Download the CPU/CMD/B0 update (current version is 2.12) and the B1 update (version 1.00). You can either download them by scrolling down on Micomsoft's download section or by just selecting the above links (those might be outdated at some point in the future though). Download both files to your desktop (or whereever you like) and install both upgraders to the same directory . Both files include the same updater (1.20), but different firmware files.


Next up, connect your XRGB-3 to your Windows PC (I only tested this upgrade on Windows XP SP1). You need a USB-A to USB-B cable. Once you have connected your XRGB-3 and turn it on, your PC will start searching for new hardware. A small icon will appear in your taskbar next to the clock. Wait until this icon has disappeared before doing anything else. Make sure your XRGB-3 is turned on and the LED lights on the machine's front look like this: (the lower LED indicates the resolution)


Click the Start button, go into programs and start the XRGB-3 updater. On non-japanese systems (like mine) the updater will look like in the following screenshot. Ignore all the question marks and click on the left button (the one marked with the red arrow). If your XRGB-3 is not connected to your PC properly and switched on, you won't be able to continue at this point.


A dialogue will appear in which you can choose the different firmware files (file extension x3b). We will start with the older B1 firmware. Choose the file highlighted in the picture below and confirm.


The blue bar will start to fill up (can take up to 1min) and once it's all done, you can read something about a check sum calculation in the update window. The FPGA bank 1 update has been completed and you can exit by clicking the right button (again marked by the red arrow) as you can see in the picture.


Next, we'll update the B0 firmware along with the CPU/CMD and god knows what else. Start again by opening the updater software from the programs menu in Windows, hit the left button to open the file dialogue and choose the 2nd x3b file as highlighted in the picture below.


The already known window with the blue bar filling up will show up again. Just wait until the bar is filled up completely. This time a new window will show up (the one below). You need to confirm the firmware update by clicking the left button (red arrow)


Once you confirm the update the LEDs on the XRGB-3's front will start to light up and dance around for a few seconds (see picture below). The XRGB-3 will shutdown by itself after the B0 firmware update has been completed. Close the updater software and disconnect the XRGB-3 from your PC once you're done.


You can check the installed firmware version by choosing the "Firm Ver" menu entry in the lowest submenu.



For all the screens taken for this guide in B0 mode the XRGB-3 has been running in UXGA mode (1600x1200) and with DVI output. The scaline engine of the XRGB-3 is actually rather bad, but it gets better with higher resolutions. If you're using a XGA or WXGA display (many 32" LCD TVs) you might want to use the B1 mode with 640x480 output instead of XGA (1024x768) output, simply because the XRGB-3 won't do any good to the signal by scaling it to XGA.....I'll end this little beginner's guide with a gallery of snapshots of my XRGB-3 in action. If you have any suggestions on how to improve this guide for inexperienced XRGB-3 users, just drop me an email.



---
The eagle has landed! 14 months after it's first announcement and nearly 6 years after the release of the legendary XRGB-3, Micomsoft has started to ship out the new XRGB-Mini, also called FRAMEMEISTER. While the "mini" in the official name let us hope for a smaller price tag than it's older brother, the price actually turned out to be same. Micomsoft asks for 38,640 yen (currently $496 / EUR 380). This review will show if the price is justified, who's the target audience of the new Mini and what flaws Micomsoft's new baby has.
With only 295 gramms (10.4 ounces) the Framemeister is a lightweight which reminds of a chinese electronic toy and doesn't really look like a $500 video processor (just as a reminder: the DVDO Edge Green is priced at $499 as well). But well, we won't mind the looks, if the inner values are worth it, will we ? The Mini comes with a 5V power supply (100V only) and a remote control which isn't so much different from the one we all know from the XRGB-3. Also included in the box are a Scart (JP21) to Mini-Din 8 adapter cable, a printed manual and a 512MB micro-SD card. You don't get a D-Terminal to RCA/Cinch adapter cable, which is a shame, since there was one included with the XRGB-3 and those cables aren't easy to find outside of Japan. If you're going to buy the Mini, make sure to get such a cable as well.
The front of the Mini features a composite video input and one for s-video along with analogue stereo audio. On the left there's a Mini-Din 8 input which can be used for 15khz RGBs sources. (If you want to build your own adapter cables, the pinout is available here on the Gamesx.com wiki). Contrary to the other XRGBs where the Scart input could be used for component as well, this one's really limited to RGB. On the back we get one HDMI output, two HDMI inputs, one D-Terminal along with stereo audio inputs, a micro-SD slot and a mini-USB connection. Obviously missing from the "full package" is a VGA input for systems like Sega's Dreamcast and a VGA output for analogue displays or to utilize faster (or less processed) VGA inputs on current LCD or Plasma sets.
Although expensive, quite quirky and only available directly from Japan, the XRGB-3 turned out to be *the* best video processor for anything 240p-related. Naturally this raised the bar and put the expectations for the new Mini to a very high level even before it's release. The XRGB-3 offered two completely different processing modes. One with razor-sharp scaling up to WUXGA but without scanline emulation (B0) and a linedoubling mode with 480p output only, but with the option to display scanlines (B1). While B0 was compatible with most sources, B1 was troublesome with many sources. The XRGB-Mini promised to unite those two modes into one, new, easy-to-use engine.
When first connected to a TV set, the Framemeister is set to a rather compatible 480p output. Using the on-screen menu, the resolution for the HDMI output can easily be set to 480p, 720p, 1080i and 1080p. Micomsoft discourages the use of 1080i though, because of the prolonged processing time (480i gets deinterlaced to 480p, then scaled to 1080p, then reinterlaced for the 1080i output). The on-screen menu is completely in english and very easy to navigate (firmware 1.04 offers a language switch).
The Volume Control on the remote is available for embedded PCM only, either from one of the HDMI inputs or from one of the analogue inputs. If you're running a system which delivers bitstream audio (DD5.1 or DTS), the controls won't work.
From the number of processing modes, the new Marvell QDEO Kyoto G2 processor inside the Framemeister seemed a bit complicated, but most of the processing modes available turned out to be same with just minor differences in color saturation. Standard is a motion- and pixel-adaptive deinterlacer suited for 480i and 1080i material. Movie, Anime and Natural use the same deinterlacing setting. Anime's simply boosting the saturation and contrast. Game1, Game2 and Master modes are using a more simple, field-based deinterlacing mode, which comes with a bit of vertical screen shake (typical Bob'ing effect). Game1 uses the standard color settings, Game2 uses the Anime color settings and Master adds scanlines to the Game1 mode. Picture is a 2:2 deinterlacing mode for static images. Given that the Marvell processor is quite powerful (it's the same processor used in the highly-praised Oppo BDP-93 Blu-Ray player), it's a shame that Micomsoft didn't include filmmode deinterlacing for 3:2 sources.
The zoom settings allow a 1:1 (for 480i/p sources) or a 2:1 (for 240p sources) display using the "Scale x1" mode. This results in large black borders on all four sides, but is nice for capturing purposes as it allows to capture in 720p and cut away the borders for a pixel-perfect 1:1 capture. Standard is used for 4:3 images, while Normal 2 preserves the source's pixel ratio. Letterbox zoom settings are available for 4:3 letterbox Games like Biohazard 4 on GameCube or PSP systems. There's no continuously adjustable zoom or overscan setting though.
Most of the menu options are pretty self-explanatory. You get controls for all the processing modes and zoom settings which are available from the remote already. You get two sets of resolution settings, one for the HDMI modes and one for the DVI modes (here you'll find all the typical PC resolutions from 640x480, 1024x768, 1360x768, up to 1600x1200 for 4:3 screens and 1920x1200 for 16:10 screens). One submenu is reserved for Marvell-related settings. Here you set the deep color mode, adjust the skew and influence the horizontal and vertical scaling engine. Game and video presets are available for the Marvell scaler as well. Skew is used to adjust the horizontal scaling when a game uses a wider resolution than 4:3. Using a bad skew setting can cause a minimal amount of shakiness on vertical edges. We're really talking minimal, so minimal that I didn't even notice it on my first test sessions.
The Marvell QDEO Kyoto G2 and 1200p screens: Unfortunately the XRGB-Mini does not really support LCDs with 1600x1200 or 1920x1200 resolutions. While both resolutions are available in the DVI settings, the active gaming remains limited to 1080p lines of video. This is fine for 16:9 material which gets displayed as 1920x1080 on 16:10 displays and as 1600x900 on 4:3 displays, but it's disappointing for classic 4:3 material which gets displayed in 1440x1080 with black borders on all four sides. You can choose a lower resolution to get rid of the borders, but this means a certain loss in sharpness as your display has to rescale the input.
My first test run was done with a classic 480i source. 480i was the dark age of gaming which started with late PS1 games and lasted through the whole Playstation 2 era. The XBox1 was lucky enough to have 480p available on most titles already. GameCube had 480p support on many major titles in the NTSC countries and the Dreamcast had VGA support for most titles as well. Today 480i remains the crown discipline for every deinterlacer. 480i60 video requires a motion- and pixel-adaptive deinterlacer which the Marvell QDEO processor can offer. Deinterlacing on real 480i titles looks very nice. The detail level is outstanding and the sharpness is great. On 240p titles which are output as 480i (most of the classic collections on the PS2) the deinterlacing engine can get a bit agressive and you'll notice a few artefacts here and there. Chosing the "Game" processing mode instead of "Standard" applies a single-field deinterlacing to the input signal (comparable to what the XRGB-3 does in B1 mode). This causes a little a vertical trembling. The picture looks good, but not as sharp as with the XRGB-3's B1 mode. The scaling engine offers two presets (Game and Video) and adjustable scales for both the horizontal and the vertical scaling. On several 480i titles, the "Game" setting looked just wrong (stepping artefacts on all diagonal edges), but setting the scaling to Video fixed this nicely. Using the manual settings for the vertical scaling (moved the slider from 6 to 8) I was even able to fix the dropshadows on 480i material in Standard processing mode (tested with SvC Chaos on the PS2). If you increase the slider too much, the scaling gets very blurry, so I'm not sure what Micomsoft intended by offering the manual adjustment (to this degree). Unfortunately the manual scaling settings are not saved, but deleted once you chose one of the presets.



One thing I already expected to be bad (and which turned out to be ugly indeed) is the sharpness option. This one's handled by the Marvell as well and it's just as bad as on all the other Marvell machines out there (including the Oppo BDP-93 Blu-Ray player). The sharpness slider can be adjusted from 0 to 32. It should be set to 0 for everything from 480p to 1080p. On 240p and 480i it can be set to 1 or 2 without doing too much damage. I found that adjusting the horizontal and vertical scaling options was a much more subtle way to add a little sharpness to all SD and ED input resolutions. On the lower settings, the sharpness control adds a "waxy" look to the image, similar to what you would expect from an agressive NR control on your TV set.
Playstation Games on the Framemeister: PS1 games look amazing on the Mini. If a PS2 with component output is used for playback, a little bit of noise of visible in dark grey areas of the screen. Other than that, there's nothing to complain about.


The Framemeister truly shines with all 240p signals I've thrown at it so far. 240p signals are recognized on all analogue inputs. No deinterlacing is applied. For 240p it doesn't make a difference if you chose Standard or Game processing. Meister is the same, just the with added scanlines. Without any doubt, the Framemeister takes the top position for any 240p processing devices. By using different output resolutions (480p, 720p or 1080p) you can choose different sharpness levels. On 1080p the processing looks absolutely razorsharp. With the right scaling options it looks just as nice as on the XRGB-3 (in B0 mode). As long as the scanlines are rendered the way they are in 1080p (see box about scanlines below), 720p is my favorite output resolution. It's not as razorsharp as 1080p (because of the TV's additional scaling), but it looks at least as good as the XRGB-3 in B1 mode. With 480p output the picture's still very nice, though a bit softer than the XRGB-3's 480p output - more like what classic Faroudja linedoublers would deliver.
Bugs in the current XRGB-Mini firmware:
- there's a little chroma-shift on the red channel on certain sources (e.g. with a PS2). All reds are shifted to the left for about 1-2 (source) pixel(s). This causes a shift of about 2-3mm on a large television sets. Can be cured by setting the Mini to RGB output (instead of YCbCr), but might be TV-dependent as well.
- another bug is the way scanlines are displays on high resolutions. While they look great with 480p and 720p output, it's just ugly with 1080p output. Instead of darkening just a single pixel line, two lines have to be darkened.
- V-Sync doesn't stay off (once switched off), so the Mini can't be used for capturing right now. (semi-fixed in 1.04 FW)
- the Framemeister easily loses it's lock on 576i and 288p signals. I ended up with a black screen several times and had to restart either the Mini or the source to get my picture back. (Menu's were still working, just the source signal wasn't displayed anymore)
- scanlines are often displayed on the wrong lines on 480i and 480p content (odd instead of even / even instead of odd).
- the Mini needs a long time (10+ seconds) for resyncing once the input signal changes or for a HDMI handshake.
The uspcaling of already progressive ED or HD signals (e.g. 480p through component or 720p from a XBox360 through HDMI) looks nice. It will take a few minutes to fine-tune the H/V scaling options, but eventually it will look just the way it's supposed to look. I'm not the biggest fan of processing HD formats. A few years back many TVs really sucked at upscaling 480p or 720p to their native panel resolution, but most modern TV sets do a quite acceptable job on scaling progressive signals. I don't think I would route my XBox360's signal through the Framemeister unless I'm a HDMI-input short. If you know my other upscaler reviews, you know that I like really good scaling. The Marvell QDEO's scaling engine is good. It's better than DVDO/ABT's scaling engine as it doesn't introduce any ringing (unless you pump up the sharpness setting), but it's not as good the Optoma's scaling engine. By chosing the right scaling options, the picture kinda gets close though. With the current firmware there's a bug with processing a 480p component signal from a PS2. There's a chroma-shift in the red color channel, which causes all reds to shift a few pixels to the left (compared to the luma channel) - this blurs the picture a bit. The pictures shows the video preset to the left and the game preset to the right. You can also see the chroma-shift. Depending on your TV set, the chroma-shift can be fixed by setting the Mini to RGB output using the color space option.


Playstation 2 Games on the Framemeister: 480p games suffer from a chroma-shift right now. 480i is deinterlaced quite nicely and the scaling engine is good. 240p looks stunning of course.


A big problem of the XRGB-3 was it's analogue processing. It was very sensitive to noise and produced a shaky sync on it's output. Many sources could only be used by activating a low-pass-filter (LPF). The Framemeister does not have such a setting. Overall it's analogue processing is excellent. There's still a manual A/D level setting available, but I couldn't tell much difference in adjusting it manually. Most of the sources I used didn't show any noise. Using a component (or D-Terminal) cable on the PS2 still shows some noise though, especially in dark grey areas or when the brightness setting wasn't properly adjusted. I wouldn't call it a deal breaker, but it's still annoying. 15khz from a PS2 using a RGB cable instead is noise-free.
The other big hickup on the XRGB-3 was it's compatibility with the various sources. For years I had to keep a Faroudja-based linedoubler on hand just to be able to play my PC Engine from time to time. Some Mega Drive models required special settings on the XRGB-3. My model 2 saturn unit showed a little bend on top of the picture. MVS was basically impossible to use with the XRGB-3's B1 mode and everyone who has used a XRGB-3 knows of the infamous AFC setting which could be used to cure bending on the top of the picture, but which introduced a little shakiness on the output signal. BEGONE you compatibility problems! Over the past days I've used a bunchload of systems with the Framemeister, ranging from the classics like Super Famicom, Mega Drive and PC Engine to Playstation 1 and Saturn, PS2 and XBox360. And they all worked flawlessly without any hint of bending or instability (well, I had to change my PC Engine's RGB cable, but that's something I can live with). I was especially impressed how flawlessly the Framemeister handled a PGM and a NeoGeo MVS system connected through a supergun. I had honestly expected sync issues, framerate issues and god knows what else, but everything worked fine on both my Sony LCD TV and my NEC LCD monitors. Outstanding !
When is the XRGB-3 a better choice than the Framemeister ? The XRGB-Mini is a great machine. It's up to date, fully HDMI compatible and works flawlessly with everything I've thrown at it so far. Still the XRGB-3 has it advantages. It has got a massive number of inputs (mutiple D-Terminal inputs, a 2nd RGB input on the back, a processed VGA input for Dreamcast), it can provide a genuine 480i CRT-look with a "hint" of scanlines. It's a bit sharper than the XRGB-Mini on lower resolutions (especially in B1 with 480p output) and above everything else, it's got proper UXGA (1600x1200) and WUXGA (1920x1200) modes with razorsharp fullscreen scaling. The XRGB's B0 mode is currently sharper for sources affected by the chroma shift (PS2 and GameCube). The XRGB-3 will also handle your Seibu Kaihatsu PCBs (Raiden Fighters...) with a nice 54Hz to 60Hz framerate conversion. The XRGB-Mini currently can't handle a 54Hz input. If you prefer a very sharp picture and would like to use a 20" or 21" 4:3 LCD or a 24" 16:10 LCD, the XRGB-3 might - despite all it quirks - be better suited for you.
The Framemeister provides two status info screens. A short one which is accessable through the remote. It shows the input resolution, the output resolution, status about the V-sync lock and the sound format (PCM or Bitstream). A more in-depth info screen is available from the menu (called "Full Status"). The 4-screen info provides detailed information about the input signal (incl. the exact refresh rate with two decimal places), the output signal, the delay caused by the processing and the number of hours the Mini has been used and how often it has been booted up. The output screen always says "60Hz V-sync locked", but I checked this with another processor and the HDMI rates are really "bend" according to the input. That's even true for PGM or MVS which run at 59.18Hz. Once you unlock the V-sync, the output refresh is shown as 59.94Hz (Standard NTSC and HD timing). So far I haven't found any source on which I had to unlock the V-sync. With unlocked v-sync the studder is quite obvious. I wouldn't call this playable anymore. It's neccessary for video capturing though.
Super Famicom, Mega Drive & PC Engine Games on the Framemeister: This is pure goodness. All vintage systems I've tried so far look amazing, don't need additional adjustments and don't show any compatibility issues at all. I'm using a vintage-1990 Super Famicom which means what you can expect an even sharper image from newer machines (they changed the board layout in 1992). All screenshots are taken with 720p output from the Mini, so 1080p would be even sharper.


A word about the processing delay: the XRGB-mini is fast, really fast! In fact, it's so fast, that I don't even understand how it works. I haven't measured the actual delay(s) yet, but from a comparison with the XRGB-3's B1 mode, the Mini doesn't "feel" any slower. The delay is supposed to be shown on the full status screen. Depending on the input resolution, the output resolution and the processing mode, the delays shown range from 1.03ms to 9.83ms. Even with proper 480i deinterlacing the delay is shown is with practically no delay. The weird thing about this is that a pixel-adaptive video deinterlacer needs to buffer at least two fields to be able to compute a new frame with information from both fields. Even weirder is that Micomsoft themselves state in the manual, that for timing-critical games the game mode should be used (instead of Standard mode) - though the Standard mode doesn't rate any slower (judging from the info screen). I'll look into this sometime soon, but any way this turns out: the Framemeister is fast enough to support even the most hardcore bullet hell shoot'em ups (or Bemani or whatever is your cup of tea).
Scanlines using the "Meister" mode: One of the Framemeister's processing modes is called "Meister". It's the same as Game1, but adds scanlines to the picture. Scanlines can be applied to all analogue 240p, 480i and 480p sources. Contrary to the XRGB-3, which displayed "classic" scanlines on 240p material and CRT-like 480i scanlines on 480i content (and no scanlines at all on 480p sources), the Mini applies "classic" 240p scanlines to all the signals. The scanline density can't be adjusted (yet). And while the scanlines are not 100% black (as on the XRGB-2), they're still a bit on the heavy side (with HD output selected). If you know the XRGB-3, then the Mini's scanlines can be compared to a setting of about 125 on the XRGB-3 if the Mini's set to 720p. With 480p output they're much lighter, similar to a 180 setting on the XRGB-3. Scanlines look great on 240p material, but don't look good on all 480i/480p titles. On most of 480i games I tried (Sengoku Ace, PS2 Metal Slugs) the scanlines were applied to the wrong field (e.g. to the even lines, while the odd ones would have looked better).

The Framemeister applies different kind of scanlines to different output resolutions. For a 480p output you get the typical look with every second line darkened (or blacked out). On 720p you get a dark line, a lighter one and one original line of pixels. On 1080p the Framemeister applies very thin scanlines (only 1 darkened line for every 4 lines of pixels) which looks ugly and will hopefully get fixed in the future. Output resolutions with 768 lines (XGA and WXGA) don't look good with activated scanlines, the scaling is uneven. The same is true for some of the DVI output modes. All higher resolutions (960p, 1050p, 1080p) are bugged by the thin scanlines.

Here's a digicam comparison for 480p (top left), 720p (top right) and 1080p (bottom):


Sega Saturn Games on the Framemeister: a flawless presentation through the Mini. I use a japanese 21-pin Scart cable which actually uses composite video instead of pure sync. For testing I used both a model 1 and a model 2 Saturn machine, with various kinds of RGB cables (composite video as sync, pure sync) - they all provided the same (stunning) results.


50Hz PAL sources on the Framemeister: PAL content is currently a problem. While the Marvell processor can easily handle 50Hz input, unfortunately Micomsoft didn't bother to include the proper output timings. 576i signals are recognized and converted to 60Hz output timings. 288p signals are accepted as well, but are shown as 240p and treated as such (meaning, a some lines get cut off and the signal's converted to 60Hz). The framerate conversion from 50 to 60Hz is done quite ok and you would actually be be able to play a slow-paced RPG, but of course it's far from ideal for any fast action game with smooth scrolling backgrounds. LCD and plasma sets sold in Japan and the USA most can most often only display 60Hz signals, even though HDMI supports 50Hz and 60Hz on all HD timings. TVs sold in Europe can easily handle 720p50, 1080i50 and 1080p50, so we can only hope that Micomsoft will add a software switch to support 50Hz output timings as well. Ideally 50/60Hz are automatically recognized, so the Framemeister will switch between 720p50 and 720p60 (or other resolutions) on it's own..
PGM and NeoGeo MVS Games on the Framemeister: with their output refresh rate of 59.18Hz they're far from the NTSC standard (59.94Hz). That's something which caused lots of problems with the XRGB-3 and other processors. The Framemeister handled both systems perfectly - with full v-sync lock. For PCBs with non-standard refresh rates (e.g. Seibu boards with 54Hz output) you still need a XRGB-3. The Framemeister can't handle those (yet).


So where does the mini stand in comparison to the many other video processors I've tested in the past ? With nearly $500 it's obviously a high-end machine which isn't suited for everybody. If you planned on getting a XRGB-3 soon and you don't belong to the few people who need pixel-perfect scaling with 1200 lines of video (for 24" 16:10 LCD screens) or PAL functionality right now, get the Mini instead. It's so much easier to use and it will certainly get more attention from Micomsoft in the future (regarding firmare updates and such). At about a third of the price you can still get a Faroudja-based processor like the Videon or Vigatec along with a SLG3000 for scanlines. If you have VGA available on your display or TV, those are still valuable and good alternatives. At about $250 to 350 you can get an iScan VP30 plus SLG3000. The VP30 offers much more options for actual movie and TV processing, is *at least* as good as the Mini on 480i deinterlacing and isn't bugged by the Edge's ringing scaling engine. It's just not as sharp on raw 240p processing as the Mini. Pair any of the above processors with a Gefen VGA to DVI (or HDMI scaler) and you get a powerful combination able of handling 288p and 576i content along with full scanline support. That's something the Framemeister can't do and who knows if Micomsoft will be able to add PAL support after all. If your majority of games consist of PS2 RPGs and 240p isn't your main focus, the DVDO/ABT processors might be a better choice for you. Second hand Edge units are available for around $350.
A word about firmware updates: Micomsoft already released two updates shortly after the machine's release and the actual update process is really ease. You simply put the FW folder onto the included Micro-SD card, insert it into the Mini and connect the power adapter to the it. The update takes about 30 seconds. After that you should do a full software reset using the menu's option.
Conclusion: Micomsoft has delivered! The Framemeister is huge step forward in terms of usability and compatibility. Gone are the days when scanlines required a VGA connection, gone are the problems with dropouts, shakiness or special requirements for RGB cables. With the Framemeister you don't need an second video processor for optimal results. The XRGB-mini performs great right of the box. There are a few minor drawbacks (ridiculous 1200p modes, missing 50Hz support, ugly scanlines on 1080p output), but the positive aspects easily outweigh the few (fixable) quirks. All hail the new king (for 240p processing) !!
Additional thoughts after a month with the Mini: I don't really get Micomsoft's market positioning of the Mini. As the XRGB-3 successor the obvious main goal was fantastic 240p processing and that is where the Mini truly shines. Except for the (currently) missing support for PCBs with non-standard refresh rates (e.g. Seibu boards with 54Hz), the Mini is the very best 240p processor out there. I found the whole HDMI processing to be rather expendable though. I don't see the need for processing a 360 or PS3 (except for getting proper letterboxing on a 16:10 screen) and I would have wished for a cheaper unit without HDMI inputs and one or two more component inputs instead. The missing VGA input is an oversight as it would have been nice to connect a Dreamcast without transcoding to component first. 480p processing could have been even better. Another complain I have is that you have to manually tune in the scaling options *a lot*. Different sources require different setting and there are hardly two sources which work fine with the same settings.
This review will updated in Q2 2013 to accomodate all the fixes made the Framemeister's firmware by now.
Wishlist for future firmware upgrades:
- ability to adjust the scanline density manually (fixed)
- ability to chose between even and odd lines for scanline overlay (especially for 480i and 480p) (fixed)
- add a 240p x 3 scaling mode for the 720p output (this would allow even scanlines on 768p displays)
- make sure the V-Sync switch does work. Currently it switches back to auto by itself. This is a must for capturing.
- add 50Hz output modes (either manually or automatically), 576p50, 720p50, 1080i50, 1080p50. The Marvell can do it. (fixed)
- add saving slots for picture settings / scaler settings (ideally for use with the A, B, C buttons on the remote)
- enable scanlines for 480p on the HDMI inputs (e.g. for XBox360) (fixed)
- 31khz support for the Mini-Din 8 input (if technically possible) (fixed)
- masking function for the edges (for example to covert the colorful overscan on Mega Drive games)
The new XRGB-mini Framemeister can be bought from SOLARIS JAPAN
at reasonable prices and with "friendly" customs declaration.
---

The Micomsoft XPC-4 is a wonderous beast. Being the 4th version of the XPC series already, it's one of Micomsoft longest running product lines, still it's likely Micomsoft's least known processor in the west. Previous versions like the XPC-3 were mere down converters. You could connect a PC to their VGA input (a western PC running Dos or a japanese PC-98) and got a composite or s-video NTSC output to connect the PC to your TV set. At more than 30,000 yen the whole concept always sounded silly, since PC-TV boxes have always been available on ebay for less than $50 - ten years ago already.
The XPC-4 on the other hand plays in a completely different league. Micomsoft added upscaling, component and digital outputs, any kind of cross conversion you can think of and the ability to accept almost any kind of signal any source could deliver - including 15khz and even 24khz sources. At a little over 40,000 yen (300 EUR as of summer 2013) the XPC-4 isn't exactly cheap. It's a little bit more expensive than the Framemeister - probably because of the huge number of cables and adapters included with every unit. It's ability to accept 15khz RGB signals for upscaling is obviously what made the XPC-4 interesting for me to check it out. Remote and on-screen are in japanese language only. Some hints for the remote can be found below and a menu translation can be downloaded here (kudos to ruger on the shmups board).
The XPC-4 has a rather small footprint. It's a 3/4 of the Framemeister's size and considerably smaller than a XRGB-2 or 3. On the left side the unit features composite, s-video and D-terminal outputs (not inputs!), while the back side offers a VGA and a DVI-D output and a single DVI-I input. The top offers a number of buttons and a few LED status indicators. A USB port is available for firmware updates. The single DVI input already hints at the target audience for the XPC-4 (which are users of classic japanese PCs), still it's flexible enough to serve as a multi purpose processor for all kinds of upscaling tasks. A weird design decision by Micomsoft is that the XPC-4 can't be switched off. To turn it off you have to detach the power supply. The big green button on the remote (which you would think is the power button), performs a soft-power-cycle when it's kept pressed for a few seconds. One neat little feature (and one that I'd like to see on all future processors) is the use of multi colored LEDs to indicate the current output resolution. This makes it extremely easy to cycle through the output, even if the display blacks out on some of them. Cycling through the different resolutions is done using a single button on the machine or with the buttons on top of the remote, no need to navigate any menus.

All sources get connected to the DVI-I input on the back of the XPC-4. HDMI sources are accepted using a HDMI to DVI-D adapter (no HDCP support though), VGA sources get connected using a DVI-A adapter. Component sources using a DVI-A to D-Terminal adapter (included with the processor). 15khz RGB sources require clean sync and obviously a Scart RGB to DVI-A adapter cable. If your sources don't offer clean sync, a stripper like the Arcadeforge Sync Strike is required. For all the testing done for this review I used my XSELECT-D4 unit. It got connected to the XPC-4 using a VGA to DVI-A cable. To use component or RGBs sources the sync type has be set accordingly in the menu. When I first read the specs my first idea was to connect a large switch the the XPC's intput to feed it with unprocessed RGBHV, RGBs and component signals. Unfortunately I didn't have much luck with the XPC's component processing. The most obvious component source (a Playstation 2) caused a massive chroma shift which rendered the component input pretty much useless.

Let's first take a look at the functions nobody will ever use. Obviously the XPC-4 still acts as a classic scan converter, which means that you input a hi-res PC signal (anything from 640x480p to 1920x1200p) and you can get a 480i NTSC composite or s-video signal from it. I very briefly tested the composite output's quality and it's really bad. If at least it was 240p instead of 480i one could argue for it's usability, but this way, nobody needs it. Using the D-Terminal (component) output instead and adjusting the "flicker" function in the menu, the output quality got better. Still any Extron VSC unit will perform way better at a fraction of the cost. The D-Terminal output supports higher resolutions as well, 480p, 720p, 1080i and 1080p and while 480p looked ok, 720p and higher had a rather soft look to it - completely lacking the razor sharp edges the VGA and DVI output can deliver. If somebody really has to use a old Dos PC on a component-only display, I would always recommend trying a pure transcoder first. Certainly the XPC-4 is a valid option, if a transcoder fails, but I don't see anyone shelling out this kind of money for that kind of performance.
Using the XPC-4 as an upscaler for RGB sources, it turned out to be a real gem. The XPC-4 was released between the XRGB-3 and the Framemeister and it's inheritage is obvious. The upscaling is similar to the XRGB-3's performance, the menus are similar and still the XPC-4 seems to have none of the problems the XRGB-3 was bugged with. Noise is no issue, sync stability is absolutely perfect and overall the XPC's performance is just great. For my test run I unburried a number of sources, ranging from my RGB-modded AV Famicom to my N64, from my Saturn to my Playstation and from my Dreamcast to my XBox360. While the XPC's RGB input does accept interlaced sources (480i and 1080i) it doesn't have any kind deinterlacing algorithm. Fields are just doubled and without the typical field-offset compensation the XRGB-3 utilizes in it's B1 mode. This mainly causes some weird semi-transparent ringing and some flickering, so the XPC-4 is not the processor you want to use to play your average PS2 RPG. Still the XPC-4 handles transitions from 240p to 480i (and back) fast and flawless. Contrary to the Framemeister's performance (which takes 5-10 seconds for each transition), at least this keeps games like Killer Instinct 64 playable (KI64 has 240p gameplay, but switches to 480i between the fights and for all it's menus). The effect is kinda to hard to capture on a snapshot. The digicam shot below shows the ringing, but obviously can't transport the flickering effect you get on top.
The auto adjust feature: The auto adjustment is initiated by pressing the green button on top of the remote and then selecting the 2nd menu entry. This analyzes the incoming signal and usually provides a stunning fullscreen 4:3 image. If the auto adjust feature fails for any reason, leaving you with unstable sync (shaky screen), bad scaling (blurred edges) or jailbars, simply press the green button, select the third menu entry and enter an integer multiple of your source's horizontal resolution. After that re-initiate the auto adjustmeht. The higher you go, the sharper your output will be. Examples: 1440 for a Playstation 2 480p output, or 1280 for a Saturn 240p RGB signal.
With VGA sources (Dreamcast, 360, a classic PC or a transcoded component signal) the XPC-4 performs very well. The scaling engine is very clean and you get artefact-free 1080p without any problems. Unfortunately for users of 24" 16:10 displays, the XPC's output resolution is limited to 1920x1080 in widescreen mode. For 4:3 output 1600x1200 is available, but the XRGB-3 remains the only processor to fully support 1920x1200 output. The most interesting fact here is that XPC-4 isn't affected by the 480p upscaling bugs present on the Framemeister. No blurry edges, no smearing, no chroma shift and - to my surprise - a very useful sharpening tool which doesn't exaggerate, but does provide smooth and subtle sharpening. Contrary to the XRGB-Mini all the geometry controls (horizontal and vertical shifting and resizing) really work as well.
A word on 24khz processing in general: The Micomsoft XPC-4 is one of the few video processors in existence, which accepts progressive 24khz RGB signals for further upscaling and processing. Most users will never have the need to use this function. There are no consumer consoles out there to output this kind of resolution. 24khz usually means 384p at roughly 60Hz and the most well known systems to output this kind of signal are Sega's Model 2 and Model 3 boards. In addition to that there are some "weirder" japanese computer systems to output 24khz as well, the PC-9801, the Sharp X68000 and some FM-Towns models to name the most obvious ones. The XPC-4 will gladly accept those signals and upscale them to any resolution you want.

If you want to use 24khz sources with another video processor you might already own and you don't want to invest the extra money for a XPC-4 unit, you can use an Extron scan converter instead. Models like the Extron VSC series will accept 24khz RGB and output 15khz RGB in 480i instead. The added interlacing might not be the most perfect way to display 24khz signals, but it's certainly the cheapest one, since Extron VSC units can be picked up starting from $50. The Extron scan converters do not add additional lag.

Of course there are other nice VGA upscalers out there (the Gefen VGA to DVI Scaler Plus to name just one affordable one), so the main question was, if the XPC-4 will perform equally well on 15khz sources as it does with 31khz sources. And to cut it short: it certainly does. Using the sharpness function to give the image a little more "kick" the results are easily comparable to the range of XRGB processors. 480p output from the XPC-4 is considerably sharper than the Framemeister's 480p output, making is a perfect source for external scanline generators like the SLG3000 or MiniSLG. Contrary to older XRGB generations, there are no stability issues, no noise or sync issues and no adjustment hassles with the low pass filter. 1080p is basically identical to the XRGB-3 B0 output in high resolutions, but with cleaner results due to a way better filtering and A/D conversion stage. The Framemeister might be a tiny bit sharper at 1080p output, but that's nitpicking.
With or without using the auto adjust feature the XPC-4 performed absolutely solid on a wide number of sources. My Saturn was the only one to require some manual adjusting, but that was done in mere seconds (and the Zoku Gussun Oyoyo shot above is the result of that). The XPC-4 does not have internal scanline emulation (as the XRGB units have), but it can easily be used with external scanline generators. Of course this reqires a VGA input on your television or monitor set though - something that many newer sets unfortunately lack.

Picture quality on the analogue VGA output and the digital DVI-D/HDMI output is identical. The XPC-4 does not lock the output refresh rate to it's input. This makes the XPC-4 a great capture interface to work with capture cards from Blackmagic Design or with live h.264 encoders such as boxes from Hauppauge or Elgato. No matter what output resolution you choose, the refresh rate is always a perfect 60Hz. With some sources this can cause slight micro-stutters every once in a while, but to keep this in perspective: most processors don't provide locked outputs and the XPC-4 performs much nicer than the Framemeister with unlocked outputs. The XPC-4 lags with slightly more than one frame. That's half a frame faster than the XRGB-Mini, but slower than the older XRGB units (in linedoubling mode).
The XPC-4 was designed to deliver fast and flawless fullscreen results with any source on any display. The auto adjust feature will remove any kind of underscan border present on your source. Many users will appreciate this (hard to believe how many requests I get week to week from users complaining about "remaining" borders after using any kind of upscaler) and if you really hate black borders, the XPC-4 is an absolute dream come true for you. Needless to say that the XPC-4 handles 240p as progressive sources and any kind of 240p flicker effects (like drop shadows or transparencies) will be perfectly preserved.

Auto adjust and scanline overlay: If you want to use the XPC-4 (or any other video processor) with an external scanline generator like the SLG3000 or MiniSLG you need a perfectly line doubled 480p output, meaning the output has to preserve any underscan borders that might be present on the original signal. Using the auto adjust function on the XPC-4 gets rid of any underscan borders and will cause the XPC-4 to scale the actively used area to fullscreen. With 240p sources like a Playstation 1 that doesn't matter, but most systems have slight underscan borders and output in resolutions like 224p instead. Using a scanline generator on a fullscreen signal like this will cause misaligned scanlines.

For 15khz sources, there's just one way to get a perfectly line doubled 480p output on the XPC-4. Do a reset (in the menu, not the soft power cycle using the green button) and do not to use the auto adjust function after that. Unfortunately this means that you have to manually adjust the picture alignment. Dot clock and skew settings are off limit, because the XPC-4 automatically performs an auto adjust once you manually adjust those settings. Disabling the auto adjust in general using the menu settings, will also disable the dot clock and skew settings. That's not really a problem for most systems I tried, but if you run into problems with your console's output (for example jailbars on your Saturn's output), you won't be able to get rid of them this way. Using the underscan control to re-add the borders after an auto adjust is a valid alternative, but it's not perfect and will usually cause a few scanlines to still be misaligned. The following shots shows correctly aligned scanlines on the left and a misalignment caused by the auto adjust feature on the right.




For 480p sources with underscan borders (e.g. PS2 titles running in 480p like the Sega Ages series) there's a little trick: no matter which resolution you're currently running (1080p for example) switching the processor to composite output (using the output select button on the machine itself or the output select buttons on the remote) will cause the VGA output to deliver a perfectly aligned 480p image (basically a passthrough of the input). You can even use the auto adjust feature - the underscan will be fully preserved. The only condition to make this work is that the "component" setting in the "special" menu (last entry in the main menu) has to be set to "D". If it gets set to RGBHV or RGB_C instead, the VGA output won't output any signal anymore, once the XPC-4 gets set to composite. I couldn't find any problems in keeping the setting at "D" (which stands for d-terminal/component) and it's the standard setting anyway

Conclusion: Overall it's the whole package that makes the XPC-4 a highly attractive processor. If you want perfect 24khz upscaling, there aren't any other choices anyway. You're missing out on proper 480i deinterlacing, but then again no other processor handles 15khz and 31khz sources at the same time this incredibly well, is this easy to use and all of this with just about a single frame of lag. It's certainly not easy to make a choice between the XPC-4 and the Framemeister. If you require proper 480i handling, the Framemeister's your choice. If you need scanlines, but don't have a VGA input, Framemeister it is. If you want equally great processing for both 240p and 480p sources, the XPC-4's the better choice and if you dislike underscan borders, the XPC-4 is your perfect choice anyway.
After all it would be great, if Micomsoft had combined the best of both units (Framemeister & XPC-4) into one processor. It's a shame to see the XPC-4 perform better than the Framemeister in some regards (especially with upscaling 480p sources), while the XPC-4 can be troublesome if you're after scanlines (VGA requirement and the auto adjust / underscan issue).
---
Now what have we got here ? The lost child once fabled to exist in a country far far away ? The evolutionary missing link in the world of video processors ? It certainly seems so. The XC15 DISPL is a line doubler exclusively for RGB sources released by Micomsoft in the mid 90s. A more exact release date is unknown as virtually all memory of Micomsoft's early achievement was subsequently erased by one and a half decade of promoting the XRGB series of processors instead. Searching google for any infos or details about the DISPL basically just provides you with a single useable result and that's Superdeadite's Youtube review of the unit. It's focused on arcade boards and comparing the DISPL to the XRGB series of processor and it's maybe a bit too enthusiastic, still absolutely worth watching though!
The Micomsoft DISPL is a processor that's doesn't really make sense, at least not in the context of what other processors Micomsoft did release. Considering that it's very likely been released after the original XRGB-1 unit and before the XRGB-2, it was certainly a weird business decision. With the release of the XRGB-2plus released another machine called DISPL-TV - basically a XRGB-2plus unit with a modulated RF input instead of RGB, but hardly anybody ever knew that there was this "RGB DISPL" years before that. Compared to the original XRGB-1 the DISPL offers scanline emulation for 240p sources, but it does not offer composite oder s-video inputs. It got analogue RGB controls on the front, but no OSD. I can just speculate about Micomsoft's target audience for this processor. It might had been aimed at arcade enthusiasts, but then again it has a special dot clock setting for the Playstation's RGB signal and it does mention "Playstation, Super Famicom & Neo Geo" on front of the packaging. Anyway, it's a weird little oddity and an extremely hard to find one as well. By watching Yahoo closely you might end up with one, but finding one outside of Yahoo is next to impossible. I would be surprised to find more than a handful of users in the US or in Europe.
In light of the fact that the DISPL is extremely hard to acquire most users won't have much choice, but to go with one of the XRGB units instead. Nevertheless I wanted to have a closer at the DISPL to see what Micomsoft did differently with the unit and if it's such a great choice as Superdeadite concludes in his video. Thanks a lot to Allen aka NWrain for lending me his DISPL for this little review!
Since the DISPL has no digital controls nor any on-screen display, it's features are limited to what you see on the actual unit. The front features a JP21 RGB input and next to it four analogue potentiometers, one for the each RGB color and one titled "brightness". The back has a dot clock switch with two settings, a scanline switch, one 3.5mm audio connector and a VGA HD15 output. The dot clock switch let's you switch between NTSC and PS (according to the XRGB manuals for use with Playstation 1 models, so I assume it's the same on the DISPL) and the scanline switch allows for a low and a high setting. High presents the user with 100% scanlines, even considerably more pronounced than on the XRGB-2. The low setting is obviously supposed to provide lighter scanlines, but on the unit I had on hand it just disabled the scanlines. I can't say for sure if that's a defect, if the unit was modded to act like this or if it simply depends on the display connected to the DISPL. As usual I tested the processor on both my NEC monitors and my Sony LCD TV set and on both the low setting didn't give me any scanlines. One noteworthy detail about the DISPL's output is that it does not deliver an actual signal until an active source is connected to the unit. (Screenshots below: top row: low scanline setting, middle row: SLG3000, bottom row: high scanline setting)
The three RGB potentiometers on front allow control over the RGB white level and the color temperature at the same time. Since the potis themselves have no markings whatsoever, it's rather difficult to set all three resistors to the same exact values. Turning one more than the others will result in a visible color tint. Eyeballing the colors works ok, but - honestly - it's much easier with the digital controls on the later XRGB units. The forth poti labeled with brightness does not really adjust the picture's brightness (black level), but instead adjusts the A/D level sensitivity. XRGB users will know what I mean. Yes, in use it does make the overall picture darker or brighter, but it does more than that. Depending on the quality of your RGB signal it will also shift picture noise from one color to another. Compared to the XRGB unit I unfortunately found the A/D stage of the DISPL to be of rather low quality, which is probably just owed the the unit's age. On smooth gradients you easily end up with nasty color banding. This shouldn't be a problem on late 80s or early 90s console or PCB sources, but it's obvious using a PS2 with real high- or true-color games. Overall this doesn't really make the setup easier. I would recommend to set the A/D level to some medium level to avoid noise and artefacts, while still providing enough brilliance, and then use the RGB controls to adjust "brightness" (in quotes because it's actually the white level) instead. Or even better, set all the controls once and then use your TV's or monitor's controls to fine-tune the picture. Setting the RGB potis to their maximum and lowering the brightness instead exhibited a little red deficiency, so it's not the best approach. On the snapshots below you'll see the PS2 system settings screen with red, green and blue push (misadjusted potis). The fourth snapshot shows the banding issue on smooth gradients.
Superdeadite's video review focused on the DISPL's compatibility with various arcade PCBs, especially those with non-standard resolutions or refresh rates like Irem's M72 board or Konami's early 90s boards (Xexex, Asterix or Bucky O'Hare). It's certainly nice to know that the DISPL would handle these without any problems or questions asked, but please remember that your display would have to support those resolutions and refresh rates as well and that's - unfortunately - a complete no-go on my setups. Neither my LCD monitors nor my TV set can handle timings like 512p at 55Hz. Of course I gave the DISPL the full treatment with my console systems instead and - no surprise here - it handled all of them absolutely flawless. Just as with the XRGB processors, 240p signals are perfectly doubled. Since the 100% scanlines provided by the DISPL are little too much for my taste, I added the SLG3000 instead to get a somewhat lighter scanline rendition onto my screen. 480i sources are processed on a single-field basis. As mentioned several times before, this makes certain 480i titles look stunningly perfect (Sengoku Blade or Dragon Blaze on the Psikyo Collections), while it introduces a certain jitter or tremble on real hi-res titles. I had no doubt that the Micomsoft stepchild would perform as lag-free as the other earlier XRGB units and indeed it does. A quick camera comparison with about 30 samples taken, clocked the DISPL in at about 1ms. On other words: no lag whatsoever.
Ok, so far we got the PCB compatibility as a plus, but got the analogue controls and the bad A/D stage as a negative point. You might ask what's the point then in getting the DISPL instead of the one the XRGB units ? Well, for me it's the picture stability. If you ever had a XRGB unit on hand, no matter if it was a 2, 2plus or 3 you were probably peeved by the slight shakiness and instability you could observe on vertical edges. The DISPL on the other hand is 100% stable. Zero difference to high-end home theater processors from DVDO or the fully digital Framemeister. It makes me really wonder, how or why Micomsoft did loose this kind of output stability when moving on to the XRGB-2 in the late 90s. I can can just guess that it got something to do with the graphics overlay mixer Micomsoft introduced into their XRGB units to allow on-screen controls. Going back and forth between the DISPL and a XRGB unit makes this little difference very obvious, although it was never a real problem when actually playing on a XRGB-2. Just as the other XRGB units the DISPL supports 50Hz RGB signals from PAL consoles, but your display or secondary processor has to support the 576p50 output timing in those cases. Chaining the DISPL with a Gefen or DVDO processor works fine.
One tiny problem I encountered regarding various RGB console systems: the DISPL seems to rely on either a switching voltage present on the JP21 connector or on certain pins wired up with ground. Using a Euro-Scart cable from my PS2 and adding a EU to JP21 adapter did not work, while using a genuine japanese RGB did work right away. My adapter does not pass the 5V signal nor are all ground pins connected. Nothing serious of course, just something to keep in mind as it might require a little modding on the cables or adapters one wishes to use.
Conclusion: does it really matter for a machine you won't be able to pick up anyway ? Due to it's rock-solid picture stability the DISPL is a wonderful choice for all your RGB sources from the mid 80s to the mid 90s. The analogue controls are easy to access but a bit harder to master and swapping sources constantly won't help it. I wouldn't recommend the DISPL for more recent systems like the Playstation 2 or the GameCube due to it's color banding issues with high-color graphics. It's a real shame that each of the Micomsoft processors has it's own advantages while missing features or qualities that the other units do provide. Overall the DISPL is a great processor for a certain range of sources, but due to it's age, it's not the all-in-one, "make other XRGBs go to hell unit" some people would have hoped for (or feared for because of it's rarity).
---

So, what's this little write-up all about? For users new to the world of video processing, it's certainly not the easiest task to work through my website. The reviews to the various processors have been added over the years, so they are usually a little out of context or at least hard to compare, if there have been many years between a review and another. By creating the Top 5 lists I tried to guide new users into the right direction, but I still get an immense amount of email requests every week, asking for the perfect processor for the most obscure setups.
Most users interested in getting an upscaler, usually go from "is there something to make my games look better?" , over "oh nice, there're some cheap boxes on eBay" and "oh shit, there are so many better boxes out there" to "oh damn, now I'm completely confused and don't even know where to start anymore". - And I certainly agree. It's taken me years to go through all those processors, spending more money on video processing than other people spend on their cars. At one point many users accept that buying a cheap processor is a start, but it's hardly ever the end of the line. Soon you will want something better and if you like to play your classic consoles in the best quality available, you suddenly get the feeling that you'll be ending up with a Micomsoft processor no matter what else you were or still are considering.
Once you realize that and have accepted the fact that you're going to spend quite some money on an obscure japanese upscaler unit, you're still confronted with the question which one of Micomsoft's toys to get. Today (summer of 2013 that is) available from Micomsoft are three interesting processors: the XRGB-3, the Framemeister and the XPC-4. If you add the second hand market you might also want to consider older units like the XRGB-2 or 2plus. Theoretically you could add the XRGB-1 or DISPL to the equation, but realistically looking at something you can actually find makes the whole process a lot easier. To represent the older machines I added a XRGB-2 to this line-up. This page shall guide you through all points you should consider before deciding for a Micomsoft processor and help you make the decision a little bit easier. All snapshots were taken on the same day, using the same sources and the same display. Just the processors were exchanged!
The various Micomsoft processors obviously apply to different audiences. Your setup of consoles and displays should have a major influence on your decision. If you're looking at a Micomsoft processor, your main concern already is perfect 240p processing. You probably have a number of consoles from the 80s or 90s and you want them to look perfect on your modern display. And the one thing in which all the Micomsoft processors really shine is certainly 240p processing, still there are lots of differences. Analogue or digital connections to the display are one aspect, processing lag, PAL compatibility or overscan controls are other aspects to consider, which may have a major saying in your decision.
There's no point in buying a Micomsoft processor if you're not aware of the advantages RGB output on your systems offers. While some of the processors shown here will at least accept lower quality connections, others exclusively accept RGB signals and that's what you want to feed them anyway. Not all systems can output RGB out of the box, but nearly all of them can be convinced to do so, by either getting the proper cables or to have them modded to output RGB. That's easy and cheap one some systems (early N64 units or a PC Engine or Turbo Duo) and more expensive and complicated on other systems (NES, Famicom or 3DO). Still it's always worth the effort and money and it's the definitive requirement to get any of the shown processors to perform at the level you expect from them.

There are always two different looks for your 240p sources you might want to achieve. One is what I would call an "emulated look", presenting your games with razorsharp pixels upscaled to your displays' native resolution and the other is your "classic CRT look", which tries to simulate a CRT's look as close as possible by keeping a certain softness in the image and adding scanlines to the image. If you're after the latter one, why don't you just stay with a CRT ? In Europe classic television sets with RGB Scart inputs have been available to roughly 29" in 4:3 (with some rare exceptions like Sony's 34" CRT set) and their quality has usually been quite good. In the United States you'd be looking for TVs with component inputs instead and use a color transcoder ($50) to connect your RGB scart sources. If you feel like you require more sophistication than this, you can get a professional RGB monitor instead. Sizes easy to acquire are 14" and 20" (Sony PVM or BVM series of monitors). Sizes harder to acquire are 29" or larger (Sony PVM, NEC XM series, Barco or Mitsubishi with up to 36"). There are a few aspects to an actual CRT image even the best upscaler can't accomplish on a LCD or plasma set. This includes the lack of motion blur or a pronounced shadow mask (the visibility of the actual R/G/B dots on a picture tube). Personally that's nothing I require in a gaming setup, but your requirements might differ.

When it comes to home cinema processors, there aren't too many models available with proper 240p handling. Some processors like the DVDO Edge or VP50Pro have been updated over their lifespan to handle 240p handles, but they all have a hard time reaching the XRGB's quality. Most home cinema processors treat 240p signals as interlaced 480i signals and apply unneccessary deinterlacing. This introduces a longer processing lag and can cause deinterlacing artefacts and improper handling of certain 240p effects (30Hz drop shadow effects for example). There are only a few exceptions to that rule and processors running on Faroudja's FLI-2200 design (or it's predecessor) are one of them. This includes processors like the Videon Omega One, the Vigatec FX2, the Faroudja DVP-3000 and some others. What you gain compared to the XRGB units (with the exception of the Framemeister) is usually much better 480i handling (with proper filmmode and videomode deinterlacing), really nice composite processing with a solid comb filter and top-notch A/D filtering of the inputs. What you loose is the internal scanline function along with the lag-free handling of 240p sources. Processors based on this or similar Faroudja designs usually have a processing lag of two frames (32ms).


The XRGB-2 is among the oldest processors I've ever reviewed on my page. It's been introduced in the late 90s and the the only processors of similar age are the Faroudja DVP-3000 (review coming soon) and the Extron Andora. Still the XRGB-2 remains a very solid performer up to this very day. The XRGB-2 didn't yet have a remote control, nor will you find any component or digital connections. Composite and s-video inputs are available, but of course it's the JP21 RGB input on the front you're looking for. The XRGB-2 provides a single VGA output on the back on which you'll receive a perfectly linedoubled version of the provided input signal. The device is limited to 15khz inputs. PAL and NTSC sources are accepted and most weirder refresh rates are supported as well (but might be limited to 60Hz sourcces by your display). The XRGB-2's output can show a very slight tremble on bright vertical edges. If and to what degree you'll be able to notice this, will depend on your display's ability to handle the unit's sync output. The XRGB-2 has an integrated scanline option.
The Micomsoft XRGB-2plus performs very similar to the XRGB-2. The 2plus adds a component input (only for 15khz sources though), a tiny remote control and the ability to choose between a few scanline density presets (while the XRGB-2 just offers a on / off switch). Because of it's better PCB compatibility, the XRGB-2 is considered the more solid processor compared to the 2plus. Expect to pay roughly 150 EUR ($200) for a 2nd hand XRGB-2. The XRGB-2 and 2plus have long been discontinued by Micomsoft. On 2nd hand units the PSU will typically fail after a few years (due to bad capacitors). Micomsoft recommends a standard 12V replacement PSU (despite the fact that the original PSU was running at 13.8V).
Using a Euro-Scart RGB cable on the XRGB-2 will instantly fry the input, so make sure to know your cables.

Basic settings are availble in the menu from the beginning. A so-called "super mode" (think of an extended service menu) is available by switching the unit on, waiting for a few seconds, pressing select and menu at the same time once and then pressing up, up, down, down, left, right, left, right, select and menu. The super mode will allow you to switch the menu to english (well it's english for the most part already anyway) and add a few advanced options, which can be used to fine-tune compatibility with certain PCBs or monitors. The super mode will stay enabled until you switch it off in the menu.


The XRGB-3 is certainly Micomsoft's most complex processor. On paper it adds a lot of functions and features to the XRGB-2 or 2plus. You get component inputs (for 15 and 31khz signals), a processed VGA input and a lot of options, which you can adjust in the (english) on-screen menu. The XRGB-3 has two operating modes. One in which it acts as a line doubler very similar to the previous XRGB versions and one in which it provides upscaling up to 1920x1200p resolutions. In practice the XRGB-3 can be a beast to use though: the inputs are very sensitive to noise present in the source signal and sync cleaning might be neccesary for a number of sources. If you consider using the XRGB-3 for actual upscaling (e.g. to 1080p), it's quite good, but the Framemeister and the XPC-4 both do it a little better. The XRGB-3 remains a great line doubler though with similar performance to the XRGB-2 but with the added ability to adjust the scanline strength to your liking. For this comparison with the other Micomsoft processors I'll focus on the XRGB-3's linedoubling mode.
The XRGB-3 had great support over the past years. Many firmware upgrades have been made available, one of the last even allows to the use the processor as a framegrabber (snapshots only, no videos). The XRGB-3 is still available new from Micomsoft (as of summer 2013), but it's certainly the next machine to get discontinued. For 2nd hand units expect to pay around 220 EUR ($300). The XRGB-3's PSU is running at 11V, which makes it kinda hard to find a proper replacement power supply. Older XRGB-3 units came come a rather large PSU, while never units come a new, tiny PSU (same size as the Framemeister's PSU). The old ones tend to fail due to bad capacitors.
Using a Euro-Scart RGB cable on the XRGB-2 will usually instantly fry the input within a second, so again, please know your cables.
The Framemeister is kind of Micomsoft's superstar right now. It's been introduced around christmas 2011 and has become a fan-favorite within no time. Micomsoft provided a bunch of solid firmware updates over the first months, but hardly anything since. There are still a few bugs and quirks which keep the Mini from being a perfect processor, but community support for the Framemeister is great - possibly the best you'll ever find on any upscaling gear. If you haven't yet, you should read the Framemeister review. It's not really up to date, but it certainly gives you a good idea about it's capabilities. The Mini offers all kinds of inputs, the composite input is unfortunately missing a good comb filter and it's a bit of a hassle to connect VGA sources like your Dreamcast through the front RGB input.
In general the Mini can output in a number of PC resolutions and of course in 480p, 720p and 1080p (no 1200p support though for 4:3 sources). Scanline support is available for all output resolutions, but it works best on 720p. 1080p output is best used without added scanlines. The Framemeister does not have a physical JP21 RGB port, but a little MiniDin port instead. An adapter cable for JP21 RGB sources is included and EU-Scart to MiniDin replacement adapters are easily available. The Framemeister will set you back about 300 EUR ($390). The Mini's running on a 5V PSU which is easy to replace with a power supply matching your countries' outlets.
The Mini is protected against connecting EU-Scart cables to a JP21 RGB adapter cable. Until today I haven't heard of anyone frying the Mini's input, still you shoult not try it and make sure to always use the proper adapter cable.
I only recently reviewed the XPC-4, so make sure to check out it's review on the main page. The XPC-4 is a down-converter and upscaler in a single unit. I didn't find much use in the down conversion, especially since the quality didn't seem great. There are certainly a few scenarios in which down-conversion might come in handy (video capture to DVD maybe), but I'd like to recommend the XPC-4 for it's upscaling instead. Considering that the XPC-4 was never advertised for upscaling 15khz video game consoles, it performs incredibly well. Once you take the hurdle of connecting your sources (the XPC-4 only has a DVI-I input, but easily accepts 31khz VGA and 15khz RGBs with clean sync on this input as well), the XPC-4 is as easy to use as the XRGB-2. Also switching between linedoubling (480p output) and upscaling (up to 1600x1200p and 1920x1080p) is extremely easy and fast.
The XPC-4 will output in DVI or HDMI without scanlines and can be connected to an external scanline device using it's VGA output intead. PAL sources are accepted, but framerate-converted to the XPC's 60Hz output. Outside of Japan the XPC is rather rare. New units are available from Japan at about the same price you'd pay for a Framemeister (300 EUR / $390). The XPC-4 uses the same 11V PSU as the XRGB-3, but to my knowledge all XPC-4s shipped with the newer version of Micomsoft's power supply.
To connect your 240p RGB sources you need a Scart to VGA adapter including a sync stripper (e.g. the Arcadeforce Sync Strike).

Once you have arrived at Micomsoft's line of upscalers, you've already reached the pinnacle of 240p processing. All Micomsoft processors treat 240p as progressive signals, so all 240p effects are kept intact. Using a 480p output from each of the systems, the XRGB-2, XRGB-3 and the XPC-4 have about the same picture quality, especially once you use a scanline overlay - either using the built in options or an external scanline device. While the XRGB-2 and XRGB-3 of course have a JP21 RGB input on the front, the XPC-4 requires a sync stripper like the Arcadeforce Sync Strike to accept Scart RGB sources. The Framemeister's 480p output is considerably softer than this and isn't a recommended output resolution. Setting the Framemeister to 720p instead (1080p is out of the question if you want nice looking scanlines) puts it ahead of it's competition. This is the best looking - scanlined - output from a 240p source you'll find anywhere. Unfortunately some displays have problems upscaling a 720p input to their native resolution, or they do better with 480p input, but if your display plays well with 720p input resolutions, the Framemeister looks stunning. Compared to a CRT's RGB image the XRGB-2 and the XRGB-3 (and the XPC-4 with an external scanline device) resemble a CRT's look best. The Framemeister at 720p is already considerably sharper than your standard CRT will ever be. For upscaled output (1080p for example) the Framemeister and the XPC-4 perform quite similar with the XRGB-3 being a close third.

Interlaced SD signals is where you'll find the biggest differences between the various Micomsoft processors. The XPC-4 does not have any 480i deinterlacing algorithms. It treats the signal like a 240p input which causes weird scaling effects, trembling lines and bad ringing. The XRGB-3 in upscaling mode offers a rather bad deinterlacing for interlaced signals. It's hardly on par with even the cheapest component to HDMI converter boxes from China. The XRGB-2 and XRGB-3 in linedoubling mode use a single field deinterlacing method without any interpolation. The processors compensate for the line offset between adjacent fields, making the output not exactly pretty, but watchable and keeping the deinterlacing as fast as possible. The Framemeister plays in a completely different league when it comes to 480i processing. While background details are naturally a bit mangled compared to native 480p, the Framemeister's output from 480i sources is as good as it gets. In fact's it's the very best 480i deinterlacer for videogaming material you can find on any processor.

Especially in the mid to late 90s there have a number of games which switch between 240p and 480i during gameplay. Some games limit their 480i use to the title screen or options menu (Radiant Silvergun or Battle Garegga on Saturn), but others switch in-game very often (Killer Instinct 64 or Bio Hazard 2 on the N64). The XRGB-2, XRGB-3 and XPC-4 handle those transitions very fast, in a way gameplay is hardly interrupted. The Framemeister on the other hand takes more than 5 seconds for each transition. It will black out during each transition and cause the HDMI output to initiate a handshake with the TV again, which can cause additional delay by the display resyncing to the Mini. Games which switch often between 240p and 480i are therefore currently unplayable on the Framemeister.

480p processing isn't important, if you want to use your classic gaming systems, but it's convenient if you have a system that can output some of it's games in 480p - the prime example for that would be a Playstation 2. On the other hand, JP21 RGB connections don't officially support 480p, which is why you usually get component or VGA for 480p signals. Anyway, the XRGB-2 (and 2plus) does not accept 480p. The XRGB-3 can accept 480p on it's component inputs and on the JP21 RGB input using component format. In it's linedoubling mode 480p sources are just passed through to the output. In upscaling mode they're upscaled to the output resolution you selected. This looks ok, but the XRGB-3 is very sensitive to noise or a DC offset in the signal, so there's a good chance you'll have to take quite some extra measures to get a clean image from a 480p source. The Framemeister gladly accepts 480p via HDMI, component or in RGBs signals, but it has a nasty bug in it's scaling engine which causes all vertical edges to look blurry. It's not the most terrible 480p handling - in fact it can look rather nice, but once you see what other processors do with the same source signal, you won't go back. The XPC-4 finally handles 480p RGBHV signals fantastically - zero noise, zero artefacts, easiest handling, but fails with 480p component signals, at least from a Playstation 2.

Component inputs are convenient because they're the only connection to officially (and without trickery) accept 240p, 480i and 480p signals. In theory 240p via component is slightly worse than RGB, but in practice it's extremely hard to spot any difference, so I'm perfectly fine to use component instead of RGB. Noteworthy systems to output in component are the Playstation 2, the GameCube, the original XBox and the Wii. Wii and Playstation 2 offer all three types of signals (240p, 480i and 480p), while GameCube and XBox only switch between 480i and 480p (not talking of the few exceptions that can output in 720p or 1080i). On japanese processors you'll usually find D-Terminal connections instead of straight RCA (Cinch). It's the same signal though and you just need a little adapter cable to connect your component sources. Getting expensive dedicated D-Terminal cables (available for PS2, Cube, Wii, XBox360) doesn't offer any advantage. The XRGB-2 does not offer component inputs (but then again it does not process 480p, so it doesn't matter). The XRGB-3 has got component inputs, but they're sensitive to noise and the A/D converter lacks quality. The Framemeister has got a nicely working component input (still a little bit more noisy compared to the RGB input). The XPC-4 - while shining at 480p upscaling - technically doesn't offer a component input. Included with the machine is a D-Terminal to DVI-A adapter cable, but I didn't have much luck with that. My test run showed excessive chroma shift, so to utilize the processors great 480p upscaling, you have to use a transcoder up front to get a RGBHV signal from your component source.

For many years VGA connections have been the standard for linedoubled or upscaled images. Most TVs up to around 2011 did have a VGA inputs to feed them progressive analogue signals. Unfortunately most manufacturers see VGA as an obsolete connection and removed it from their TV sets. Panasonic was one of the first companies to complete this transition, Samsung and Sony did follow shorty after. If you buy a new television set today, chances are quite high, that it won't have a VGA connection anymore. There are alternative ways to connect VGA sources to those new displays - see the info box further down the page about combining processors. The situation on new PC displays isn't this tragic yet. Some higher end sets (especially those with resolutions higher than 1200p) don't come with VGA connections any longer, but your usual gaming LCD will - for now - still have VGA connections. The XRGB-2's only output is a VGA connector. The same is true for the XRGB-3 as long as you want to use it in it's fast linedoubling mode. For it's upscaling mode a HDMI-compatible DVI-D connection is available (but with severe compatibility problems). The XPC-4 offers a DVI-I output which can work as both a VGA and a digital DVI-D connection and the Framemeister is limited to HDMI output. VGA connections in general require a seperate audio connection. The XRGB-2 and XRGB-3 will pass the audio from the front JP21 RGB input to a 3.5mm audio connector on the back. The XPC-4 does not have any audio features and the Framemeister integrates audio into it's HDMI output - quality is not perfect though, so if you're using a AVR or amp anyway, you're doing good by bypassing the Mini.

The XRGB processors are well known for their internal scanline overlay. External solutions like the SLG3000 or MiniSLG are easily available by now, but they always require a VGA connection which can cause problems with modern TVs and don't offer real PAL support. Of the four Micomsoft processors shown here, the XPC-4 is the only one without internal scanline support. The XRGB-2 offers solid scanlines for 240p sources. The scanline intensity isn't adjustable and it's fixed at about 50%, maybe a bit stronger. To get the same scanlines on 480i content you have to use an external device. The XRGB-3 offers no scanlines in upscaling mode and very nice scanline support in it's linedoubling mode. The intensity is fully adjustable using the menu (0 to 100%). Again no classic scanline support on 480i (or 480p) sources without help from an additional box. The Framemeister offers great scanline support for 240p, 480i and 480p sources, but is limited to 720p output for perfect scanline quality. The Framemeister is the only single-machine solution to offer "scanlined" HDMI output.

Input lag is usually a bit overrated, still it can sum up (the processor's lag gets added to your display's lag) and possibly screw with your ability to 1'CC your favorite 8- or 16-bit classic. In general an input delay of about 2-3 frames total is considered acceptable, but some gamers migth be more sensitive, especially when coming from a lag-free CRT display. A good start is always to know your display's input lag. You might not have the means to measure it on your own, but these past years input lag measurements have been part of most online reviews, so you should be able to find some numbers for your particular monitor or TV set. Just note that the response time listed by manufacturers with the display specs has nothing to do with the actual input lag present on your display. Modern IPS monitors intended for gaming can offer inputs lags as low as 3-6ms while the fastest large screen TVs have around 15-20ms (always based on 60Hz inputs, so 1 frame equals 16.7ms). The XRGB-2 is basically lag-free. It measures at around 1ms. The XRGB-3 in linedoubling mode is equally fast with a measured input delay of about 2ms . That's as good as it gets. Hardly any other processor can live up to those standards. Faroudja-based processors (which are the next best thing in 240p processing quality) always have a 2-frame delay (about 30 to 32ms). In upscaling mode the XRGB-3 increases it's delay to 22ms. That's very close to the Framemeister, which clocks in at 24ms. The XPC-4 is a little bit faster than those two. It's processing time measures at about one frame (16ms ). To make use the XRGB-2 and 3's ultra low processing delay you require an analogue VGA input on your monitor or TV.

European vintage video gaming systems output in 288p with a 50Hz refresh rate (in comparison: NTSC systems output in 240p at roughly 60Hz). Since the ROMs themselves are the same, 99% of the 8 and 16-bit system titles are running nearly 17% slower on PAL machines. The sprite and graphics assets aren't changed either, so the original resolution of up to 240p is just mapped onto the 288p output causing the image to look vertically squeezed with heavy borders on top and bottom. Still, if you have grown up with this kind of gaming, you might prefer your games to run at this speed. All the Micomsoft processors have been created for use with NTSC sources, still they work with PAL systems to a certain degree. The XRGB-2 and XRGB-3 in linedoubling mode will create a 576p50 signal from your 288p sources. So, they technically work fine with PAL signals, but unfortunately your TV's VGA input will most likely not play well with that. VGA ports on television sets are most often limited to VESA timings, which only know 60Hz signals. Some PC monitors will sync to a 576p50 VGA signal, but many of them will internally do a framerate conversion and cause jerky scrolling. The XRGB-3 in upscaling mode and the XPC-4 will accept signals with PAL timings, but will do a framerate conversion to 60Hz on their own. Again not perfect to play smoothly scrolling action games. The Framemeister provides a bunch of 50Hz HDMI output timings (576p, 720p, 1080i and 1080p - all at 50Hz) and is therefore your perfect companion for PAL sources. The XRGB-2 and XRGB-3 can be paired with another processor to make them fully PAL-compliant.

All shown processors work nicely with a huge number of arcade PCBs. Unfortunately contrary to the world of home consoles, there are a lot of non-standard timings available in the world of Arcade boards. A PAL timing comes out at 288p at 50Hz, NTSC is 240p at 59.94Hz. A SNES runs at approx. 60.05Hz and a Neo Geo MVS will run at approx. 59.15Hz. That's all more or less NTSC. Some a little closer to the actual standard, some a little further from it. Still they all run on the majority of video processors. Problems start with PCBs running nowhere near those standards. Examples are the Seibu boards (240p at 54Hz) or Irem boards like R-Type (running at 256p in 55Hz). Technically the XRGB-2 and XRGB-3 in linedoubling mode will work with those boards, still hardly any LCD will be able to display that output. The XRGB-3 in upscaling mode and the XPC-4 will try to convert these boards' video outputs to 60Hz and introduce stutter with that (confirmed with Seibu Raiden Fighters 2). The Framemeister does not work with those boards. To use any of those PCBs in their original refreh rate and with a line doubler like the XRGB-2 or XRGB-3 you need a display that can handle those frequencies. A multi-sync PC CRT monitor is your best choice. If you're keen to achieve the best possible compatibility with all your boards, you might also want to look into Micomsoft's ultra-hard-to-find DISPL converter. Check out Superdeadite's Youtube review of the DISPL , but keep in mind that you are more likely to find a nice looking arcade cab in your area than to find an actual Micomsoft DISPL for sale anywhere or anytime soon.

There are a number of reasons why connecting the XRGB-2 or XRGB-3 to another video processor can actually make a lot of sense. The most obvious reason is certainly that your TV set is missing a VGA input. Processors like the DVDO iScan VP50Pro, the DVDO Edge or the Gefen VGA to DVI Scaler Plus will gladly accept the the XRGB's VGA output and transform it something your display can work work. The 50Pro or the Gefen will upscale your image up to 1200p via HDMI, while the Edge is limited to 1080p. Second and most obvious reason would be the total processing lag. The DVDOs add 6~7ms of delay to your processing chain. With a XRGB-2 or XRGB-3 your total processor delay will stay under 9ms this way (compared to the Framemeister's 24ms). The Gefen is a tiny bit slower than the DVDO processors. Another reason would be the added PAL compatibility. The DVDOs will accept 576p50 from the XRGB units and output 1080p50 via HDMI - perfectly framelocked and with smooth scrolling. Processors like the Edge also add additional tweaking posibilites like overscan control, underscan masking or extended aspect ratio controls. Picture quality is great with a XRGB connected to a DVDO - extremely close to the Framemeister's praised 720p output. With PAL sources the Framemeister is limited to 576p50 output (if you want solid scanlines), so an upscaled XRGB-3's output will look considerably better.

Sometime in 2011 Micomsoft asked users to propose their wish-configuration for a possible XRGB successor, so it's likely that we will someday see a XRGB-4. Micomsoft is obviously struggling with decisions about their actual target audience. Maybe the Framemeister will remain a weird little digression from their XRGB line, just like the DISPL or DISPL-TV were so many years ago. For users interested in upscaling from raw RGB to VGA, Crafty-Mech's Retropix project sounds extremely promising. He's basically trying to recreate a no-nonsense processor like Micomsoft's DISPL - scanline support included and full PCB compatibitiliy guaranteed - as long as your display accepts the game's refresh rate via VGA. And all of that with an anticipated price tag under $100.
Time to make a decision: in the end I can't make any decision for you, but I tried to compile all valid arguments for each of the available Micomsoft processors to help you make that decision easier. Each of you will have a different profile of systems or games you want to use with your upscaler. Some profiles make it easy to decide for a processor, while others make it next to impossible. There are a few basic conditions though, which make it easy to decide.
- If you have PAL sources you want to use accurately, a Framemeister or a XRGB / DVDO combo are your only options.
- If you want PAL, low input lag and don't mind the costs, a XRGB / DVDO combo is perfect for you.
- If you're very sensitive to lag: get a XRGB-2 or XRGB-3. A VGA connection on your monitor or TV is a requirement though.
- If you have a number of 480p sources and don't want a dual processor setup, consider the XPC-4 instead of the Framemeister.
- If you have japanese computer systems like a PC98, X68000 or FM Towns next to your consoles, the XPC-4 is for you.
- If you don't mind a little lag and you want scanlines through HDMI, the Framemeister is still a near perfect all-in-one solution.
And what's my personal solution ? I hardly use any PAL games or machines and I don't mind a little lag, so for me it's a Framemeister for all my 240p and 480i gaming needs. For 480p I use other processors - usually a Crystalio II, sometimes an iScan VP50Pro. And for quick testing sessions in between I still have a Videon Omega HDP hooked up to my big-screen TV. It's sometimes easier to use than a Framemeister, especially when combined with a XSELECT-D4 for full RGB compatibility and a SLG3000 for nice scanlines.
---
It makes actually rather little sense in adding this machine to this overview. I just did because it was my videoprocessor for about 2 years and it's a perfect evolution of the Faroudja chip design. It has flaws, but it has perfect picture quality. It can bought at the manufacturerers' website for about $1750 (2011: no longer of course) and can be found on eBay every once in a while for $500-600. There are two smaller brothers (Plasma Enhancer Pro) which should be available for a lot less money, but should feature about the same quality with just a reduced amount of inputs on the machine.
MSX: perfect 240p mode, no deinterlacing applied, but the diagonal edge enhancement can't be turned off, so the picture's interpolated.
ESP: correct deinterlacing of the 240p drop shadows and correct deinterlacing of the 480i drop shadows (at the cost of delay)
WOT: perfectly fine, but especially on older games the edge enhancement can get a bit annoying
The machine is sheer overkill for any videogame-only setup, but with it's FLI 2310 it's a wonderful example how good the actual picture quality can be. The fine-adjustable sharpness tool gets the maximum out of small details. The downside is a delay of about 2~3 frames (32~48ms) for all interlaced (and 240p) signals. For the price you get of course full picture controls like zoom, stretching or scaling to any resolution you want. In the end I had quite some trouble with the money (not booting up anymore) and to my knowledge that's a destiny to befall all the Crystalio unit out there eventually.
Pros: the best picture quality for SD signals, correct drop shadows on 480i material while keeping full resolution, zoom & scaling, massive amount of inputs (RGBS, component, SDI, progressive HDTV, DVI...)
Cons: delay of 3 frames, machine tends to fail generally (faulty motherboard design), Price of course
Conclusion: nothing for gamers. Too expensive for videogames, faulty by design and better home theater processors are available.
---
Faroudja was one of the, if the not THE most important company in the history of video processing. Yves Faroudja basically invented the inverse telecine to restore full frame video from interlaced broadcast formats. He won several awards for his inventions. As a video processor manufacturer the company Faroudja was really doing well from the early 90s until around 2003 or 2004. They started out with linedoublers for pairing up laserdisc players with front projectors and then moved to extremely expensive video scalers. The higher end units in the 90s ran at about $30.000 to 40.000 for a single processor. With the rise of DVD players in the late 90s and the introduction of progressive scan players around 2001 Faroudja moved their focus to patent licensing and licensed Faroudja-technology to companies like Pioneer or Denon who put the technology into their higher-end DVD players and AV receivers.
One of the last three full-scale processors Faroudja released was the DVP-1000 (the other two being the DVP-1100 and the DVP-1080). It's a NTSC-only video processor with user-selectable output resolution (unlike the previous NRS units which were fixed for a single output resolution at the factory). The DVP-1000 was originally around US$9.000 and can now be found for around $200 to $250 on eBay or sites like Videogon. With over 6kg (14lbs) the DVP-1000 is one of the heaviest video processors - full metal casing, lots of steel and a solid 10mm front plate just scream "high-end" all around.
The DVP-1000 offers output resolution up to 1080p through it's BNC RGBHV output as well as it's HDMI-compatible DVI-I output. On the input side there's a set of BNC connectors for SD, ED and HD signals and of course a composite and s-video input. 240p signals are accepted in component and RGBs formats. A HD15 connector is available for passing through analogue HD signals and a DVI input allows the input of digital SD and HD signals (up to 1080i) for full processing.
Faroudja always kept their processors quite simple to use. There are hardly any settings besides basic picture controls (brightness, contrast, saturation, sharphess) and advanced settings like the output resolution has to be selected on the front LCD instead through the on-screen menu. The DVP-1000 features the FLI-2300 (or 2310), which offers very nice video deinterlacing for 480i sources. Faroudja's DCDi feature adds diagonal picture enhancement and interpolation which brings a nice pseudo-HD look to 480i sources. Unfortunately DCDi can't be disabled, so it's always on - also on 240p signals. While some people might like this, I really don't. On many of the earlier Faroudja implementations (especially the Videon Omega or Vigatec units), DCDi could be disabled, which is what makes them so great for 240p material. Below are two screenshots. One from a 240p source (background, with DCDi) and one from a 480p source (foreground).
Like all Faroudja processors the DVP-1000 has a processing delay of about 2 frames, no matter if the signal's 240p or 480i. 480p and 720p inputs feel a bit a faster, probably in the 1-frame range. The used FLI-23xx processor has a bug in which it shows a bit of a Y/C delay on already progressive sources like 480p. It's not huge, but it's there. On the shot above you can see on the reds (slightly shifted to the right) and the blues (slightly shifted to the left). Interestingly the delay is not present on 240p or 480i signals (or at least not to this extend). From a compatibility and "easy-to-use" standpoint the DVP-1000 does great. You can feed 240p via RGBs, even if no clean sync is present on your output, 240p via component. The composite and s-video inputs have great quality with a nice comb filter sitting behind the composite connector. A NES looked quite interesting with the good comb filter and aggressive interpolation (not saying that it looked great, but interesting nevertheless).
Conclusion: like most other Faroudja-based processors the DVP-1000 is quite a performer when it comes to 480i signals. While 240p sources are fully supported, you have to live with massive diagonal enhancement, which you might like or not. The Faroudja DVP-1000 isn't a processor you'll run into all the time, but if the price is right, then consider it. The output polarity for the RGBHV output can be switched around and 480p is available on the output, meaning that it can easily be paired up with a SLG3000 for scanlines. You need a VGA input on your TV set for this though.
---
Going by it's original retail price, the Faroudja DVP-3000 is the most expensive processor I've ever reviewed. The DVP-3000 was introduced in 1999 and Faroudja was asking US$ 19,999 for the machine. Compared to Yves Faroudja's earlier achievements this was still quite a bargain. Their earlier quadrupler units like the DVP-401 were even more expensive than this. At the price of a mid range car back in the late 90s a Faroudja processor wasn't for everybody. Faroudja's claim "Perfecting Video with a No-Compromise Approach for Reproducing the Ultimate Film Experience" drew in the ultimate high-end crowd. If you had a $ 50,000 Sony CRT projector, the Faroudja was a perfect fit.
Now, a mere 14 years later, a crowning achievement like the Faroudja DVP-3000 can be bought for roughly $300. Buying one of the Faroudja classics is a bit like buying high-end hifi gear. You can get a brandnew sparkling SACD player for a few hundred dollars online or you pride yourself in buying a refurbished Nakamichi tape deck in your vintage hifi store. Certainly two worlds colliding, but the latter one can easily be as much fun as the other.
Faroudja's 1999 flagship was the first processor to offer 1080p HDTV output and the first to accept progressive component signals for further processing. That's quite remarkable given the age of the unit. Companies like Videon or DVDO started with mere line doublers only years later and it took them quite some time to accept anything but interlaced 15khz signals. The DVP-3000 also offers built-in noise reduction and detail enhancement for all possible sources. Remember that sharpness controls were disabled for component sources on most other processors for years to come.
The 20 grand giant weights in at a solid 19.5 lbs (9kg) and it shows. The front is a solid brushed steel panel and with a massive 17 inches in depth you better have a deep rack available to place this monster. The top of the chassis shows a fan, which activates with the unit, but is reasonably silent, even for a 14-year old specimen. On the input side the Faroudja features composite, s-video and component inputs - one each. The component inputs accepts 15 and 31khz sources and if that's not good enough, a passthrough HD15 connector is available as well. Processed signals get output in analogue RGBHV or YPbPr through a set of BNC connectors. A HD15 connector as a secondary output is available as well.
The DVP-3000 comes with a big (and ugly remote). It works nicely, but you hardly need it once the processor is setup, so you're better off putting the main commands onto a universal remote. All functions can be accessed through the front panel as well. An on screen display is available, so you don't have to work through the front panel's LCD (but it has nice contrast and is very readable). The menu system allows adjustment of basic settings like brightness, contrast and saturation, offers more enhanced settings such as noise reduction, detail level and allows access to deeper functions like en- and disabling Faroudja's DCDi function (diagonal interpolation), film mode, output resolutions (anything from line doubling to 1080p including frame doubling (100 and 120Hz output for CRT projectors)) and sync controls.
The DVP-3000 basically includes a prototype of the FLI-2200 design found in later Faroudja processors. It accepts 240p and 480i on all inputs. 480p is accepted through component to either output transcoded to VGA or upscaled to any other resolution the machine offers. It's interesting to see this function on the DVP-3000 as it obviously didn't make it in the later FLI-2200 and FLI-2300 designs which were licensed to other companies like Videon or Pixel Magic Systems (the original Crystalio from 2003 didn't accept 480i and 480p on the same inputs). With DCDi enabled the Faroudja has still a wonderful smooth and pleasing image, making it a good choice for analogue video sources such as laserdiscs or (S-)VHS tapes. The comb filter added to the composite input does a nice job eliminating dot crawl and cross color effects from such sources, but of course composite is still seriously lacking resolution when it comes to games. The Faroudja performs quite nicely on videogames. DCDi should be disabled for low res 240p sources though. As on all early Faroudja designs 240p are recognized as progressive signals and there's no unneccessary deinterlacing applied. The output delivers standard negative sync polarity for linedoubled outputs, so the Faroudja works nicely with scanline emulators like the SLG3000. (below: composite video the the left and component video to the right)
For the usual testrun I connected a Playstation 2 through composite, s-video and component. To my surprise the component input exhibited a little chroma delay on the Pr channel (reds shifted to the left), but the PS2 is known to cause such problems on a number of Faroudja based systems and it's hardly as tragic as it sounds with the saturation a little turned down. Component from other sources looks considerably better and for s-video standards the DVP-3000 delivers outstanding results. With 480p passthrough or upscaling the results were flawless. You don't gain much resolution and there's little interpolation to the image, so 1080p will look more or less than the genuine 480p output when viewed on a display with good scaling capabilities on it's own. (all shots below are 240p)
Conclusion: You won't have much chances to get ahold of a DVP-3000. In Europe the number of units in circulation can probably be counted on one hand and in the USA you're likely better off with a more versatile DVDO machine for it's RGB inputs - not even speaking of the DVP's size or weight. If you're a video processor fan or collector, the Faroudja is a great unit to buy and own. For it's age it's still a marvelous performer. Note that DVP-3000 units are NTSC-only, while DVP-3000U units are multi-standard machines. I would consider the Faroudja as an object of virtue. Buy one, add an Elite-class laserdisc player along with a ED plasma panel and enjoy the pinnacle of home theater entertainment as it presented itself in the late 90s.
---
The Barracuda is a brandnew (well, as of 2009) linedoubler from german video specialist Uwe Sperling (Spatz). It's a standalone linedoubling unit which incorporates a new chip from Fardouja Labs. When I first heard about it, I became curious at once. I love the processing of the older Faroudja chipsets (FLI2200 and FLI2300) and a combination of them with new hardware design, HDMI inputs and outputs would be a dream come true. Mr. Sperling was so nice to send over a test unit and so I had the opportunity to check it out.
From the manual there were two very promising aspects to this newcomer. First the component inputs should be able to accept progressive video signals and second all incoming signals are converted from the analogue domain to the HDMI output. Analogue audio signals are muxed into the HDMI stream as well.
Well, I got the unit, connected my japanese PS2 and popped in some games. My test cadidate for progressive input is OutRun2SP. It delivers outstanding quality via 480p. I also tried Sega Ages Fantasy Zone Collection to switch between 240p, 480i and 480p on the same game and I tried the usual standard candidates.
MSX: correct deinterlacing, unfortunately lots of diagonal enhancement (DCDi)
ESP: correct deinterlacing at 240p setting, faulty drop shadows at 480i
DB: faulty drop shadows (480i but 240p content) due to the new faster Faroudja chipset
WOT: working fine
OR2SP: not working at all via 480p
So, this is where we stand. The overall quality (built-quality and picture quality) of the Barracuda is great, but it has currently two bugs. The first one is a bad chroma delay on the Component inputs which causes a yellow-ish border to all objects (see screenshot below). There's a chroma delay compensation in the menu, but it's a global setting and the chroma delay is different for the two color channels of the YUV connection. The second bug is that the Barracuda (at least my test unit) does not accept 480p via component inputs, which is especially weird since it's a main selling feature for the machine.
The new Faroudja chip differs from it's predecessors. The first thing to notice is that the chip is fast, really fast, I would say it's 1-frame max. in delay which is quite good for a processor of this quality. The obvious disadvantage of the gained speed is that the new chip won't deinterlace drop shadows on 480i material properly anymore. This was a huge strength of the previous Faroudja chips.
And last not least, the DCDi processing (diagonal enhancement) can't be turned off. Well, it of course can in theory, but the firmware does not offer this option. I've written a lot about the enhancement in the VP50Pro overview. It's not a bad thing per se, but for videogames it's not good.
Conclusion: damn expensive (more than double the price of the Edge). Currently a letdown due to the bad YUV videogame processing.
---


This sleek black box from Ex high-end Plasma specialist Pioneer was never intended to be a standalone videoprocessing unit. Basically it is a Media Extender box for commercial Plasma displays. It allows a wall mounted installation of TVs with only a single HDMI cable running to the set. The suggested retail of the box was 449 EUR ($600), in late 2008 and early 2009 the V100HD was discounted to roughly 150 Euros. Prices have risen again since back then. Sometimes new units be found as high as 250 EUR and second hand prices in 2013 range betwenn 80 and 100 EUR depending on the optical condition of the box (with a glossy finish up front the unit easily scratches).
What initially caught my interested were the Pioneer's upscaling capabilities: the Pioneer has an integrated Faroudja DCDi processor. I own a Pioneer DVD-R/HDD combo (the LX70D) which performs really nice and has a great comb filter and online you'll find at least a bunch of people claiming that the V100HD performs on a Kuro-like quality level (which is nonsense though). The Pioneer has Video, S-Video, Component (YUV) and RGB Scart inputs as well as four HDMI inputs and a single HDMI output. The output resolution can be switched to "native", 480p/576p, 720p and 1080i. Upscaling to 1080p isn't supported, but 1080p is supported on the inputs, so "native" output will give you 1080p for those inputs in question.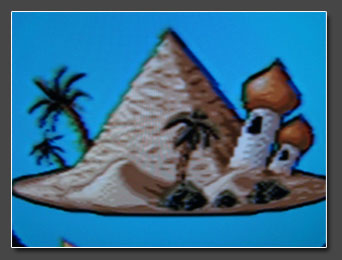 From a retrogaming point of view the RGB-enabled Scart input is what makes this unit interesting - at least on paper. When I got the unit first in 2008 I gave it a thorough test run with a focus on the machine's processing quality. And let me tell you: the Pioneer was (and is) as worse at it gets. This Pioneer box is a prime example for an utterless useless video processor implementation. Deinterlacing and upscaling of any sources looks like shit. There's noise, crappy interpolation and worst of all, an extremely strong chroma shift which can't be corrected. The small snapshot above was taken in 2008 with Metal Slug X running on a Playstation. The yellow/greenish outlines around the objects along with the atrocious edge smoothing result in a terrible gaming experience.
Now you're probably asking, why the hell I would revisit this processor ? The reason is that many users still strongly believe in the Pioneer. Prices have been constant over the years and it's a rather strongly sought after unit, so there had to be SOME reason why people would want a processor like this in their setup. So, no problem, I recently purchased another one and gave it another test run. And the processor is still atrocious. Once you enable the Faroudja to perform deinterlacing or scaling, the picture immediately goes downhill with massive artefacts and terrible chroma upsampling and delay problems. So the processing unit is out of the question, but what remains after that ? Well, if you set the machine's output strictly to native (so the input's are mirrored on the output) you get a really really nice HDMI switching unit along with analogue inputs and a nice A/D stage. Snapshots show the comparison between's the Pioneer's upscaling performance and it's native output.
With the Faroudja processor completely disabled (by setting the output to "native" resolution), 480p component signals get output in 480p HDMI, 480i through any of the analogue inputs get output as 480i in HDMI and 240p is output as 480i as well. All processing - deinterlacing and scaling - is left to the display connected. Of course you can't expect proper 240p handling from your TV's HDMI inputs, but if you're ok with your TV's low-res handling in general, the Pioneer a really efficient way to get all kinds of signals to your TV's HDMI input. And this includes RGB through Scart (rarely seen on any TV outside Europe) and S-Video (completely disappeared from modern TVs by now). Some TVs won't accept 240p through component. Run through the Pioneer you get 480i HDMI instead - problem solved. The Pioneer also allows to to mix video from the HDMI ports with an analogue audio source, which is nice if you want to connect a MAME machine running on a DVI video card (so you can mix the PC's DVI output with the analogue audio output of your sound card). Snapshots below show sources connected to the Pioneer running through it's A/D stage with all processing done by my Sony TV set.
For a moment I even had high-hopes for the composite input, since my Pioneer LX70D has a fantastic comb filter. But forget about it. I tried an original unmodded NES system and it doesn't look good. Your TV will certainly do a better job.
Conclusion: As a classic video processor or upscaler the Pioneer is among the worst machines I've ever seen. I consider the late Faroudja design seen in here simply as broken. But there's a real good point to using the Pioneer PDA-V100HD as switch and an external A/D stage. Of course the final results will ultimately depend on your monitor's or TV's processing capabilities and there's no way to mix in a scanline overlay, but it is - after all - a very affordable way to add a RGB Scart input, a s-video input and external audio mixing for your HDMI sources to your existing TV set. You also get full PAL and NTSC support and the ability to accept 240p sources, even if your isn't able to handle those on it's own. For this purpose along I would easily recommend the Pioneer over all the Scart to HDMI converters otherwise in the 50-80 EUR range.
---
The iScan Pro was introduced in 2001 and was a price breaker at it's time. It was the first DVDO product to have Component input and it was in the $1000 range. It can rather easily be found on the 2nd hand market for around $100 nowadays. It has manual "knob" controls on it's front and no remote. On the other hand it's small and easy to hide - let's say in an arcade cab.
Unfortunately many people see the release date (late 2001) and are afraid to add something like the iScan to their 2012 setups. This is sheer nonsense. The iScan Pro was a $1000 machine after all and it performs ways better than every HK/China converter today for less than $100 (or even $200).
With real 240p titles like Meta Slug X the iScan Pro performs great. The Silicon Image processor recognizes 240p as is and does not try to apply deinterlacing where none should be applied. The result is a wonderful CRT-like image, quite similar to what the Faroudja FLI units can produce. There's a tiny bug on the SiI503 chip which tends to "misplaces" pixels (see image below) - it's nothing to really worry about.
480i material is where the iScan Pro begins to show it's age. 480i sources produce a homogenic, but somehow soft image. The iScan Pro has a sharpness control function, but it only works on composite and s-video sources. Component sources are handled "as-is". The 480i has to be put in some perspective though, since it's still better what most (all?) TV sets can do on their own. The iScan is simply outperformed by it's sucessors.
SIL503/504 Deinterlacing bug with 240p inputs (does not show on every game and system) - the screenshot is actually simulated, because the "hanging" pixels are caused by the game, not the processor, but anyway, that's what the bug on the SIL503 looks like...
Don't overestimate the bug. It might get annyoing if you plan on playing lots of 480i RPGs without any added scanlines, but go ahead for action games of any kind. The bug is 99% masked if the iScan is used with scanlines. Quality of the Video and S-Video inputs is rather mediocre compared to what the FLI2200 eqipped machines above can deliver (due the lower quality comb filter), but the component quality is very good. It's a little bit sharper than the FX2 and Omega One units (still the sharpness control won't affect the component input) and the picture is excellent overall.
The iScan Pro is a nice unit to add a Scanline generator to it's output. The following shows the iScan Pro used with a MiniSLG. The resulting picture is taken from a NEC LCD screen. Quite nice I would say :-) And it shows that actual upscaling is way overrated, if the initial line doubling is done properly !
Pros: small, rather price worthy, good component quality, output switchable from VGA to progressive component
Cons: tiny bug on 240p inputs, low quality video and s-video input, no remote, ~ 2 frames lag, no RGBS input.
Conclusion: still a very nice plug'n'play unit. Once setup it can be forgotten and hidden away. Great to add a SLG unit !!!
The iScan Ultra was the successor to the iScan Pro. It featured an on screen display, two inputs each for composite, s-video and component video, DVI output and overall greatly enhanced usability. The processing got a (tiny!) bit sharper due to better A/D converters, but overall processing remained the same. Thus all the things said for the iScan Pro remain valid for the iScan Ultra. The machine still can't handle RGBs input without additional transcoders.
The DVI output provides a bit better connectivity to HDMI-equipped displays, but for scanline support the analogue output is of course to be prefered. While many TVs have better quality using the VGA input (because it's usually used to display text from a notebook), some newer TVs (e.g. some of Panasonics 2010 plasma sets) have dropped the VGA input. Without getting into details right now: the 640x480 vs. 720x480 controversy also speaks for using the HDMI input instead of VGA.
Conclusion: a nice linedoubler with lots of options. Serious alternative for TV sets without VGA inputs.
---

The iScan HD was the sucessor to the iScan Ultra. It added RGBs support and a scaling engine up to 1080p output. The processor was upgraded from the SiI503 to the SiI504, but the overall performace remained about the same. It had the ability to add an SDI input for sophisticated DVD playback and for movie sessions it's still a nice and afforable scaling device. Unfortunately the 240p bug remained (see iScan Pro above). The HD+ is basically the same unit adding support for scaling HDTV signals.
The VP20 and VP30 were introduced in 2006 and have become quite affordable by now. The VP20 is running around $200 and the VP30 is available at about $250 while the ABT102 upgrade usually adds $50-100 to the price (2011-2013: the ABT102 is extremely hard to find nowadays). In their basic configuration they are using the same processor of the iScan HD+, but added a sharper scaling engine. They just added HDMI inputs to make the unit safe for the future.
A year later the ABT102 Deinterlacing Card was introduced as an upgrade and this was when these two machines became very interesting for gamers. The difference between the VP20 and VP30 is that the 30 model has a RGBHV input (Dreamcast!) and a VGA output (good for the SLG3000) and can be upgraded to SDI, whereas the 20 model has just digital output (HDMI/DVI) only. When you go shopping for one of the units, make sure the ABT102 upgrade is included or buy it at an extra $150. The results below are for ABT102 equipped VP20/30 machines only ! For units without the upgrade refer to the iScan Ultra specs above.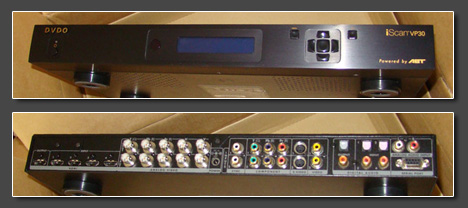 The ABT102 upgrade introduced two Gamemodes for deinterlacing. Gamemode 1 is a field scaling mode, which means no deinterlacing is applied. This is actually very similar to what the XRGB does. The difference to the XRGB is that massive diagonal interpolation is automatically applied to the picture (much too strong in my opinion). The Gamemode 1 has also very low latency (<10ms). Gamemode 2 adds an additional frame of delay, but will provide a sharper and more detailed picture on 480i inputs. It has the usual problems with 480i dropshadows though.
240p (Metal Slug X): proper 240p handling in Game mode 1, but with massive interpolation which changes the look of 240p games massively. The picture is a bit shaky (flickering lines), just like the XRGB2 in 480i mode. This is caused due to 240p being seen and handled as 480i.
240p (ESPGaluda): proper 240p drop shadows and 480i drop shadows in GM1, but some deinterlacing artefacts in the shadows (240p and 480i) in game mode2. Still gamemode 2 looks much nicer than GM1, so most users will prefer GM2.

While there are other processors, which handle 240p better (but not faster) than the ABT102 card, the card really starts to shine with 480i material (talking about real 480i material like 3D games or PS2 RPGs). The ABT102 has fantastic deinterlacing (other reviews said that it reaches native 720p quality). Today (2013) it's still one of the best deinterlacers around for SD material. It works real magic on DVD and TV material and clearly makes the VP20/30 with ABT102 upgrade a top performer in home-cinema setups. Compared to earlier iScan units like the Ultra, the HD, HD+, VP20 and VP30 offer full zoom and masking controls as well. This is always nice to have to get rid of underscan borders or to mask the colored areas and other rubbish systems like the Master System, NES or Genesis show in the overscan area.
Pros: extremely flexible, low delay on Gamemode 1, RGBs inputs, very good scaling engine, HDMI output and input, excellent picture quality.
Cons: massive interpolation in Gamemode1 on 240p games, shaky horizontal lines due to improper 240p handling
Conclusion: the iScan HD/HD+ are nice RGB-capable processors which can solve not only your deinterlacing problems, but also your TVs scaling problems. The VP20 and 30 (with ABT102 upgrade) are great low-latecy videogame processors. They combine great 480i deinterlacing for PS2 and GameCube games with 240p functionality. Both are more flexible than the newer DVDO Edge, but can't handle 1080i input material as good.
---

The iScan VP50 was introduced in 2006, the 50Pro in 2007. The VP50 is very similar to an ABT102 equipped VP30 just using a new processor design and having proper 1080i deinterlacing. Prices have recently dropped and 2nd hand machines on ebay run at about 350 EUR for a VP50 and 600 EUR for a VP50Pro rigth now (early 2013). The VP50 is a very nice home theater hub and all what has been said on the VP30 above is true for the VP50 as well - except one bit - see below.
The 50pro is a remodeled 50 with added Mosquito Noise Reduction and a new enhanced sharpness and small detail enhancement tool. The 50pro is still rather pricey (600+ EUR used), but it features stuff like HD-SDI for people who need it. The 50pro has a changed Gamemode 1 eliminating the shakiness of horizontal lines. Massive diagonal edge/detail enhancement is still applied though (which is bad in my opinion).
When the processors were released, both would have massive problems with 240p signals from anything but a Playstation 2. When I started to work with ABT (kudos to Dale Adams!) on this problem, the VP50 was already no longer supported. So eventually the problems were fixed on the 50pro (and it's sucessors, the Edge and the iScan Duo), but never really on the VP50. The VP50 eventually got another FW update which change things to the better. On the VP50 you're more likely to run into problems with 240p sources compared to a VP30 or 50Pro units, but it can be handled. Using an unlocked output refreh rates usually fixes the problems and if nothing else helps, a sync stripper for RGB sources might. The rest of the review applies to the 50pro only though! (If you consider a VP50 for any reason and you got questions about what works and what does not, just email me!)

Metal Slug X: 240p is treated correctly as a progressive source, only 6ms delay, massive ringing though
ESPGaluda: 240p is treated correctly; proper 480i drop shadows in Gamemode 1, but deinterlacing errors in Gamemode 2.
Winds of Thunder: 240p is treated correctly as a progressive source, only 6ms delay, massive ringing though
Dragon Blaze (480i): proper drop shadows in Gamemode 1, deinterlacing artefacts in Gamemode 2
Pros: excellent and very sharp (too sharp sometimes) SD picture, extremely flexible state of the art videoprocessor
Cons: fantastic high-end processor (HD-SDI), but the scaling engine isn't suited for 240p material (causes vertical ringing)
Conclusion (to the review above and below): the VP50 performs just like the VP30, but can show a little "irregular" behaviour with 240p sources. The 50pro is an excellent videoprocessor for 480i material and for 720p, 1080i or 1080p from a PS3 or 360. It has proper 240p and 480p handling, but I don't like the ringing the scaling engine causes. Because of this my main setup consists of a 50Pro and a XRGB-3.

(Note that the 50pro got proper 240p recognition in early 2009, refer to the DVDO Edge review for updated results.....)

The VP50Pro (from Anchor Bay Technologies / DVDO) is my current home theatre videoprocessor (along with a Radiance XE). It does a wonderful job on high quality movie and TV sources, does an ok job with mediocre movie material and has some flaws considering it's videogame performance. This little section shall compare the VP50Pro to the XRGB-3 ($350 vs. $1500 used for the 50pro ). As a testing ground I've choosen the latest Sega Ages PS2 title - Fantasy Zone Collection. The game was released in September 2008 and marks a very notably release. It's been the first original 240p title to hit the PS2 in quite some time. The included remake of Fantasy Zone II was exclusively developed on the original System 16 Sega hardware and brought to the PS2 via faithful emulation.


What makes the newer Sega Ages PS2 titles so nice for testing videogame equipment are their screen options. You can swich the game between 240p (15khz non-interlaced), 480i (15khz interlaced), 480p (31khz progressive) and 480p with emulated CRT scanlines. The switching is done on the fly without a restart of the system or the game.


When I originally wrote this comparison, the 50pro did not properly support 240p material, I have since rewritten the review to reflect on the current state of DVDO's 240p handling. All screenshots are taken via digicam from a Sony LCD while the processor is scaling to 1920x1080p60. All of the VP50Pro's scalers video options (Edge Enhancement, Detail Enhancement are set to zero). The sharpness of the XRGB-3 is set to 7, since it's a sweetspot, anything less or higher will result into some edge enhacement and sharpening artefacts.

The first screenshot (below) shows the game set to 480p. The delay introduced by the VP50Pro (due to D/A conversion and scaling) is 6ms (which is quite excellent and not noticeable while playing). The picture quality is great of course, but some color combinations show halos (those white shadow outlines outside the black outlines of the Text you see in the screenshot). These Halos are not present on the original material and make the picture appear "over sharpened". On movies you can tune down the edge enhancement (into negative) to make such halos disappear, but here they're caused by the videoprocessor itself and even turning down all the sharpness option won't make them completely disappear. They're not really disturbing from 10 ft. away, but if you sit close to the screen, they'll be distracting. [Note: the only videoprocessor advertised with ringing-free (halo-free) scaling is the Lumagen Radiance. And while it's scaling is great, the final results aren't so much better either, see my Radiance review.]


The second screenshot (below) shows the game set to 480p with scanline emulation. The scanline emulation on the Sega Ages titles is a bit strong. If you know various arcade monitors - the scanlines emulate those on the Egret3 tri-sync monitors. On the Astro City cabs you get low and mid-res monitors only and they have much less strong scanlines (but as always it's a matter of taste). There are no noticeable artefacts on the scaled picture, but if you're using the wrong overscan setting you get nasty moire patters due to the scaling of the scanlines. Artefact-free scaling is only provided at 0% and 10% overscan. I find this a bit weird since the the scaling of the DVDO processors is usually top-notch.


The next screenshot (below) shows the game set to 240p/480i and the processor set to Gamemode 1. Since sometime in early 2009 the 50Pro (and the Edge) does detect 240p properly. So the following screenshots apply to the VP50 only (or the 50pro when set to 480i, *not* 240p). The delay in this mode is the same as feeding the processor progressive material, it's only 6ms. Gamemode1 uses a simple deinterlacing algorithm (DVDO called it field scaling once upon a time) in which the 240 lines of each interlaced field are directly scaled to the output. On real 480i games (not 240p running on 480i output, but real "high-res" games) this cuts the actual vertical resolution into half. It's the same the XRGB2 and XRGB3 in B1 mode are doing. With 480i material you get a nasty "bobbing" effect in addition (that's the shaking of horizontal lines). The thing which makes the VP50Pro different from the XRGB series is the diagonal enhancement. I know this since the Faroudja FLI2200 days and it's been a real annoyance ever since. If you compare the 480p screenshot above with the one below you can see that diagonally aligned pixels are interpolated. The main problem of this "feature" is it's instability. Have a look at those horizontal black lines (the bottom of the capital B for example). You can see that it gets very ugly. In addition you get iffy (undecided) pixels all over the plave. Even when you pause the game, so there's no movement, you'll get appearing and disappearing pixels in every corner. Not nice. The funny thing here is that Faroudja already knew that the diagonal enhancement can be very bad. The recommendation on all the Faroudja based processors always was to turn it off as a standard and only turn it on when needed. ABT enforces this "feature" on us, which is a real shame, since the Gamemode 1 would be a real killer without this enhancement going on. Also note the loss of sharpness caused by this whole bobbing / interpolation / enhancement stuff going on.


The last comparison shot for the 50pro shows the game again set to 240p/480i and the processor set to Gamemode 2 this time (again this only applies to the VP50 or the 50pro with 480i material now, for 240p material refer to the Edge review). The delay in this mode is 23ms which is still pretty good (around the same delay as the XRGB-3 has in B0 mode). In Gamemode 2 the VP50pro does motion-adaptive deinterlacing, meaning in areas without any movement you get full resolution (without nasty interpolation). If you look at the screenshot below you can see that the 50pro does a pretty good job (compare to the 480p picture on top). You can again see the halos caused by the 50pro's scaling engine, but I've discussed this before.


The adaptive-deinterlacing causes areas with movement (have a look at the turtle in the screenshot below) to look like in Gamemode 1. In other words all moving objects get interpolated while all non moving objects are deinterlaced without this interpolation. This gives 240p games a weird look (only those running as 480i). Imagine the "blocky" background and heavily interpolated objects in front of it. Another problem is that the areas surrounding those objects are affected. When you have an interpolated sprite moving across the screen you can actually notice that the background in the immediate surrounding area changes from interpolated to blocky look all the time. This is actually not a mistake of any kind. It's good for real 480i games, but it's crap for 240p content.


The screenshot below shall give you an idea how it's supposed to look. It's taken from the 480p setting of the game and (LCD smearing apart) you can see that moving objects (the red sprite in the middle is just tumbling down) are supposed to keep their blocky look during movement.


Next I'll repeat the whole test sequence for the XRGB-3. For the ease of connection I use the VGA output (set the XGA) going into the VP50pro which does the scaling to 1920x1080p. This might cause some halos like seen on the 480p processing above, but I'll do a crosscheck without the 50pro in the chain at the end to rule out any misbehaviour by any of the contestants.

First up there's a shot of the game set to 480i and the XRGB-3 set to XGA output (into the 50pro via VGA). As you can see there are a few problems with scaling/deinterlacing artefacts (look at the inside of the yellow A or O). The delay in this mode should be 2 frames which means 32ms (which is still better than most TVs which range in the 50-70ms ballpark).


The sceenshot below shows the same setup with the game set to 240p instead. The interesting part here is that the XRGB-3 can actually tell a 240p input from a 480i signal and can provide better picture quality. As you can see the quality gets close to what the VP50Pro can do in Gamemode 2 without the annoying diagonale enhancement on moving objects (see Opa Opa on the bottom). The overall quality with 240p input plus scaling by the XRGB-3 is nice (and gets even better if you read on).


For 480p sources the Low Pass Filter in the XRGB has to be turned off, while for 240p and 480i sources it should be turned on. The following two screenshots show the difference. The upper one is with LPF turned on, the lower one with LPF turned off. So - don't forget to turn this feature off on 480p sources. As one can see, the result for 480p processing is pretty cool.



With the limited scaling from 480p to 768 lines I did not expect the XRGB-3 to get through the scanline test. You get heavy moire pattern with 480p input with emulated scanlines (note: emulated by the game, not the machine). On the later firmware versions, Micomsoft introduced a "Dot by Dot" function. if you turn this one the scaling of scanline material is perfect, but the XRGB can't keep a proper 4:3 ratio anymore. You might end up with large black borders on some sides of the screen. Ths screenshot below is with this function turned off (well actually the screenshot was taken before the function was implemented).


While changing my setup to connect the XRGB-3 directly to my TV Set, I had to remove my beloved friend, my Burosch Con1. It's a color transcoder which takes in 480p via component and delivers VGA via BNC and DSub15 on the output. It's a nice little box which is unfortunately very hard to find nowadays. I paid only 10 Euro on eBay, so I consider myself lucky. Of course the Burosch Con-1 only works with 480p input (no 480i and no 240p).



As you can see from the next two screenshots the Burosch Con-1 transcoder has pretty much reference quality. The screenshot coming up shows FZII set to 480p and the Burosch delivering 480p VGA directly to the TV which does the upscaling itself. To make this clear: this is actually what I except my picture to look like. It's shame that a $3500 machine like the VP50pro is not able to deliver this. I have high hopes for the upcoming 240p mode, but it remains to be seen if we'll ever get 480i (actual 240p games running on 480i)
to look like this. Funny thing here: the Sony LCD's internal scaler produces no halos whatsover (even if I tune up the sharpness) while my VP50pro does (see pics on top). And by the way: I switched the cables on the box, so the colors are incorrect on the screenshots below. Fantasy Zone II is so colorful that I only noticed it much later, sorry.



Here we have the game set to 480p with emulated scanlines. Again reference quality from the Burosch transcoder.


The next (and final) four screenshots show the XRGB-3 directly connected to the Full HD TV set via VGA. On the first screenshot we have the XRGB-3 set to XGA output again. As you can (sorry for the scaling moire pattern) the VP50Pro did little to the picture quality when in the chain. On XGA and with 480i input the scaling engine of the XRGB-3 still produces artefacts here and there.



The picture below demonstrates the quality as good as it gets in B0 (scaling) mode. The game is set to 240p input and the XRGB-3 is set to WSXGA (1650x1050) ouptut. As you can see the scaling quality (clarity) matches the VP50Pro in Gamemode 2. (And we get even less halos than wih the $3500 candidate).


The next shot shows the XRGB-3 in B1 mode (XRGB2+ linedoubling mode). This means the delay is reduced to near zero (probably 4-6ms like the 50pro in Gamemode 1) and limits the output resolution to VGA (480p). As you can see (with 240p input) the quality is actually very good. Not as crystal clear as with 480p via the Burosch Con-1, but definitely good.



The final screenshots shows the XRGB3 in B1 mode again. This time with emulated screenshots by the XRGB-3. The setting used is 151 in the scanline option. Compare this to the 480p output from the game (see Burosch Con-1 above) and I think we got a winner here for 240p content.



Results:

Let's be honest, with $3500 the VP50pro (or $1500 used in 2010) is hardly in any player's ballpark, but considering that the EDGE (below) is equipped with the same features, the current DVDOs are a nice way into high-end video processing for gamers who want sophisticated performance for movies as well. There is no final decision and it all depends on your type of input, so I will split up the results in categories. Let's start:

On 480i content (real 480i content like Hokuto no Ken or Gradius 5 on PS2) the 50Pro is a real winner. The detail is groundbreaking. The XRGB-3 in B0 is really bad in comparison. In B1 (linedoubling mode) the XRGB's picture is very clear, but you get combing/feathering artefacts. On "false" 480i content (actual 240p games running in 480i mode like Dragon Blaze) the XRGB-3 in B1 is hard to beat. The 50Pro is quite good as well, but gamemode 1 loses quite some detail on sharpness during processing.

For real 240p content (real 240p from a PS2 or vintage systems) there simply in nothing better than the XRGB-3. The 50Pro loses becauses of the excessive ringing. If you add a SLG3000 to the VP50Pro for scanlines, it's get quite nice though. Check the results in the Edge review down below. Since the 50Pro does have a native RGBHV output, it's quite easy to connect the SLG3000.

For 480p content (like a Wii set to 480p output or PS2 games which supports it), the 50Pro is good, but it doesn't reatch real reference quality. For the best quality out of 480p sources, use a VGA to HDMI converter like the Gefen or a Component to VGA transcoder like the Burosch Con-1 or the Crescendo Systems RTC2200.

Comments:

I like them all, I like my XRGB-3, I love my Burosch Con-1 and it's a kind of hate-love relationship with my 50pro. As you can see above it all depends on your content. I had very high hopes for the (from a 2008 standpoint) upcoming 240p mode for the 50pro and Edge. Unforunately ABT failed with this update and so the XRGB-3 remains first choice for 240p gaming. If you like your picture with scanlines (for 240p content) then there's little think about anyway, the XRGB3 (or 2plus) is your candidate.

If you have any questions or comments, as usual, just email me by clicking here.

Additional thoughts (added two days after the shootout): Today I grabbed a bunch of games from my shelf (a few PS1 titles, like Strikers 1945 and a few PS2, like Psyvariar, Sylpheed or Super Puzzle Bobble and gave the XRGB-3 another try. I checked the B1 mode (linedoubling mode) as well as the B0 mode. For B0 I set the XRGB-3's to WSXGA which is 1650x1050. There is no guarantee your TV will do this resolution via VGA and mine only did in the wrong aspect ratio. By fiddling with the XRGB-3's sizing and positioning options, I got a rather nice picture though.

For 240p games (Strikers 1945 on PS1, note that the PS2 version runs in 480i instead) the results were stunning. B1 with scanline emulation looks excellent (very CRT'ish with scanline settings in the area between 150 and 175) and the B0 with scaling to WSXGA was quite a revelation. The lack of any processing (no diagonal enhancement, no deinterlacing) is such a relief, it's great. The scaling of the XRGB-3 is technically speaking not as good as the scaling of the VP50pro, but it's perfectly suited for for 240p games - without any question. Winning place of the XRGB-3 with 240p confirmed :)

For 480i material the problem lies in the bad deinterlacer of the XRGB. The problems are much more inherent with 2D titles than with 3D titles. On Sylpheed for example (3D 480i title) I didn't notice any larger problems. The game looked very nice. In fact even sharper than with the 50pro. Other games (especially those 240p titles running in 480i) tend to look really bad. You can always switch the XRGB-3 into B1 mode then. This way you loose half the resolution on static images, but at least no diagonal enhancement is applied.
---
The DVDO Edge is a video processor introduced at the CEDIA in September 2008 with a suggested of retail of $799 (Eur 799). As of now (late 2011) the Edge can be found for around 300 EUR used and about 500 EUR new from eBay.com. (Attention: the new Edge Green version does not support 240p signals while in game mode. Although the problem has been known to ABT since the machine's launch, it wasn't fixed and likely never will.). The most remarkable thing about it that it drives the whole video processor market in a whole new direction. In 2007 Anchor Bay Technologies (the company behind DVDO) introduced the VP50pro at $3,499 and the new Edge has something like 90% of the feature set of the 50pro for about a quarter of the price.
The built quality of the Edge is great and the whole chassis is rubberized (which feels great). DVDO finally got around packing in a new remote control (with red illuminated buttons), which feels much better than the old cheap one, but is still a bit generic which means many of the buttons don't do anything. The things stripped down from the 50pro are the upgrade capability to (HD-)SDI, the analogue RGBHV output and the second composite and S-Video inputs - most acceptable for most folks I would say. DVDO added a new graphical user interface, two more HDMI inputs and a second HDMI output for audio only.
If you're used to the old DVDO menu, the new one's a sheer catastrophe, but if you're learning from scratch it should be pretty ok. It's not this complicated and one should be able to find what he's looking within seconds even without reading the manual. The basic setup is pretty easy. For most displays it's just running the automatic wizard and naming your inputs. (screenshot of the new menu below)
On a digital level the Edge is pretty much identical with the 50pro, in other words: if you want to rescale your XBox360's signal, or have your HD-DVDs converted from 1080i/p60 to 1080p24, it's all pretty much plug'n'play. Picture quality (Scaling quality) is great (and very sharp) as expected. One downside in comparison to the 50pro is that there's a 56ms delay (3.5 frames) on progressive sources unless you active the Gamemode which brings the delay down to an excellent 6ms (in other words: the old Gamemode 2 is missing). Problem is that the sharpening tools (Edge Enhancement and Detail Enhancement) don't work anymore with the Gamemode turned on (on progressive sources). It's not tragic for HD signals and it's probably more or less a programming bug (since you get 6ms delay plus sharpening on the 50pro), but it's good to know.
480p input from a component source (PS2 Thunderforce VI for example) basically looks the same as on the 50pro, which means you get a little bit of ringing compared to a pure transcoder setup, but that's more or less negligible. To get the best performance out of the Edge you have to turn on the Gamemode which again disables the sharpening tools (on progressive sources only). For 480i games you can either let the Gamemode turned off which produces a pretty nice picture (very similar to the 50pro) but with a bit more delay since the Gamemode2 from the 50pro's portfolio is missing. The Gamemode setting behaves a bit different compared to the 50pro (in addition to the missing sharpening possibilities). It's closer to the XRGB-2(plus)'s 480i deinterlacing adding a bit of sharpness and coming closer to a CRT's 480i look. I actually think it's the Gamemode 1 from the VP20/30/50 and not the one from the 50pro (which has pros and cons...).
The big question after all is however how 240p material is being handled. As the first ABT/DVDO machine since the iScan HD units 240p material is recognized properly (the input shows 240p). This works very nice with Composite and Component inputs (and most likely S-Video as well). (The same 240p recognition was added to the VP50Pro in early 2009 and there the sharpness control work even in Gamemode).
The DVDO Edge has gone through a lot firmware updates over the past two years and it's considered widely bug free as of now. There are no more problems with 240p recognition (Composite, S-Video, Component and RGBs are fine, so are 288p PAL sources). If you dislike the ringing added to 240p material, you can try an older firmware which treats 240p as 480i. If you're interested in this, just email me.
Ocassionaly the Edge can perform badly on 240p material after a firmware upgrade. This happened to me on a few occassions and is nothing to worry about. You can click on the screenshot below to download a small .avi clip. What the clip shows is a) a certain softness to the picture which is not supposed to be there and b) a sync instability causing a "wobble" effect similar to what some XRGB units exhibit on certain monitor setups. The whole problem can be cleared by doing a hard reset of the machine and unplugging the power for a few minutes. It's not a problem whatsoever and I just wanted to keep the video on the page in case someone runs into this problem and doesn't know what to do about it...
To give comparable results, here are the results with the usual suspects:
Metal Slug X: proper 240p handling (with and without Gamemode) (Screenshot below for MSX in action)
ESPGaluda: proper 240p handling, 480i drop shadows in Gamemode, deinterlacing errors in 480i without Gamemode
Winds of Thunder: proper 240p handling (with and without Gamemode)
Dragon Blaze (480i): proper drop shadows in Gamemode, deinterlacing artefacts without Gamemode
So where does this all put the Edge ? Well, it's an excellent videoprocessor, especially at this price tag. It's on par with it's big brother, the 50pro as long as you don't need SDI or an analogue output (the later one can be added with a HDFury for $100). The missing sharpness controls in Gamemode on progressive sources are not really a serious problem: Below you have a shootout along with quite a few screenshots comparing the 50pro, the Edge and the XRGB-3 for various input materials (240p, 480i and 480p).
Conclusion (to the review above and the one below): the Edge is still one of the best video processors out there and it's very affordable at the same time. It's compatibility to all kinds of sources is great and the only downside the the ringing caused by the scaling engine on 240p material. I can't stand it, but it you can live with it, the Edge is *the* processor to buy, both for vintage and current gaming (and movies of course). The Edge can also be used as an interface between VGA source (e.g. the XRGB-3) and HDMI-only displays.


Ok, this is basically the 2nd part of the processor shootout which began above with the 50pro vs. the XRGB-3. There'll obviously be a bit of redundant information, but you should *definitely* start with reading the comparison above. Otherwise it might get hard to follow the details. For the ease of use I've again choosen Fantasy Zone II Remake from the final Sega Ages package, but added a few other shots here and there to not only focus on the PS2. On the other hand really everything written for any 240p source is practically for any other 240p source as well. In other words: if you like the PS2 screenshots, your Saturn will look just as good I won't repeat the tests or screenshots from the 50pro or XRGB-3, so this 2nd part of the shootout basically adds the Edge and re-evaluates the results of the earlier test.

I'll start out with a serious of screenshots from FZII Remake in all possible input modes. I'll try to keep the same order I used on the VP50Pro screenshots above. First we have two screenshots from a 480p source. Overall picture quality is excellent, but - typical ABT / DVDO you should be able to notice a little but of ringing on high-contrast edges (the white shadows outside the black text outlines). All differences you might think to see on the Edge in comparison to the 50pro are derived from my inability to shoot moire-free digicam screenshots, so pardon me. As expected the quality's the same on the 50pro.


Next up we see 480p with in-game scanline emulation. Just as on the 50pro you get moire pattern if you set the zoom level to anything except zero. For some reason you cannot set the zoom to exactly 10%, but only 10.1% which introduces slight moires already. Keep it at zero for best results. (On a sidenote: I think the game's internal scanlines are a bit on the heavy side, I like the medium settings on the XRGB2/3 much more).


The next screenshots set the game to 480i without enabling the Gamemode on the Edge. The results are very pleasing, but keep in mind that 240p flicker effects like drop shadows are not properly deinterlaced in this setting. From the screenshot the result might seem a bit softer than on the 50pro, but that's probably due to to different settings (the offset of the control's have been changed, so it's hard to copy any settings from a VPxx machine to the Edge). In this mode the picture is delayed 56ms which is pretty massive. The picture gets adaptive deinterlacing which means static areas look like you see here while moving areas look like with gamemode turned on (see below)


On the screenshot below we again see 480i, this time with gamemode enabled. The picture gets smoothed and lots of diagonal edge enhancement is applied. There are also a few undecided pixels here and there (flickering). I did never like this mode and it was my major complain on the 50pro. I prefer the XRGB-2/3 CRT look emulation, but for what it's worth, at least it works good and does look ok from a certain distance and it's a bit better than on the 50pro. The processing delay is reduced to 6ms in this mode. (The gamemode has changed a bit from the 50pro, but as long you don't consider a 50pro, it's not really important).


The next three screenshot finally show 240p input on the Edge. The signal is treated as what it is - progressive already. Turning the Gamemode on or off does not change the look of the picture, but since the delay is 56 vs. 6ms it should obviously be turned on. As mentioned in the Edge review earlier the sharpess controls are disabled in this mode, but I checked without the Gamemode and it doesn't make a huge difference. The screenshot shows rather good results. Ringing in the scaling is quite visible, but from a little distance the whole picture is very nice. The blockiness (pixels) are retained through movement, no adaptive deinterlacing is applied and overall processing quality is on par with the Edge's 480i processing. A very pleasing result (apart from the ringing) .


Out of curiosity, here's a test with Composite (yellow RCA) input. With the Edge in place I hooked up a NES (Nintendo's classic 8-bit system) via Composite (RCA). What I knew before was that the DVDO processors generally don't have any good combfilters for composite material. Thus the usual NTSC crosscolor problems along with the composite dotcrawls were very present on the NES's ouput (the pic shows Super Mario Bros. 1, first level right after the frist mushroom. The first picture shows the result on the Edge. It's pretty much as worse as it gets. Most 90s CRTs probably had better combfilters built in. As far as I know it's the same on the 50pro which is a shame especially for those laserdisc folks out there. The second screenshot shows the same scene on my Sony XBR5 LCD without any external processing. It's quite obvious that the composite combfilter is way better. The third and last Mario screenshot shows the NES connected to an Entech CVSI-1 which takes in composite video and outputs component video. It has one of the best 2D combfilters ever built into any device. It's ouput was connected to the component input of the XRGB-3 and the scanline option was set to 175 (medium to light scanlines).


The last screenshot in this review was taken before the RGB 240p recognition was added (the same can be achieved on new Edge units by using an older firmware) . It's a japanese Super Famicom (SNES) using a RGB scart to 4xRCA adapter cable. The signal was not properly detected as a 240p signal, but is handled as 480i instead. The screenshot below shows what was to be expected from the 480i Fantasy Zone II results. The image looks very nice (and has practically no ringing). With the current firmware you can't get such results anymore. 240p is now recognized as progressive from every source and ringing is showing on all 240p material. Nevertheless, since it's just a nice screenshot, I didn't want to delete it....



Results:

So what are the updated results, now that the Edge is out for a mere fifth of the 50pro's price ? Let's first of all clarify the differences between the Edge and the 50pro (only those interesting for gamers). Here's what the 50pro has to offer over the Edge:

- custom resolutions which might come handy to HD-Ready owners or HD-CRT users.
- a Gamemode 2 deinterlacing mode which reduces the lag on 480i sources a bit compared to standard video deinterlacing.
- Edge Enhancement and Detail Enhacement can be used on progressive sources while keeping the delay at 6ms.
- one more set of composite and S-Video inputs

And here's what the Edge has to offer over the 50pro:

- new chassis without any fans which gets only handwarm after hours and does not have boiling HDMI ports like the 50pro.
- two more HDMI inputs.
- a better remote and of course only a fifth of the 50pro's cost.

In terms of picture quality I will treat the Edge and 50pro the same in these results here. The 50pro offers sharpening tools for progressive sources, but it's not a big difference and you can probably compensate the difference by turning your TV's sharpness or Detail enhancement settings up a bit. In Gamemode 2 (which is only interesting for 480i games) the 50pro's also 10ms faster than the Edge and you have to decide for yourself if that's important to you.

To sum all this up, let me say the following:

The Edge is an excellent video processor for all kinds of 480i material. With the gamemode disabled the 480i picture quality is stunning easily reaching 480p levels from slow games (RPGs, Strategy). In Gamemode the picture quality suffers, but you get lightning fast processing. For 240p I really prefer other processors (XRGB-3 on the more expensive side or the Faroudja units on the cheaper side). 480p is processed nicely. You can add scaling or sharpening, but the picture is not 100% clean. For best quality on 480p sources use a transcoder (component to VGA) or the Optoma HD3000 (for component to HDMI).

For scanlines you can add the SLG3000. Since the Edge does not have VGA output you have to use a HDFury ($100) to convert HDMI to VGA. The great aspect about using a SLG3000 is that the ringing caused by the Edge is masked to an extend where I don't mind it anymore. Here are two screenshots (left side is the practically ringing-free Videon Omega HDP, right side is 240p on a DVDO) - both with added scanlines by a SLG3000. (More comparsion screenshots can be found here).
---


DVDO did really sneak up on their customers with this one. No announcement on any of the large community boards, no discussion, no pre-orders. One day in late june of 2014 it was just available. The iScan Mini is the latest in a long line of video processors - in fact reaching back more than a decade now. When I first saw it, I was completely baffled and I'm actually still wondering which target audience DVDO is aiming at with this newest addition to the iScan series.
The new iScan Mini is smaller than a pack of cigarettes and does - in terms of video connectivity - offer nothing but a single HDMI input and output. On the audio side you get an optical SPDIF output. It comes with a little carry bag, which fits the iScan along with it's PSU, but doesn't offer enough space to allow you to take the remote with you. As far as I can tell the iScan Mini is derived from a test pattern generator with similar looks and relased by DVDO some time ago. A test pattern generator might be something you want to carry around to work on different displays, but I - personally - wouldn't bother taking my video processor with me.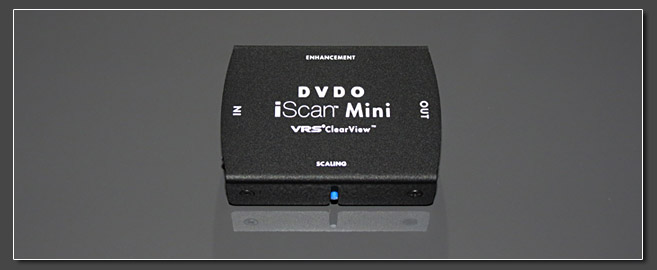 When I first saw the iScan Mini I immediately thought about Lumagen's Radiance Mini, hoping that DVDO had transfered their whole "Edge" video processor into a new, tiny design - especially since the "iScan" tag implies exactly that. Unfortunately I was wrong. The iScan Mini is what has to called a dumbed down or even castrated version of their previous processors.
If you're familiar with DVDO processors of the past, you get a general idea of what to expect from a device that says "DVDO iScan" on top. You might not expect the greatest video game processing, but you would expect an all purpose allround processor that does help with a lot of tasks that your TV doesn't offer.
Well, let's see what the iScan Mini offers above the earlier iScan units: the most important feature is obviously the 4K upscaling. Previous DVDO processors were limited to 1080p (or 1200p on some rare occasions) while the Mini offers 4K with it's current HDMI limitation (that is 4:2:0 color encoding when you want 50 or 60Hz). You also get a few new features on the image enhancement front: ringing suppression helps indeed to minimize the halos that are usually visible around high-contrast edges using DVDO's scaling engine. Image smoothing (two times actually, one time exclusively for SD signals before scaling and one time on the scaled output) eliminates jaggies on lower-res content. It's confusing though why there are two options with the same name and for less experienced users it will stay bewildering at best.

So, on the "new feature" list that's about it. Now to what you lose compared to - let's say a DVDO Edge processor (I'm doing this comparison since after market prices for an Edge are about the same as the recommend retail of the Mini, $299). Obivously you're losing the additional HDMI inputs and all analogue connections (video and audio-wise). More surprising is the total loss of any scaling controls. No overscan control, no zooming or panning and no aspect ratio control (although DVDO is hopefully already looking into adding a 4:3 mode at the very least). The most surprising loss of features though is the missing deinterlacing. If DVDO is known for anything, then it's their excellent deinterlacing of 480i, 576i and 1080i content. And here, it's gone. No deinterlacing whatsoever, meaning that the iScan Mini cannot even accept 480i or 1080i for processing.
You might argue that 480i is a bit outdated by now, but 1080i is still THE broadcast standard all around the world, so releasing an iScan device without the ability to convert 1080i to 1080p seems like a really bad (or bold ? brave? stupid?) idea. DVDO is obviously aiming at streaming users. Netflix, Hulu and others who offer 1080p from the settop boxes. But to be honest, it seems like a cheap move. DVDO did implement their same old Mosquito noise reduction, but does limit it's use to SD sources, leaving users of HD sources with nothing but the Detail and Edge Enhancement as well as the 4K upscaling feature.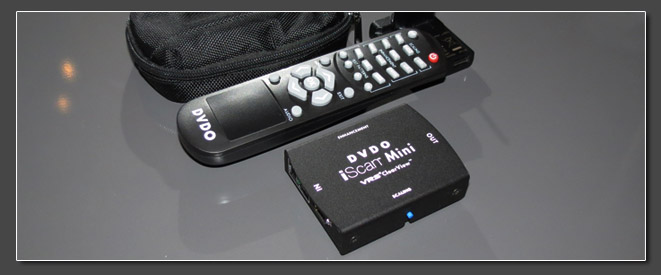 What the iScan Mini does, it does well. I still very much like DVDO's scaling engine for video and movie material and the Edge- and Detail Enhancement feature is still superior what most TVs will offer on their own. At home I "only" have an (excellent) 1080p LED set, but I was able to give the Mini a spin on a 4K Sony X8500 TV set. Sony has a very clean and good scaling engine already and it doess offer Edge and Detail Enhancement as well. Adding the Mini wasn't a revolution. With good source material (Pixar Blu-Rays) I could spot a little difference, but certainly nothing to warrant an outboard scaler. We had a Darbee-equipped Oppo player connected as well and Darbee's detail processing offers more range than DVDOs with less artefacts.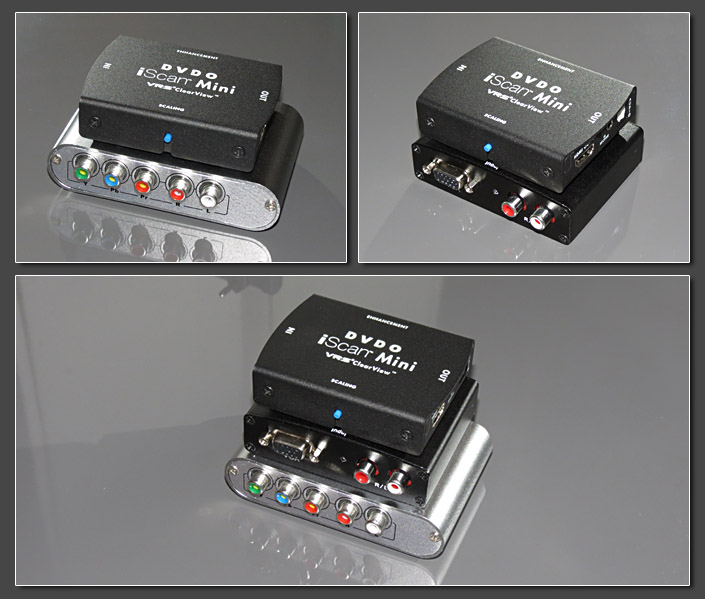 If you know me (and my page), you know that I had to give the iScan Mini a little spin using the usual videogame sources. With it's stock HDMI input you can only use last and current-gen systems (PS3/4, XBox360/XBOne and WiiU). 720p from these sources, upscaled using the Mini and displayed in 1080p look excellent. You can smooth the picture (great for 2D shoot'em ups using a 360) or add a little kick (for example for upscaled Wii games). The Mini is extremely fast, adding next to no additional lag. Still - again - the lack of options like aspect ratio control or overscan adjustment is disappointing.
Using two rather cheap A/D converter boxes, I was able to connect 480p component sources (Playstation 2 or GameCube) and 480p VGA sources (like Dreamcast or a XRGB-3 processor). 480p component sources basically look identical to what a DVDO Edge can achieve. I personally think that the scaling engine isn't very well suited for graphics, but it might still do a better job than your average TV set. VGA sources look good at first sight, but due to the external A/D converter only 640x480 pixels are recognized (although the actual resolution of those sources is 720x480p). In these situations an Edge would see and upscale the full resolution.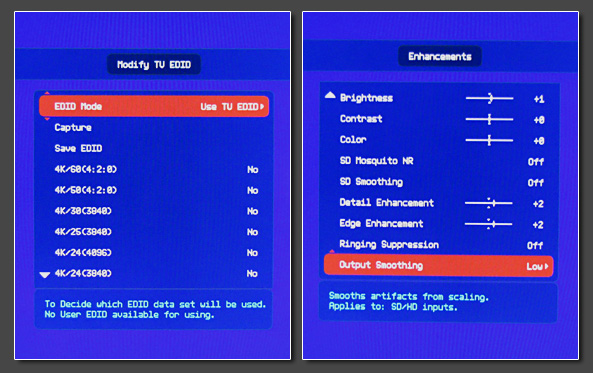 On the feature list, the iScan Mini had added a few more test patterns (seems obvious with the iScan Mini basically being an AVLab TPG in disguise) as well as a demo mode with a split-screen option, so you can see your adjustments next to the original source in real time. You also get an EDID management feature which might help on some of last year's (early) 4K sets.
The firmware version I used was still a llittle buggy. The output of the unit was locked to 4:4:4 YCbrCr, although the info screen indicated that full range RGB was being output. Sources with full range RGB suffered from quite some black crush (loss of shadow details). Of course this is something I would expect to get fixed in the near future.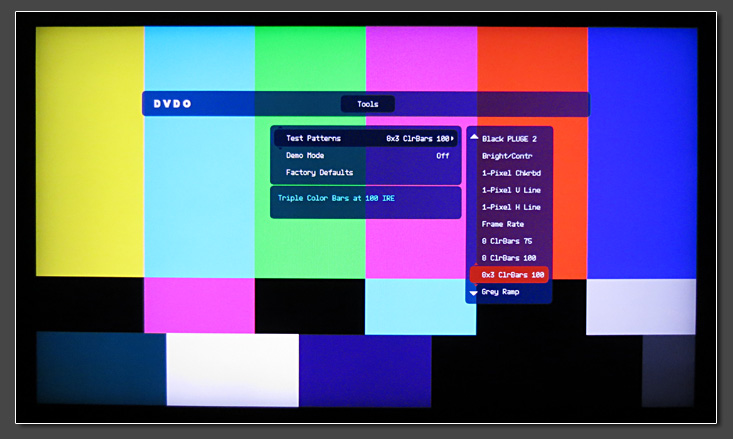 Conclusion: It's hard to give a recommendation. Obviously the iScan Mini isn't a newly developed product. It's basically just DVDO's pattern generator with a few added features. Processing power is limited and DVDO already confirmed that more complex features (from overscan control to deinterlacing) are out of the question. The raw scaling is good (not so good for graphics, but great for videos and movies), but it's the same as it was 5 years ago and 4K upscaling is really just necessary, if your brandnew 4K TV set sucks at scaling (but why did you buy it then anyway). On decent 4K sets like a Sony, the gain in quality is minimal and doesn't warrant a purchase. The lack of features, lack of deinterlacing and lack of any other inputs make me wish DVDO didn't use the "iScan" tag on this one. For video game use I don't see who could benefit from the Mini. Buying a DVDO Edge at the same price gives you a multitude of possibilites and options instead.
---
The Optoma HD3000 is one of the few video processors based on Gennum's VXP HD processor chip (the other two being the Crystalio II for $6500 and the Lumagen Radiance for $4500). The ThemeScene was introduced in late 2006 at a suggested retail price of 2000 EUR here in Europe. At this price I wouldn't have considered it. In december 2008 the HD3000 was available for EUR 800 here in Germany and at this point I started to get interested in the machine. I was able to get a demo unit and wrote a review for Optoma's VXP processor. You can find this review (which is actually a shoot out against the DVDO Edge) over here (german language only though).
In September 2009 the Optoma HD3000 was discounted to a mere EUR 299 in France. As to be expected they sold out in a rush and are quite hard to find since back then. Your best chance is probably to check the european eBay sites. Rrecently (summer of 2011) mint units sold for less than 200 Euro on eBay Germany.
The HD3000 is quite a high-end machine. It has got 4 component inputs (of which 2 are RGBs enabled), 3 HDMI inputs and 3 VGA/RGBHV inputs besides 3 composite and 3 S-Video jackets. It features a sturdy metal chassis and weights alot compared to the Edge or other processors. Still I have to make clear that the machine is probably not very well suited for us gamers. 240p compatibility is very bad as this kind of signal is only supported from a PS2 via component. Older machines (via RGBs) won't give a picture (so no PC Engine or Saturn gaming) and transcoding from RGBs to YUV first doesn't help either. 480i deinterlacing is top-notch though and the main reason why I want to present the Optoma a bit here is the fantastic scaling engine compared to other processors out there.
My testing material for the following consisted of OutRun2SP (jap, PS2, 480p) and Metal Slug X (jap, PS1, 240p). The Optoma has a very blocky scaling algorithm, which tends to produce stepping artefacts on movie material, but on graphics (like videogames) it works real wonders. I've never before seen such good scaling for videogame signals. If you check the MSX title screen comparison at the bottom of the page, you'll see that the Optoma output matches the pure digital emulation of PS1 games on a PS3. It's really, really breathtaking and something I would wish for on a possible XRGB-3 successor.

The following three screenshots show a closeup of the Ferrari in OR2SP. The first picture shows the processing done by the DVDO Edge. The picture's quite sharp, but note the ringing (light halos) around the black edges. The third picture shows the rather soft scaling done by my TV set directly (PS2 prior transcoded to VGA). And now have a look at the middle one. The difference is quite obvious - wonderful !


To show that the Optoma's scaling engine works for 2D as well, have a look at these three Metal Slug X shots. The closeups on the 2nd and 3rd shot show how wonderful and pixelperfect graphics are upscaled to 1080p.


So, can I recommend the Optoma for gaming purposes ? No, not for anyone looking for an allround solution. It's a gorgeous machine for certain tasks though. It can upscale an already progressive signal from a XRGB-3, it can upscale progressive component sources (XBox and XBox 360, Wii, GameCube) and it has nice 480i deinterlacing (though it's buggy with certain PS2 games, email me for details if you want). If you can find the Optoma at 300 EUR get it. It's a wonderfully built machine with great upscaling!!
Conclusion: great upscaler for 480p to Full HD, mediocre deinterlacer for vintage gaming needs. Excellent built quality, hard to find.
---


So, that's what I call full circle. After playing around with some linedoublers about 10 years ago, the original Crystalio (2300) was my first full blown video processor. It did cost a hefty 2,000 EUR back then, but it was so worth it as it did make DVDs look absolutely stunning on my first 32" Samsung LCD back in the days. A long time has passed since and for some reason I can't really explain it took me till spring of 2012 to finally get ahold of a CRYSTALIO II - this legendary HK-made high-end video processor so many claim to be to best VP ever made.
What's the fuss about the CII ? Well, first of all the CII (models 3300 and 3800) is a dual processor design. It features the Faroudja FLI-2300 (or 2310) and the Gennum VXP processor (the same chip as used in the Lumagen Radiance series). For SD content the user can choose which of the processors will be used, while for HD material the VXP is used automatically. Also the CII does have the best comb filter implementation ever seen in any VP. This means that the CII is potentially the best processor for composite material like video tapes or laserdiscs. Those features aside, the CII was the first VP to feature full PiP (picture in picture) with support for two video sources and it has arguably the best GUI (graphical user interface) to be seen in a VP yet.

At the release of the CII there was a higher-end model (the 3800) available (update: got a 3800 as well now, it's the silver unit above, while the black on top was a 3300). It adds HD-SDI over standard SDI on the 3300 and has an internal media player for MPEG2 material - in other words, nothing you need on a VP nowadays. The smaller 3100 model does not have the Faroudja FLI-2300, nor does it have the same great comb filter of the 3300 and 3800 (update: got a 3100 as well, see later on within this review). It also does not have any SDI inputs. The pricing the CII models was quite high, with the smallest model retailing at 3,000 EUR and the most expensive one at 5,000 EUR. In this price range it was a clear opponent to Lumagen's Radiance series, but PMS quite honestly nuked it with bad publicity and bad support and so - while still available new directly from PMS in Hong Kong - the CII is dead by now. (Good for me as I might add, since I was able to get the CII 3300 for about $850 incl. shipping). In early 2013 new 3300 units are still available from PMS in HK for $3500 per piece (haha...). The Crystalio II was one of the few video processors missing from my review "round table" so far, so I'm delighted to take a closer look at what is supposed of the best VPs ever created.

Similar to DVDO's VPxx series, the CII can be fully controlled via it's little LCD screen on the front. The 8-line high resolution LCD is very easy to read (contrary to DVDO's), so it's easy to do some an initial setup even without a TV connected. This said, the CII features to most intuitive and nicest looking OSD/GUI around. - Needless to say that it's a day and night comparison to Lumagen's cryptic menu system. While easy to use and to understand, it has many powerful options (e.g. the flexible output system in which you can create custom output timings for every input timing you can imagine or the many options you get for configuring the great integrated comb filter). Next to the four HDMI inputs and the two SDI inputs, the CII has four component inputs, of which two are limited to SD signals (because of the FLI-2300 design) and two which can handle everything from SD over ED to HD. One of the component inputs can be used as RGBHV/VGA input and the two SD ports can be used as RGBs connectors as well. The CII has two HDMI outputs and a set of fully processed RGBHV BNC outputs. On the audio side, there's all you need with 3 analogue stereo inputs, 3 coax and one optical inputs and a full set of audio outputs (analogue, coax and optical).

I was keen to see why PMS decided to put the Faroudja FLI-2300 into the CII. The Faroudja chip has to be enabled in the menu and can then be used for the SDI, composite, s-video and SD component inputs. The FLI-2300 is still a solid processor, but the design is about 10 years old now and I don't see much reason to use it at all. The detail level when deinterlacing video material is good (but better with the VXP in use). The Faroudja performs very nicely with bad or mediocre DVDs, but for everything else the VXP should clearly be the better choice. The processing quality with the VXP in use is amazingly good. Both NTSC and PAL material are beautifully deinterlaced and scaled. The CII seems to offer a more solid film vs video detection than the Radiance and while the CII uses "only" the Gennum's stock scaling engine, it's hardly worse than Lumagen's high-praised "no-ring" scaling engine and offers more sharpness and detail when the source is SD. The Crystalio II offers a basic color management system which allows greyscale and gamma corrections as well as corrections to the primary colors. It does not offer adjustment of the secondaries (as the Radiance or the iScan DUO do). While the sharpness features seem to be more basic than what the Radiance has to offer, they work amazingly well and some minor chroma upsampling issues aside, I would say that the CII excels both the Radiance and the DVDO machines in subjective picture quality. This said, it's a real shame that PMS didn't develop a C3 or succeeded in marketing the CII any way better than they did.
The more interesting aspect (at least for all the readers of my website), is of course how good the CII handles video game material of all kinds. I have lined up all the usual candidates to give this a try. I first started with 240p sources (via component and RGBs) and - as expected - the VXP cannot handle this kind of signal. Contrary to the Optoma the CII (in VXP mode) can't even handle 240p from a PS2. Once the active processor has been switched over to the FLI-2300 all 240p sources work nicely though. Picture quality is ok due to the strong diagonal interpolation (which can't be turned off). Overall the picture is very similar to what I first experienced on the original Crystalio so many years ago. I wouldn't call it bad, but with fantastic 240p processors like the Framemeister available today, it's hard to justify a machine like the CII for 240p gaming. I also tried a NES as a composite source and as expected it looks nice because of the great comb filter. I still prefer the more blocky look without DCDi (diagonal enhancement on the FLI-2200) though.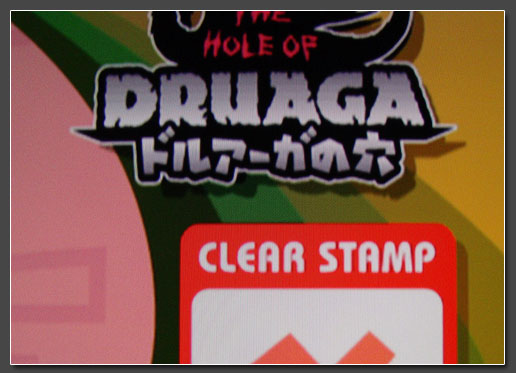 Next up was 480i from a PS2 and a GameCube and that's where the CII begins to shine. I already liked the 480i processing on the Optoma, but it was hardly useable due to an incompatibility to the PS2's component signal. The CII is bug-free (as far as I can tell). The VXP processing is much sharper than the Faroudja processing and is clearly to be prefered. The sharpness engine of the CII is subtle and works great by adding more details to the picture. Overall I would say that the CII's VXP deinterlacing is on quite on par with the Framemeister's Marvell processing (with the Marvell set to more video-like settings), but without the Framemeister's destructive (and therefore unuseable) sharpness function. A big advantage over the Optoma is that the CII's VXP processor can be manually set to video deinterlacing. This helps to avoid combing artefacts on videogame material. The Optoma tends to fall back into filmmode, while the CII's is obviously rock solid when set to video. For 240p games running in 480i (e.g. Taito Memories) I see a slight advantage with the XRGB's flexible scaling settings, but then again this should not really be the benchmark. 480p was next in line (again from PS2 and Gamecube) and since I already have the Optoma and the Radiance (both with Gennum designs) I didn't expect any better from the CII. To my big surprise the CII managed to surpass both processors! Not by a mile and more in the subtle details, but enough to see the difference right away. While the Radiance mangles details with it's missing sharpness tools in gamemode, the Optoma is hard to beat in 480p processing. Nevertheless the CII succeeded in creating even finer details with less chroma problems. If I take the classic OutRun2 car screenshot as an example, the CII's processing is a clear evolution of the Optoma's results. Dark lines on colored ground are more defined with even less ringing around sharp edges. With 480p signals, I wouldn't call the difference between the Optoma and the Crystalio big enough to warrant an upgrade, but with the added perfect 480i processing and the much more flexible picture controls (like underscan/overscan controls) the CII is just the better choice.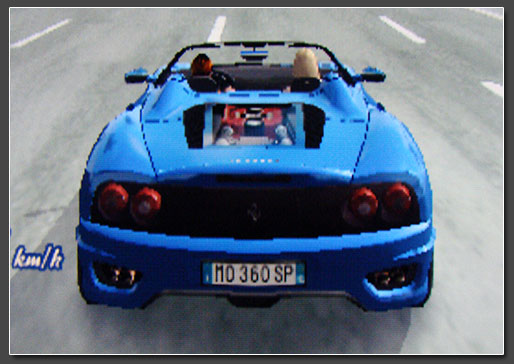 For a final check I connected my XBox360 via HDMI to see how the CII handles the upscaling of digital 480p and 720p signals to the TV's native resolution of 1080p. As expected the CII does a great job on these. I already liked the 720p upscaling on the iScan VP50Pro (with the ability to apply negative Edge Enhancement in gamemode over the Edge and Duo), but the CII's upscaling is simply beautiful. The Crystalio II does not have a dedicated gamemode, but just as with the Optoma and the Radiance the processing is quite fast already, especially with already progressive source signals. With 480i signals one can feel the added delay over raw scaling, but in any way, that's nothing which would cause any problems with gaming.
Updates (early 2013): In addition to the 3300 I originally owned, I now also got a 3800 model and a 3100 one. The differences between the 3300 and the 3800 are subtle and don't affect us (from a gaming perspective), but the units behave a bit differently (see below). The 3800 draws 10 watts more and 1kg heavier due to the integrated media player and hard drive unit (which can just be unplugged though) The 3100 in comparison is a real light-weight. As you can see the connections have been heavily reduced (2 instead of 4 component inputs, no analogue RGBHV connections and no SDI ports). Unfortunately PMS also removed the ability to connect a RGBHV source (like a Dreamcast), but the unit still accepts 31khz RGsB, so you just need a little Extron RGB interface ($20) to convert RGBHV to RGsB and you're set. A picture of the 3100's back can be seen below. The front looks just like the bigger CII units seen above.

When using the CII units over the past months, I've encountered a little bug regarding the Gennum scaling engine.. With a 480i or 480p component source connected to the CII, the source was sometimes recognized as 480i/p (see left shot below), while it was seen as 1440x480i/p on other occassions. Depending on how the signal is seen, the CII applies different kinds of scaling. With 480i/p shown the scaling is softer, while it's more pixel-perfect when the front screen shows 1440x480p. I found that with switching the input format to RGsB or RGBs and then back to component I can trigger the "1440 mode" when I want to. So far I've only seen this behaviour on the 3100 model. Nothing to worry about, but good to know!
On the 3300 and 3800 models 480i is always seen as 480i and I wasn't able to trigger the processor to them as 1440x480i signals. This causes a softer scaling with more interpolation on the edges. Overall the 480i picture is still *very* pleasing, it just looks a little different from what you'd see on the 3100 unit. 480p on the other is always detected as 720x480p on the big units - bearing the same (or at least quite similar) results as the "1440x480p mode" on the small unit. In summary I can say that 480i looks a bit sharper on the 3100 unit, while 480p is mostly the same (with the 3100 put into the "right" mode). If you do a real 1:1 comparison with both units on hands, you can see subtle differences in the 480p handling with the 3300 and 3800 models looking *slightly* better.

The mainboard in the 3100 model has heavily been reduced in size (see picture below). PMS could easily have reduced the size of the case, but they probably kept the original CII casing for other reasons. When you browse internet board like AVScience you will come across threads talking about failing CII units. The reason for this is that PMS obviously used bad PSUs in their earlier units. Replacement of those has been expensive in the past (PMS is asking $250 for a new PSU plus shipping). When checking all three CII units I found that they use standard FlexATX PSUs, just with a different connector. FlexATX PSUs are available for about $80 new and with a little work it shouldn't be too hard to replace the connector. So, definitely nothing to be afraid of !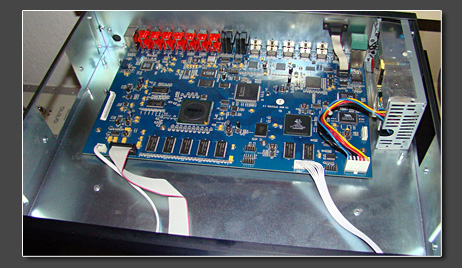 Conclusion: the Crystalio II is one the most advanced and best video processors. Unfortunately the Gennum VXP processor can't handle 240p material, but for everything else the CII might indeed be the best VP ever created. The deinterlacing of 480i material (and 1080i for that matter) is fabulous and for 480p upscaling the CII takes it's place as the new number one. With usually still $1,000 used, it's certainly way more expensive than most other VP reviewed here on this page, but if you're looking for a great video processor for movies which handles most video game material just as fine, the CII is a great alternative to processors like the iScan Duo or the so much more expensive Lumagen Radiance. It doesn't matter which model you chose, just keep in mind that the 3100 one requires an additional $25 sync converter to use 31khz VGA/RGBHV sources.
---
The Instant HQV is one of first affordable (well, $1000) Realta standalone processors on the market. The Realta is usually used in high-end Blu-Ray players or AV Receivers, so it was interesting to see what it performs on videogames (though this was not the main focus).
To cut it short: the main problem of the Realta is it's processing delay which is close to 4-frames (60+ms). This is acceptable on RPGs, but hardly worth considering for 240p action titles. On 240p sources and moving backgrounds the Realta applies some kind of diagonal enhancement, similar to what DCDi on Faroudja processors does (and it's very well implemented). While the Realta processor shows nice potential (especially on movies), the firmware implementation of the Instant HQV was lousy. While nice, this isn't a processor for use gamers (especially due to the high input-lag).
Here you can see three captures from a PS2. Metal Slug X, OutRun2SP and ESPGaluda. All shots were digitally captured from a 1080p output of the Instant HQV processor. No digicam degradation here.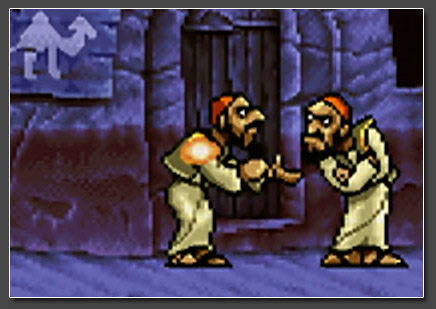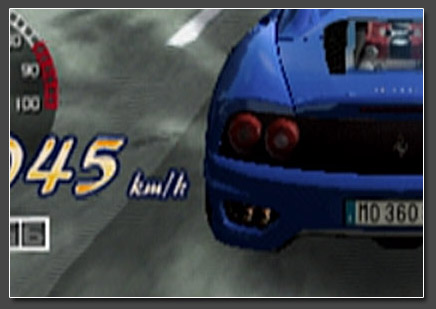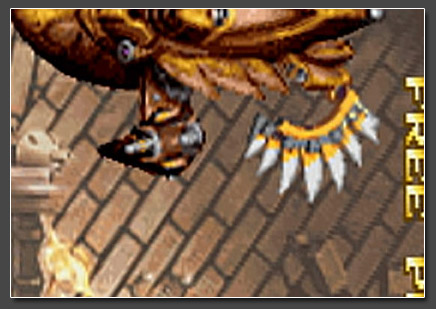 Conclusion: gamers can find way better processors and movie enthusiast can do so either. No reason to revisit the CYP Instant HQV.
---
The Dragonfly was one of the very first HQV Realta processors on the market. It was introduced in late 2005 and hit the consumer market in early 2006 at around US$ 3500. Back then (and now as well) the Realta was and is a nice hometheater processor. It has very filmlike processing for 480i and 576i sources and even handles 1080i material flawless.
After recently reviewing the CYP Instant HQV I had high hopes for the Dragonfly, but unfortunately, while most bugs of the CYP firmware have been fixed on the Algolith implementation, the Dragonfly lacks one thing: 240p support in any form. The picture immediately freezes while trying to feed 240p (from any system, even a PS2), so no Metal Slug X screenshots right here...
480i and 480p processing is nice, but details aside (Overscan settings etc) doesn't differ significantly from the CYP testrun above, so simply download the CYP test video from above, if you want to see how the Dragonfly performs on videogame signals (480i/480p).
Conclusion: no 240p support whatsoever, nothing for gamers.
---


The VisionPro HDP is actually very similar to the Vision HDQ which I reviewed about a year ago (scroll down a little bit for the review).
I just placed the VisionPro HDP's review before the HDQ's, because the Pro HDP was introduced two years earlier. The Pro HDP is basically Lumagen's ultra-high-end Vision unit. All other Vision units along with the HDQ were already reduced in size, the number of connections and their price of course.
On the output side the Pro HDP features a set of BNC outputs for RGBHV and component connections as well as a fully HDCP-enabled DVI-D connector for all possible resolutions up to 1080p60. On the input side the Pro HDP features two HDMI-compatible DVI connections as well as four component inputs, two s-video and two SDI inputs. Two sets of component inputs can be configured for YUV, RGBs, RGsB or RGBHV in SD, ED and HD, while the other two are strictly for component SD signals. The sync inputs associated with the component inputs can be used for s-video or composite video just as well. All analogue connections are presented in BNC form. Lumagen originally included a Y/C s-video to BNC breakout cable and a BNC to RCA composite cable.
With good source signal all four component inputs offer the same quality. If you got a noisy source (a Playstation 2 for example), then I found that the ED/HD enabled inputs filter the DC noise completely, while the SD-only inputs are quite sensitive to noise in the signal. But since it makes sense to have a PS2 running on ED ports anyway (to allow 480p resolution from games that support it), that's no biggie.
The Pro HDP has only got two VGA-compatible inputs (compared to four on the HDQ), but then again you gain a whole handful of additional analogue inputs and a second SDI input. The Pro HDP uses the same firmware as the HDQ, so it's doesn't surprise that it performs exactly the same. Lumagen has done real wonders with it's FPGA and even added motion-adaptive video deinterlacing for 1080i material. Compared to DVDO scalers of the same time, the Lumagen Vision units offer superior color control as well as greyscale and gamma adjustments to push your display to the max.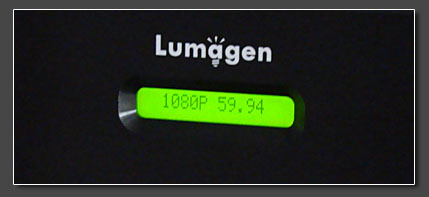 The VisionPro HDP was Lumagen's only try at a video processor with it's own little LCD up front (see picture above), but unless you're running into initial setup problems, I wouldn't even know what it's good for. Nevertheless it adds to the high-end feel of the Pro HDP - in addition to it's extreme weight by the way. Just like the HDQ and later Lumagen units, the Pro HDP features Lumagen's ringing-free scaling engine, which works really great on 480p sources, either via component or the RGBHV inputs. The Lumagen offers a Genlock function which minimizes the delay on upscaling progressive sources and guarantees a 100% judder-free output. For some more details on the Pro HDP's dual processor design, please refer to the HDQ review a little bit below.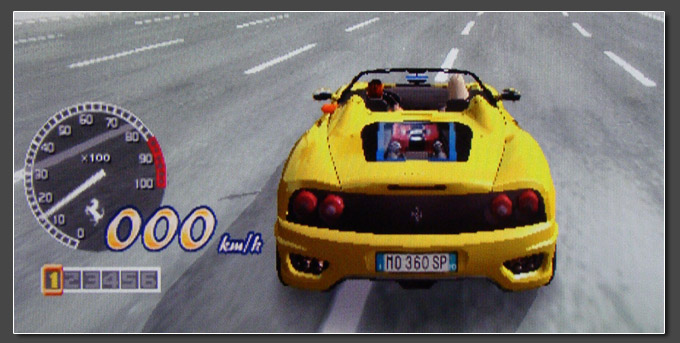 Conclusion: just like the HDQ, the VisionPro HDP is an extremely flexible video processor. With it's full RGsB and RGBHV compatibility for 480p inputs, it's easy to connect systems like a Playstation 2 (in RGsB mode, if you want to avoid the noisy component signal) or a Dreamcast (with RGBHV output). Lumagen's ringing-free scaling engine is very fast and excellent results for 480p, 720p and 1080i sources. Slight problems with SD material content (due to automatic underscan removal), but still HIGHLY RECOMMENDED for it's upscaling capabilties. Ultra high built-quality - really a machine for eternity.
---
The Vision HDQ was Lumagen's last processor in the pre-Radiance era. Don't let yourself fool by the "dated" DVI inputs and outputs. The HDQ is fully HDMI compatible and I actually still like DVI connectors much better than HDMI plugs and sockets. The Vision was $1,999 retail a few years ago (available new till last year, 2011) and can now sometimes be found around $500 (400 EUR).
Over the years Lumagen released literally dozens of firmware upgrades, gradually adding 1080p24 processing, motion-adaptive deinterlacing for 1080i sources and even a nice little color management system which allows to correct greyscale and gamma problems on modern displays. With the latest firmware installed the HDQ is an extremely flexible scaler with custom output timings, masking, zoom controls and every aspect ratio you can think of. The HDQ can also be used for anamorphic projection.
The HDQ offers four DVI-I inputs which can all fully process RGBHV signals. This makes the HDQ the only processor out there to offer FOUR fully processed VGA inputs. Talk about flexibility! There are two sets of component inputs (SD, ED and HD) which can also be used for RGBs inputs. S-Video and composite inputs are available as well with the composite inputs using a great 3D comb filter. A digital SDI input is available as well (out of the box, without need for expensive upgrades). On the output side there's a HDMI compatible DVI-I output and a set of BNC connectors which can outout RGBHV and component. Nice here: DVI-I and RGBHV are active at the same time, so you can drive two displays at once, e.g. a vertical one and a horizontal one :)
Lumagen's scaling engine is fantastic and doesn't add even the slightest hint of ringing. To my surprise the HDQ's scaling was even better than the Radiance's scaling - at least without any tweaking and out of the box. The HDQ is a two processor design with a SIL504 for SD deinterlacing and a FPGA with Lumagen's own algorithms for any kind of HD processing and upscaling. The combination of the SIL504 and the FPGA works nice for 480i sources, although the output is a bit on the soft side. For ED and HD inputs Lumagen's scaling engine is great and works real wonders. On 240p processing the SIL504 works ok once set to forced video, but the HDQ had some problems with the underscan many console systems have. It resized the picture on it's own which was a bit hard to correct.
With the Framemeister being the number one 240p processor, 240p is hardly a main discipline for the HDQ. For processing 480p, 720p and 1080i I liked the HDQ much better than Micomsoft's XRGB-Mini (or DVDO's Edge for that matter). Simply nice. One minus to add to the review is Lumagen's cryptic menu system. All the menu items consist of 4-letter abbreviations. Within a few minutes I knew what to do, but if you're new to video processors, that may take an hour or two to fully figure out...
Conclusion: the HDQ is a once high-end top-of-the-line video processor. It offers outstanding flexibility and is the only processor out there with four fully processed RGBHV inputs. Lumagen's own scaling engine is very fast and offers fantastic performance on 480i, 480p, 720p and 1080i sources. Slight problems with 240p content, but HIGHLY RECOMMENDED and still much better than DVDOs Edge for anything above 240p. In most cases, the HDQ is even a better choice than the Optoma HD3000 - it's simply the better machine.
---
Lumagen's Radiance series of home theater video processors can easily be called to most sophisticated processors out there. Lumagen introduced the Radiance XD a few years back already, but has kept the product up and running by four additional models (the Radiance XS and XE and extended Plus models of those two). The firmware is also updated on a regular basis and it's just amazing how many features Lumagen has added the years. Nevertheless, with $2500 for the small Radiance XS and up to $5000 for a XE+ model, those processors are out of the question for most videogame users amongst us.
In late 2009 I published a long review of the Radiance (in comparison with the current DVDO models). The review's only available in german (at least as of now) and can be found here. The review includes many screenshots and few video links as well, so you might want to have a look at it even if you can't understand german.
When I received my demo unit in december of 2009, the Radiance had many problems with various videogame signal. There was noticeable input lag and 240p wasn't treated as such. And while Lumagen's target audience hardly includes any gamers, Jim Peterson and Patrick Harkin of Lumagen worked hand in hand with me for a few weeks to fix all problems. Over my short demo period, I received a bunch of beta firmwares and every feedback given was promptly coded into a new firmware release.
To cut this mini review short: the Radiance does most things any video processor lover can imagine. It handles every signal thrown at it and turns it into an incredible 1080p HD signal. Nevertheless, the Radiance was clearly not engineered for video game signals. While I'm complaining on a very high level, the 240p signal processing is not as clear as on the XRGB series and 480p sources lack the sharpness of transcoding-only solutions. The following two (digital) screenshots show this, first is 240p, second is 480p, both scaled to 1080p.
2012 update: I now had the Radiance XE in my setup for quite some time. It's a great processor for color correction and aspect ratio controls, but it's still flawed when it comes to SD processing. In late 2012 Lumagen released a firmware update which fixed most of the Y/C delay problems. Unfortunately the Radiance adds massive ringing when scaling 240p material (comparable to the DVDO Edge) and it's A/D conversion filters are too strong. With 480p sources you even lose details, which are easily visible on other processors (even on Lumagen's own predecessor, the Vision HDQ). A real shame! If the Radiance performed as nice on it's A/D stage as the HDQ, it would be a near perfect processor.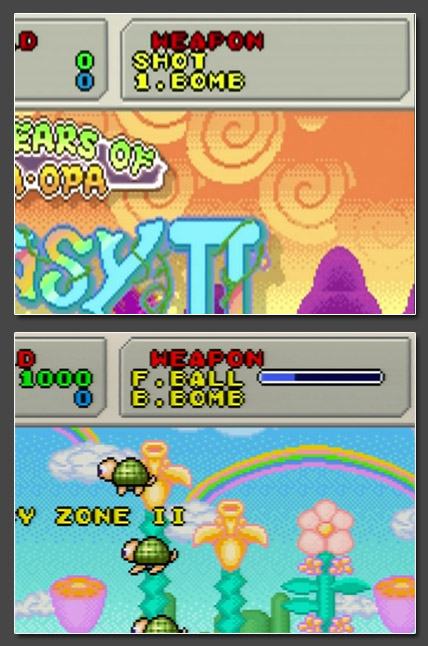 Conclusion: the most expensive and most sophisiticated video processor out there, but beaten by the XRGB-3 on the 240p performance.
---
At 11,900 EUR (10 grand plus tax) the Vigatec S1 (below my 999ES DVD Player on the picture) is the most expensive video processor out there at the moment (aside from broadcast-only solutions like Terranex). Last year I had the opportunity to mess with it for a few days and boy was I disappointed. The Vigatec S1 is combination of the Faroudja FLi2200 (yes, the SAME processor as in the Vigatec FX2) and probably a Gennum VXP processor for HD deinterlacing and scaling (can't confirm, since the chips were sanded).
To be fair, the Vigatec has been introduced a few years back already (2006 I think), but I confirmed with Vigatec and it's still available and still carries the same price tag! Anyway, of course I gave it a testrun with all my sources available and guess what, the video game processing was hardly any better than on those other 10-year old Faroudja based machines (no wonder, they use the very same processor). That being sad, that's not really a bad thing, but for a $15,000 processor ? Come on...
Conclusion: It's actually performing nice on 240p material, but only if you get it for 1/100 of the original price (which won't happen).
---
Gefen is video adapter / converter manufacturer aiming at broadcast and professional studio users (very much like Kramer in Israel or Extron). For some weird reason Gefen started to target the home theater market a few years back with a line of rather mediocre video processors. They introduced a bunch of small size scalers like the Home Theater Scaler Plus which found the way into my testing rig. The different versions of the scaler available just differ in the inputs and outputs available, the processing and quality of them all is the same. On the higher end, Gefen announced a HQV based scaler (not available until today) which is nothing but a relabeled CYP Instant HQV machine.
I can't really tell what made me buy the HTS Plus after all, maybe it was the price (150 Euro), maybe is was my hope that took the best out of the VGA to DVI Scaler (see below) and made it better. A very interesting piece of information on scalers I found on Gefen's website. There they actually state that their Scalers are *not* high-end scalers, but just convenient tools making connections easier. I find this amusing, because other companies out there offering $50 processors tell you they built the best video processors ever, while uber-expensive Gefen tells you just the opposite...
Anyway, what does the Gefen Home Theater Scaler Plus offer ? It's got one Video, one S-Video, one Component and two HDMI inputs. And all of those are processed and scaled to whatever resolution you choose and output again through HDMI. The output resolutions available range from VGA, 480p up to UXGA and 1080p. The menu's actually the same as on the VGA to DVI Scaler, just with a few added settings and the possibility of added audio routing. I also found the quality to be the very same as on the VGA to DVI Scaler which I reviewed years ago. I didn't test the composite and S-Video input, but the component input gave the very same (non-fixable) chroma delay as on the other Gefen unit. This chroma delay (which I've seen on numerous machines) only happens with a PS2 as a source. Other component sources are actually fine and scaled quite nicely. The deinterlacer in the HTS is quite bad though and the user should only feed already progressive material, e.g. from a Wii or GameCube. HDMI input material is scaled very clean, so this one can be used to scale a 720p output from a XBox360 or a PS3 when an older HDTV set only supports 1080i inputs. Unfortunately the component input does not support 240p (no matter what's the source).
Pros: affordable, good scaling from one HDMI resolution to another, little delay, easy to use menu with lots of output resolutions
Cons: no 240p support at all, chroma delay on a PS2's signal through component
Conclusion: nothing for us vintage gamers. Also less useful than the Gefen VGA to DVI Scaler since no VGA input is available.
---
The Gefen High-Def Scaler (or sometimes "Hi-Def" Scaler, or previusly HD Mate - - Gefen just can't decide) is very similar to the Home Theater Scaler Plus reviewed above. It's based on the very same processor (which was to be expected) and sounds nearly identical on paper. After I closer look, the High-Def Scaler seems to be aimed at a more professional audience though. The Composite and S-Video inputs are replaced by a second set of component inputs. Instead of two HDMI inputs we get one DVI-I input (digital and analogue) and instead of the HDMI output we get a DVI-I output as well. Digital coax audio inputs have been removed and the High-Def Scaler can't A/D audio anymore, meaning everything input as analogue audio stays analogue, anything digital (optical only) stays digital.
What made the High-Def Scaler interesting for me was the question if the conversion quality can finally stack up to the Gefen VGA to DVI Scaler. VGA input is available through the DVI-I/A port after all. And while I expected the same chroma delay on the component inputs when converted to DVI/HDMI, the conversion quality from Component to VGA (through the DVI-I/A output) was to be tested (and measured against my reference transcoder from Burosch).
Test results: as expected the unit is widely identical to the HTS Plus unit tested above. The deinterlacing quality on the component is rather mediocre. While there're no deinterlacing errors (like combing), the picture is rather soft and the use of the sharpness controls causes massive edge enhancement while the actual detail grade stays low. The component inputs still exhibit a bit of chroma delay on certain sources (e.g. a PS2), but it seems reduced in comparison to the HTS+.
Since the DVI-I input accepts VGA through a DVI-A cable, I connected both a Dreamcast and the XRGB-3 B1 VGA output. Very much like the Gefen VGA to DVI Scaler Plus the picture is (nearly) flawlessly* converted to DVI / HDMI. The scaling engine of the Gefen handles the simulated scanlines of the XRGB quite well without any moire patterns as long as you keep the output resolution at either the original 480p or at XGA or higher. Just like the VGA to DVI Scaler Plus the Gefen HD Mate (or High-Def Scaler) is a nice choice to add a VGA input to a LCD or Plasma TV set without an integrated VGA input. I also tested the transcoding quality from 480p component to the VGA output (again through DVI-A). While the results were ok (with only little chroma delay visible), the direct comparison to the Burosch or Micomsoft XSelect transcoder shows that the picture is a bit on the soft side.
* A note on format recognition on the VGA inputs: It's a widely common misconception to assume that 480p and VGA are actually the same. While the 480p format is a DTV standard with 720 pixels in width, VGA is a much older VESA standard with only 640 pixels in width. 480p is usually output through component in YPbPr (YUV) format, while VGA is usually output in RGB color through a DSub15 port. The whole situation gets mixed up though when the XRGB is used or when a transcoder from Component to VGA gets into the play. While the XRGB-3 outputs through VGA (in RGB color space), the actual resolution of the output is 720x480p. The same is true for a XBox1 with a Neoya transcoder (and any other transcoder). The problem now is that most TV sets don't recognize 720x480 on their VGA input. They wrongly assume that the signal is 640x480 and apply their processing and scaling. The problem with this is that the sampling applied by TV (the A/D conversion) only uses 640 pixels per line of the 720 pixels resolution of the actual signal. This can cause moire patterns, uneven scrolling and soft edges to certain pixel columns all over the screen.
Not to exaggerate: this is something hardly anyone ever notices, but if you're going for perfect rendering of your vintage systems, this is something to take care of. Now one thing the Gefen VGA to DVI Scaler (see below) does is to differentiate between a 720x480 and 640x480 input signals. You could connect the XRGB-3 to the VGA input and set the output to 480p DVI / HDMI. The HDMI inputs on current TVs can usually tell the difference between 480p and VGA and display the signal correctly without loosing 80 columns of resolution. More defined pixels, better sharpness and perfectly even scrolling are the results.
Most higher-end video processors can actually tell the difference between 480p and VGA. The DVDO units will do this correctly, the Optoma also and so will the Gefen VGA to DVI Scaler below. Unfortunately for some unkown reasons, the Gefen High-Def Scaler won't. While it uses the very same menu and processing engine (hence the same processor) as the VGA to DVI Scaler and still lets you choose between 480p and VGA output, the input will always see a 640x480 signal, not a 720x480 one. This does not harm the image quality (compared to direct VGA connection to the TV), but it doesn't help either. I highly appreciated this little effect on the VGA to DVI Scaler, so I'm a bit disappointed that the Gefen High-Def Scaler won't do the same.
Conclusion: a good way to add a VGA input to HDMI-only TV sets. Excellent quality and lagfree. I would not recommend to use the component inputs though (at least not for a Playstation 2).
---
Denon entered the video processor market in 2008 with the DVP-602CI. This "high-end" upscaler (introduced at $2500) is very similar to the CYP Instant HQV. It's design is also based on the HQV Realta standard evaluation design. The menus and inputs are very similar to what you get on the Instant HQV or on the Algolith Dragonfly. The processor misses many standard functions (like overscan correction or manual zoom), but puts it's focus on easy operation instead. The DVP-602CI is basically identically to the integrated video processor functions Denon offers in their high-end AV receiver lineup. In early 2010 the processor was offered at $700 to AVS board members and later on the last of Denon's stock was blown out at $300. Cheap enough to give the processor a little test run.
While the Denon performs "ok" on video material and framerate conversion (e.g. from 480p60 to 1080p24) it really doesn't shine on video game material. The Denon's input work with 240p input, but the upscaling lacks sharpness and I have a hard time to see where the Denon outperforms my display's integrated scaler. In addition the processing lag is very high. I haven't measured it up, but it's among the highest I've every experienced, likely in the 80ms range.
Conclusion: nothing for us vintage gamers. High processing lag and sub-par deinterlacing and scaling.
---
If your vintage gaming needs are limited to PS1 and/or PS2 games you might want to consider getting a PS3 and playing your PS1 and PS2 games on this one. Only the older 60gb PS3 models did have a hardware PS2 emulator integrated, the newer PS3 models are only able to play PS1 games (and PAL models never had hardware compatibility).
PS1 games are rendered in software and can be output in any resolution you want. If you set your output to 480p you get a PS1 picture very similar to what the good videoprocessors will do. Being emulated, there are no deinterlacing artefacts at all. If you set the output to 1080p the picture gets a bit too sharp. Every single pixel is dead-on with this setting. The only (small) downside to playing PS1 games is that you're limited to the region of your PS3 (e.g. only US PS1 games on your US PS3) and that there's a small delay of about 1.5 frames.
PS2 games are rendered in hardware (in 480p) and the output is scaled afterwards if you decide to set your output to 1080p or another HDTV resolution. With 480p HDMI output the picture's a bit on the soft side, but that be be adjusted on the TV's side. You get proper 240p handling (drop shadows are fine) and the usual deinterlacing errors on 480i material (e.g. artefacts in the shadows). When you choose 1080p output you get really bad background scaling and panning in addition. As a plus you get nearly artefact-free drop shadows in 480i games - don't ask me why... There's also a 2-frame delay for all PS2 240p/480i titles.
MSX: best picture a deinterlacer can achieve, since it's software rendered
ESP: soft picture, but good 240p handling, errors on 480i mode
WOT: the PS3 is limited to Playstation games of course
Pros: if you got PS3 already, use it for PS1 games, it's nice and the lag is acceptable
Cons: only the old PS3 models had a PS2 mode. 2-frame delay on PS2 games, soft picture, weird 1080p scaling, pricey just for PS1 games.
Conclusion: with the PS3 Slim available for some time now, who would think about getting an old 60GB model anymore ? It was nice while it lasted. The PS3 outperforms every other processor on PS1 games (with the XRGB-3 being the only one to come close), for PS2 games it wasn't groundbreaking...
---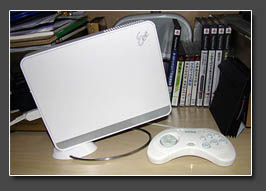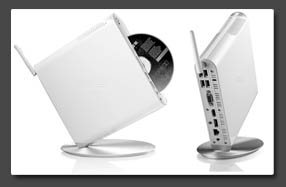 Well, instead of playing on the real hardware, there's always emulation. Asus introduced the Eee Box based on the Intel Atom 1.6GHz CPU in 2008 for a $349 price tag including a Windows XP license. I got of those, hooked it up to my 52" Bravia LCD, got a my Sega USB Pad out of the locker and gave it a try.
So far I had only little time to test it thorougly, but SNES, Mega Drive, Neo Geo and MAME are already running like a charm. The 1.6GHz 2 Watt comsumption processor is powerful enough to run all the vintage systems and you don't have to worry about improper deinterlacing anymore. Emulation is pretty fast when it comes to lags introduced. You can expect a 1-frame lag from a well setup system which is pretty ok considering that standalone deinterlacers can take up to 3 frames (50ms).
A nice addition are the filters available in the emulator settings. Next to a XRGB2+ (which is too sharp compared to a CRT) you can achieve the perfect CRT-look by adding scanline filtering to the picture. Below's a SNES Screenshot.
I definitely have to say that picture-wise emulation has surpassed playing on the real hardware by now. The very best videoprocessors get somewhat close but lack the options you get by using an emulator (like scanline emulation). If you got the right hardware (The EEE's a very nice little setup) and the right controllers (Sega USB Pad, Hori Real Arcade Pro USB etc...) you're ready to go.
Hardware-wise the Eee's featuring a 1080p HDMI output for Full HD LCD Sets and a VGA output which you can use to connect it to TriSync Arcade monitors when placing it into a cab.
Note: The Asus EEE Box is just one example of walking the emulation road. There's also emulation of videogame systems on other systems. The old Xbox is probably the best example. Once modded, there's a truckload of good emulators. The Wii with installed homebrew channel is also a nice alternative. The only downside to both solutions is that you're either stuck to the system's controllers or need to buy PS2 converters and you only get analogue component output. While there are TV sets which handle progressive component rather fine, VGA (available from all PC systems) and HDMI (available from a new system like the EEE Box) usually get you a better picture.
Conclusion: in 2010 I switched to the new EeeBox 1501 (with Dual Core Atom CPU and slot-in DVD drive). It has VGA and HDMI and is still one of the greatest emulations rigs you can get. Price is still around the $350 area including a Windows 7 (32-bit) license. Love it!
---
Two machines not neccessarily linked to deinterlacing, but good to have nevertheless are an Extron Emotia scan converter and a transcoder like the Burosch Con-1. I have written plenty on the Extron machines before which you can read by following this link. The Emotia is the exact opposite of a Deinterlacer. It takes a VGA signal and converts it into a 240p video signal.
In the context of this page it can be used to get the scanline emulation of the XRGB2+ working with 480i content. You just need two deinterlacing devices, e.g. two XRGB2(+) units. You connect your system to the first deinterlacer (apply no scanline emulation), connect the output to the Emotia and the RGBS output of the Emotia to the 2nd XRGB2+. Then you set the switch on the Emotia to non-interlaced output and enable the scanline emulation on the 2nd XRGB2+. Works like a charm. Dragon Blaze (480i) is full glory with emulated scanlines.
A bit overkill - maybe, but the Emotia machines are cheap and the XRGB2 units nearly lagfree, so there's hardly any reason not to try it.
2011 update: a SLG3000 enables scanlines on 480i titles through a XRGB-3 as well, so no more need for an Emotia.
A transcoder like the Burosch Con-1 (there a lots of units on the market, Key Digital and Kramer produce some as well) can be used to take a progressive YUV signal (e.g. from a Wii system or from a PS2 with a game which supports it, like OutRun2SP) and turn it into a VGA signal. The reason why you want to do this is that most TVs apply less processing on the VGA input than on the componentn inputs. Oftentimes there's also less lag on the VGA input than on the component inputs. I have crosschecked the Burosch Con-1 with every processor on this page and the picture quality (PS2 with OutRun2SP to the transcoder to the TV) is better than ANY other solution. Even a $3000 machine like the VP50Pro (when set to VGA output) does just a mediocre job on 480p transcoding. My setup will include a YUV Matrix switch shortly, so I can route the PS2's signal to the XRGB2+, to the VP50Pro and the Burosch Con-1 whenever I like without switching cables.
Conclusion: the Emotia units are still one of a kind. If you're a scanline addict, you need one. Transcoders like the Burosch Con-1 usually have better quality than built in transcoders (e.g. in other videoprocessors), but to include them in your setup, you usually need a lot more of hardware (e.g. a YUV and or VGA matrix).
---
Every once in a while I get the question what's the best component to VGA transcoder out there. My standard answer then is "Burosch Con-1", but unfortunately the Burosch is extremely hard to find over here and next to to impossible to get in the USA. Curt Palme (in the USA) offers the Crescendo Systems transcoders. While not very cheap ($180 for the RTC2200), it's ok for the delivered quality. I got myself a RTC2200 and was pleased to see that the Crescendo Systems transcoder actually performs on a real reference level. The unit offers a number of dips and dial settings to adjust geometry (e.g. horizontal image shift). It also offers a function called Gamma Boost which can be used to lighten up dark IRE areas and to counter black crush on actual video material. I don't really think that you'll need this on video game material, but as usual it's good to have.
Contrary to the Burosch unit, the Crescendo Systems transcoder also accepts 15khz YUV signals in order to output 15khz RGBHV signals. Nothing you'll need anytime soon, but hey, you never know...
Conclusion: a real reference quality component to VGA transcoder and it's easily available in the USA (at a price).
---
VGA to DVI - wtf ? Does anybody need this ? Actually yes, it's very nice to have. This box is what the progressive YUV to VGA transcoders were several years ago. If you have read this page you know that the Burosch Con-1 still delivers an excellent picture when fed with progressive component from a PS2 for example. Though this little Gefen box is called VGA to DVI Scaler, it actually accepts progressive component as well (and VGA of course). The DVI output can be connected to the HDMI input of your TV Set and you can choose (via onscreen menu) if you want scaling (e.g. to 1080p) or not.
The quality of the A/D conversion is excellent and the scaling is very sharp as well. I would not use it for movies, but it's an excellent little helper for gaming needs. If your TV does not have a VGA input, but just HDMI, this is something for you. Dreamcast via HDMI - not a problem at all. XRGB via HDMI - as easy as it gets. The A/D conversion and scaling is completely lag-free and once set up this is basically a "setup once and forget about it" box which can easily be stored away under the hi-fi rack.
The suggested retail is at $329 which is a bit steep (well actually it's ok, but it's expensive for gaming stuff). I got mine for 100 EUR on eBay and I couldn't be any happier. I need a VGA Gender changer adapter to crosscheck the quality with the Burosch Con-1 (which I will do once the adapter arrives), but so so far the Gefen qualifies as a must have toolbox.
The essence: you'll love it, if your TV does not have a VGA input and you want to use any of the VGA only devices on this page, if your TV has mediocre upscaling for progressive inputs
Note: just like the Burosch Con-1 (and other YUV to VGA transcoders) this one cannot be used to uscale 240p (works with 480i content though). It's basically built for content which is progressive already.
Update 1: got my Gender changer adapter and have to report this: The Gefen box will even accept 480i and deinterlace plus upscale it to anything you want. 240p is *not* accepted though. When fed with Component 480p instead of VGA the picture remains solid, but is no longer as good as before. Slight chroma delay is visible and the picture is lacking defition. I tested it with Fantasy Zone and OutRun2SP (PS2 with component directly into the Gefen box) and both looked worse than going the PS2 -> Burosch transcoder -> Gefen -> TV way.
Update 2: Gefen by now has a VGA plus Audio to HDMI converter available as well which should perform in the same way. I haven't tested this on yet though.
Conclusion: if you need it, it's a great little device which performs greatly on already progressive VGA material. It's the best and most convenient way to add a VGA port to your TV if you've got none (unfortunately more and more TV manufacturers see VGA as obsolete nowadays).
---
Most of what can be said about this wonderful device, has been said here already. Take the time and read through Lawrence's extensive review of the XSelect-D4. And while the XSelect-D4 has been in every day use in my setup for years now, I wanted to mention it on this page, because it's such a great companion to the XRGB-3.
What the XSelect basically does is transcode between RGB and Component Video. In both ways (RGB to Component and Component to RGB) and for both SD (15khz) and ED/HD (31khz+) signals. In other words, input whatever you want and get out whatever you want. Without an XRGB-3 next to it, the two most obvious choices for cabling would be 480p YUV input -> VGA output (e.g. for a PS2 or Wii to your TV set) and RGBs input -> YUV output (e.g. for a PCE or Saturn connection to your RGB-less TV). All those jobs are managed on a real reference level, no visible image degradation whatsoever.
In conjunction with a XRGB-3 this unit becomes an amazing add-on. By connecting the DSub15 output of the XSelect-D4 to the DSub15 input on the XRGB-3 all the XSelect's inputs can be directly passed on to the XRGB-3 for further processing. This means you gain two real Component inputs (without the need for D-Terminal adapters), a second RGB Scart input, three addititonal D-Terminal inputs plus full RCA audio switching for every input.
But not only the number of inputs increases, but also the processing quality. If there's one thing that's really bad on the XRGB-3, that's the filtering of the analogue inputs. Visible noise in the picture is one of the results. The analogue filtering on the XSelect on the other hand is top notch. Take a progressive 480p YUV signal from the PS2 for example. Grey backgrounds get really noisy on the XRGB and the LPF (low pass filter) can't be used on progressive signals. Once the PS2 signal is routed through the XSelect, the picture is clean and steady. Another example is the PC Engine. Depending on the RGB amp in use it can be hard to get a stable at all on the XRGB-3. By inputting RGBs from a PCE and running it through the integrated sync cleaner and sync splitter of the XSelect (the output's RGBHV at 15khz), the PCE's signal gets pretty useable.
Conclusion: already a great SD/ED/HD transcoder, but together with the XRGB-3, this is Micomsoft's ultimate dream team ! Unfortunately very hard to find and note exactly cheap (expect $200 for a used unit).
---
From time to time I get asked how to get all those processors and systems into a single setup. The answer is obviously to use good quality switches and distributors. If you check the usual websites (HDTVSupply.com is a huge supplier for all kinds of switches in the USA) you will notice that the prices can easily hit the $1000 mark, especially if you want more than 4 inputs/outputs.
Well, as said many times before, try to get older broadcast class equipment instead. For a little over 100 Euro I was able to snatch a mighty RGBHV matrix switch from Extron. It offers 12 sets on inputs, 8 sets of inputs, fully equipped with stereo audio for in- and outputs. Matrix switch actually means that you can route any input to any output, using all outputs at the same time. On my unit this means any 8 source to any 8 outputs at any given time. Very, very convenient... The Extron supports VGA, RGBHV, RGBs and Component video - basically everything you can throw at it as long as you're using BNC plugs (with RCA to BNC adapters available for a few cents). With a whopping 100 BNC connectors on the backside, it's a sight to behold - truly wonderful :)
The Crosspoint series is available in different configurations with the 12/8 version being the largest one available at a reasonable price point. Sometimes not all the input or output ports are used and it's sold as a 8/4 or 12/4 version then. Just find whatever fits your needs.
Conclusion: the best quality RGBHV matrix switches out there. Some years old by now, but built to last and quite affordable by now!
---
2011 has hardly even started yet and we've already got a winner for the greatest retrogaming gadget of the year! The SLG3000 in a tiny PCB developed by Winfried Ellenbeck and Jochen Zurborg in Germany. It takes in VGA signals (31khz and higher) and outputs the same signal WITH emulated scanlines. The project was announced in autumn of 2010 and the first PCBs have been available for purchase since mid january 2011.
The SLG3000 is extremely easy to use. Just connect the input to a VGA source of your choice (this can either be a native VGA source like a XBox360 or a Dreamcast) or a deinterlaced or upscaled 240p or 480i signal from any vintage system of your choice. No matter what's the source, the SLG3000 will add pixel perfect scanlines to the picture, just like the XRGB-3 does with 240p input signals. By adjusting a potentiometer the scanline density can by adjusted and by shortening two pins on the board (the blue screw terminals shown on the photo) the scanline effect can be turned off without removing the PCB from the signal path. Due to the use of low power components, the SLG3000 doesn't need it's own power supply. It's completely powered by the VGA output of the source.
The following screenshots show a 480i title (Metal Slug 3 running on a PS2 through an XRGB-3), a 240p title (Fantasy Zone II DX running on a PS2 through a Videon Omega HDP linedoubler and two 480p titles (Death Smiles and ESPGaluda II running on a XBox360).
The SLG3000 is wonderful (and affordable) gadget for anyone who likes scanlines. It's aimed at gamers with either VGA CRTs, LCDs or Plasma displays. You're ready to use the SLG3000 as long as the final connection before your display is VGA. You can directly connect a XBox360 or Dreamcast and you need a linedoubler (anything you see on this page) to connect vintage systems like a SNES or PC Engine.
The SLG3000 can be ordered at arcadeforge.de for 49 Euro plus shipping. A german discussion thread can be found here (at arcadezentrum.de) and an english thread can be found here (on shmups.com).
Note: if you want to add the SLG3000 to a processor with HDMI out only (e.g. the DVDO Edge or a XRGB-Mini or a PS3) you have to add a HDMI to VGA converter (HDCP killer) like the HDFury (starting at $100). Tests have shown the the HDFury 1 and 3 are compatible, while the HDFury 2 it troubling because of the wrong sync polarity on it's output.
Conclusion: *THE* must-have gadget for any serious vintage gamer of 2011. Technically not a linedoubler, but a great add-on to turn any upscaler into a well-performing vintage gaming processor. No more need to buy a XRGB-3 to get scanlines !!
---
Unfortunately it's getting harder and harder to find real good displays for low-latency gaming. While many manufacturer argue that 2 frames inputlag are hardly noticeable by most gamers (and I agree with that to a certain level), the problem rises with the added delays of the whole processing chain. A display with 2-frame lag driven by a 2-frame videoprocessor results in a 4-frame lag already. There are a few near lagfree TN displays out there, but I won't recommend such a display based on the color and viewing angle performance. If you want to pivot your display (e.g. playing Shoot'em ups in Tate mode), you need a monitor with rock solid viewing angles. And this can only be achieved by using monitors with IPS or VA panels.
While a few years back it was actually quite easy to find good displays, the added picture processing causes most displays to perform poorly nowadays in regard to low gaming latency. Sony's crown achievements were the XBR5 LCD (which I used for most test on this page up to late 2010) and the european Z4500 model, both TVs which managed to have input lags below 1 frame in their respective game modes. Both models are discontinued today.
Important note: if you like scanlines and want to use a XRGB or SLG3000, make sure to use a 1080p television set. HDReady sets with a native resolution of 1366*768 most often have a hard time upscaling the 480p scanlines and produce ugly moire patterns or unevenly scaled scanlines (in short, it will look like shit.)
Available resources for information on current models include:
- AV Science Thread: Input lag wars! (with information on TV sets, both Plasma and LCD)
- TFT Central (review site for monitors)
- PRAD (review site for monitors in german language)
- HDTV Test UK (review site for TV sets, both Plasma and LCD)
Based on the information on those sites, my personal experience and hundreds of hours spent on various gaming websites, the current recommendations (as of early 2012) include Panasonics Full HD Plasma sets in 42", 46" and 50" on the TV side and the following affordable IPS PC displays: Nec EA231 (23" 16:9), Dell 2412 (24", 16:10), HP ZR24W (24" 16:10), LG W2600HP (26" 16:10) and the Eizo Foris FX2431 (24" 16:10) on the more expensive side. The new star (as of late 2011) is the Dell U2312 (23", 16:9) with basically ZERO lag; if you need a bigger 4:3 area take the US2412 (24", 16:10) with an average delay of 9ms. Both are nice displays at very affordable prices. Of course there are too many variables on which you could choose a proper display, but with the above information, models and links you have a good chance on finding a suitable display on your own.
A completely different way is to use classic displays for classic systems. In 2012 I've reviewed a Sony BVM 20" CRT, one of the best CRT displays ever created, and a Pioneer 40" 4:3 plasma display, probably the best flatpanel display you can find for your classic gaming needs. The review along with a lively discussion can be found here.
---
Since I got a few requests, here's a little overview what my system currently looks like (as of early 2016).
Displays:

- Sony HX905 LCD/LED (52") for TV and movies
- Sony W605 LCD/LED (42") for gaming
- 2x Dell U2414H (24) at my workstation
- 3x Nec LCD2180UX (21,3") (in storage right now). (obviously needed to Play Darius II properly, see here.)
- 2x Sony BVM-20F1E (20") the best CRT monitors available for 240p retrogaming
- 3x Pioneer PDP-V402E (40" 4:3 Plasma set)
- Pioneer PDP-V401E (40" 4:3 Plasma set)

Video Processors (I'm hording these, so don't wonder...):

- 2x DVDO iScan VP50Pro (one with HD-SDI on my Sony TV, one as a capture interface)
- DVDO iScan VP50
- DVDO iScan HD and HD+
- PMS Crystalio II - 3300 (VXP) (the king of 480p upscaling)
- Optoma HD3000 (Gennum VXP) (connected to the Sony TV)
- 3x Videon Omega HDP (my favorite linedoublers!)
- 2x Vigatec FX2/+ (in storage)
- Algolith Mosquito (Denoiser) (somewhere between my HDD recorder and my capture device)
- Micomsoft XRGB-3
- 2x Micomsoft XRGB-Mini Framemeister (obviously)
- 2x Silicon Optix Image Anyplace

Video Sources:

- Sony DVP-999ES SDI DVD Player
- Pioneer HLD-X9 HiVision LD Player
- Pioneer DVR-LX70D HDD/DVD Recorder
- Oppo BDP-93 (codefree) Blu-Ray Player
- HDI Dune 303D (Network Media Player) waiting for the Dune 4K Solo right now...
- HP Chromebox with Kodi (for media playback)

Gaming:

- PS2 (connected via component to XRGB-Mini)
- PS3 (white Super Slim model)
- PS4 (20th Anniversary model)
- XBox360 (one japanese, bunch of RGH'ed ones)
- XBoxOne (CoD 1TB model)
- Saturn (RGBs to XRGB-Mini)
- PC Engine (RGBs to XRGB-Mini)
- Dreamcast (VGA into Gefen VGA/DVI converter)
- Mega Drive (RGBs to XRGB-Mini)
- NES (US with RGB PPU) & AV Famicom (JP with RGB PPU)
- PSP 2000 and PSP Go (via component into XRGB-Mini)
- Brix Pro i5 (for Doujin titles, MAME and Scud Race emulation)

Connectivity helpers:

- Micomsoft XSelect-D4 (cross transcoder)
- 4x4 HDMI Matrix with integrated HDCP killer
- Burosch Con-1 (component to VGA transcoder)
- Crescendo Systems RTC 2200 (component to VGA transcoder with gamma correction)
- Kramer FC-14 & FC-15 (VGA/RGBs to component transcoder)
- HDFury III (HDMI to VGA and component converter)
- Gefen VGA to DVI Scaler Plus (grey version, fw 4.9.0)
- Several Extron RGB interfaces (201Rxi, 203Rxi, 164xi)
- Arcadeforge SLG3000 and Sync Strike
- Extron Super Emotia and 2x Super Emotia GX (VGA to 240p RGB converters)
- Matrix Triplehead2Go (easiest way to setup a 3-monitor Darius rig)
- literally more than a dozen VGA and component to HDMI converters and transcoders
- Capture Devices: Hauppauge HD-PVR & Micomsoft XCAPTURE-1
---
- my blog (in german language) (currently down, possibly back in Q2, 2013)
- Shmups.com hardware section (*the* best hardware discussion board on the net - honestly)
- Scanlines demystified (a page of mine about the Emotia scan converters)
- Yokotate - a Holo Xperiment (another page of mine focusing on the Holo3DGraph PCI deinterlacers)
(C) Tobias "Fudoh" Reich, 2008~2016
last updated on February 14th, 2016
You can contact me via email
(this one's a combined counter for this site plus the scanlines page)